Laser tattoo removal
Laser tattoo removal is a highly demanded cosmetic procedure. The culture of tattooing on the body goes back more than one century – from American Indian insignia to African tribes.
Content.
Indications.
Permanent makeup.
Stages of laser removal.
FAQ.
Advantages of laser tattoo removal.
Contraindications.
On all four sides of the world, people have always covered their bodies with drawings. But we, the generation born in the 21st century, are much more fortunate. We have learned how to do permanent makeup. And, more importantly, we know how to remove a tattoo with a laser.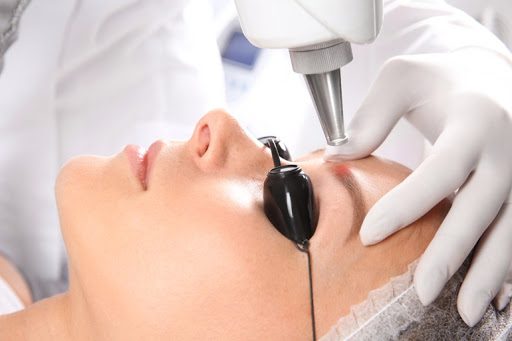 The best specialists at Coollaser Clinic will help you to remove permanent laser tattoo quickly and efficiently.
Indications
Old tattoo
Low quality permanent makeup
Permanent make-up.
Permanent tattooing is a procedure during which a coloring pigment is injected into the upper layers of the epidermis. Thanks to this procedure, it is possible to draw arrows, lipstick, blush and any other wishes of the client.
Over time, the pigment is naturally excreted from the body. Therefore, it is customary to tint it every few years. However, problems may occur during wearing.
Age-related changes in the skin, stress, trauma and even allergies have a significant effect on wearing "eternal make-up". The pigment can change shade from black to greenish, blur the contours and become itchy and inflamed.
In such cases, laser tattoo removal is the ideal solution. It is laser removal that will give a 100% guarantee of relatively quick removal without scarring and scarring.
Stages of laser removal.
The procedure does not require specific training. A specialist consultation will reveal possible contraindications.
Before the start of the session, it is necessary to thoroughly clean the skin from the remnants of cosmetics and cream, and disinfect it.
The CE / FC Q Switched certified laser allows for multiple wavelengths. Intense laser beams make it possible to visibly lighten and partially remove pigment after just 1 session.
At the same time, the laser does not affect healthy, surrounding tissues and eliminates burns. Thanks to the nanosecond Q-Switch system, pigment molecules are easily destroyed and excreted from the body naturally.
Application of a soothing cream.
After removing the permanent tattoo, we apply a soothing gel. Thus, tissues will recover faster without discomfort. Your comfort is important to us.
FAQ about tattoo removal.
Is it painful to remove permanent makeup with a laser?
Not! Laser removal is absolutely safe and painless. In individual cases of increased skin sensitivity, we apply a cooling gel. Usually, the sensitive areas are the eyelids and lips.
What is the difference between permanent makeup and tattooing?
Nothing. Permanent makeup and tattooing are different names for one beauty procedure. There is also a third name, micropigmentation. Micropigmentation is more commonly used to correct aesthetic defects.
Can permanent makeup be removed at home?
Important! We strongly advise against trying home remedies for removing pigment from the skin. Most of the home methods are based on mechanical damage to the epidermis or exposure to acids.
Such treatment will not remove pigment, but injure the skin, up to the formation of scars. Removing keloid scars is much more difficult than removing laser tattooing.
Benefits of laser tattoo removal.
100% result after a course of procedures
The rehabilitation period without scars and scars
Painlessness
Safety
Contraindications
We care about your health! We recommend consulting a specialist before laser removal. This is necessary in order to timely determine the existing individual contraindications and ways to solve them.
Pregnancy
Oncology
Open wounds
Infectious diseases
Viral diseases
Eczema in the acute stage
Blood clotting disorders
Coollaser Clinic in the center of Kyiv on Pechersk makes it its priority to preserve and enhance your beauty and correct imperfections.
Laser tattoo removal – the result will pleasantly surprise you!
PRICE TO REMOVE TATUAGE
| | | |
| --- | --- | --- |
| Eyebrow tattoo removal (1 session) | 850 UAH | |
| Lip tattoo removal (1 session) | 850 UAH | |