TOP 5 ways: How to remove the belly after childbirth
How to remove belly after childbirth? An important question that worries every woman after the birth of a baby.
What could be more beautiful for a woman than picking up her child for the first time? We have been taking care of the skin for 9 months, trying to minimize stretch marks. We take great care of ourselves and prepare for birth.
The only thing that upsets us after childbirth is the loose skin of the abdomen. How to tighten your belly skin? How to remove the stomach after childbirth quickly?
Today the specialists of the Coollaser Clinic will help us to understand the exciting topic of postpartum recovery.
Content
What is an apron?
When can recovery begin?
3 ways to tighten your belly right after giving birth.
Remove belly after childbirth and lactation. Can you combine?
Non-surgical liposuction
5 Proven Professional Ways To Lose Your Belly
Contraindications
What is an apron?
Apron – such an unusual name was given by surgeons to sagging, flabby skin on the abdomen. Most often, the apron is formed after childbirth, but can form as a result of rapid weight loss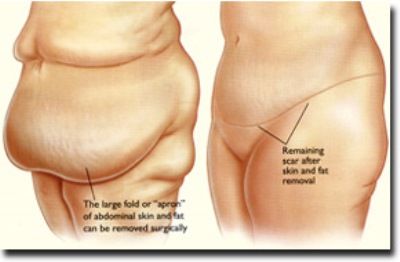 The main problem of the apron is that it is almost impossible to remove it at home. Stretched skin is almost impossible to repair. Hours of training in the gym and dieting leads to an increase in muscle mass, not a tummy tuck.
When can recovery begin?
We care about your health. Therefore, before starting the recovery, we recommend that you consult with a specialist.
The recovery process after childbirth is individual. Average recovery time is 4-6 months. It depends on many factors, including whether the birth was natural or KS. Recovery from childbirth with a cesarean section takes a little longer.
3 ways to recover immediately after childbirth
Bandage, corset and shapewear. A properly fitted brace or corset can help shrink sagging skin and support your abdominal muscles. Corrective underwear will have a pronounced compression effect, which contributes to the reduction of the abdomen.
Skittle exercises. Physiologically safe skittle exercises will help to contract the muscles of the pelvic floor and abdominal skin.
A professional vacuum massage will help to improve the work of muscle fibers, correct fat deposits and tighten the skin of the abdomen.
Please note that these methods are allowed immediately after childbirth and are corrective. With their help, it will not be possible to completely remove the skin of the abdomen.
Remove belly after childbirth and lactation. Whether to combine?
It is possible to remove the stomach after childbirth during lactation only with the help of non-surgical liposuction and after the permission of a specialist. An experienced doctor will weigh the pros and cons and select the ideal option.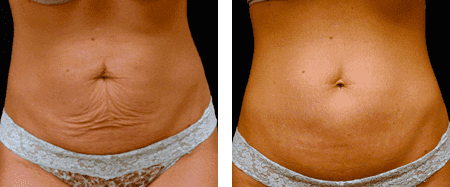 Non-surgical liposuction
Non-surgical abdominal liposuction or lipolysis is a non-invasive way to remove the abdomen after childbirth. Non-surgical liposuction is performed without surgery, incisions or injections.
Vanguish ME Selective RF is an innovative technology for reducing belly and flank fat. One of the best machines in the world, Vanguish, is geared towards killing fat cells quickly and without pain.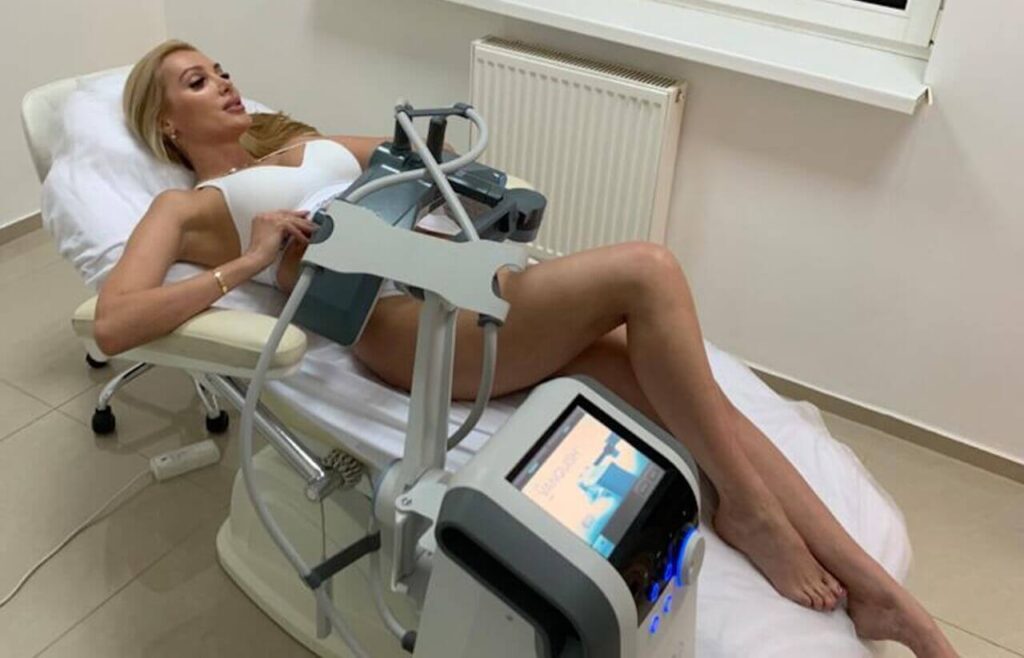 BTL Vanquish ME
Vanguish ME – losing weight quickly and without pain is now not a dream, but a reality.
TOP 5 professional ways to tighten your belly
Hardware method
The use of various equipment guarantees a quick and effective result of a tummy tuck. The most popular and high-quality ones are SMAS lifting and RF lifting. An integrated approach to solving the problem and the combination of Smas lifting and RF give long-lasting results, elastic skin and smooth relief.
Mesotherapy
The introduction of hyaluronic acid or fibroblasts to the patient has a pronounced tightening effect. Various mesotherapy drugs tighten the skin of the abdomen and even out the relief.
CO2 laser lift
Provides a long-lasting effect of a tummy tuck and no rehabilitation period. CO2 laser lifting is absolutely safe and has no risk of complications.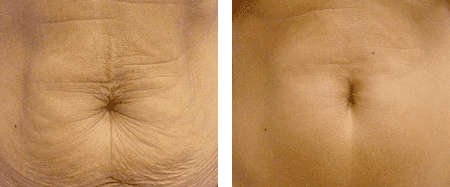 Thread Tummy Tuck
The patient is implanted with bionic threads, which dissolve. The high efficiency of the bionic threads consists in the construction of the thread carcass. Thanks to this framework, the abdomen becomes firm and taut.
Abdominoplasty
Abdominoplasty or tummy tuck is a radical solution to the problem, which is indicated in difficult cases. Experienced doctors believe that abdominoplasty is an extremely effective method, but it comes with risks.
Contraindications
Contraindications can be individual and depend on a number of factors. It is possible to remove the stomach after childbirth quickly and without pain, thanks to an experienced doctor and a carefully selected technique.
Diastasis. It is an absolute contraindication for any intervention. Before tightening the abdominal skin, it is necessary to restore the muscles.
The prolapse of the pelvic organs.
Important! It is almost impossible to completely tighten your belly at home. Professional methods can give you a guarantee of the result and the safety of the procedure.
Coollaser Clinic in the center of Kyiv on Pechersk will provide you with professional help and result from each procedure.
Now you know how to remove the belly after childbirth, so just give us a call!