Types of blepharoplasty: non-surgical and surgical – which is better?
Types of blepharoplasty: non-surgical and surgical plastic – what they have in common and how they differ. Advantages and disadvantages of methods for correcting the upper and lower eyelids. The first thing we look at is a person's face. His eyes. You can learn a lot from the look, almost all women will agree on this.
How to remove ptosis of the upper eyelid? How to tighten your eyelids? What is better to choose, non-surgical blepharoplasty or full-fledged eyelid plastic surgery? These and other not modest questions will be answered by the doctors at Coolaser Clinic.
Non-surgical blepharoplasty
When we want to achieve a result, but are not yet ready to go under the surgeon's knife, we are looking for an alternative. Eyelid surgery without surgery or non-surgical blepharoplasty can surprise you.
What are the results of blepharoplasty without surgery?
Eyelid plastic without surgery using a fractional CO2 laser will remove wrinkles and bags under the eyes. Completely relieve ptosis of the upper and lower eyelids. Do you want to correct the shape or shape of the eye? Non-surgical blepharoplasty is the ideal way to correct the eyelids!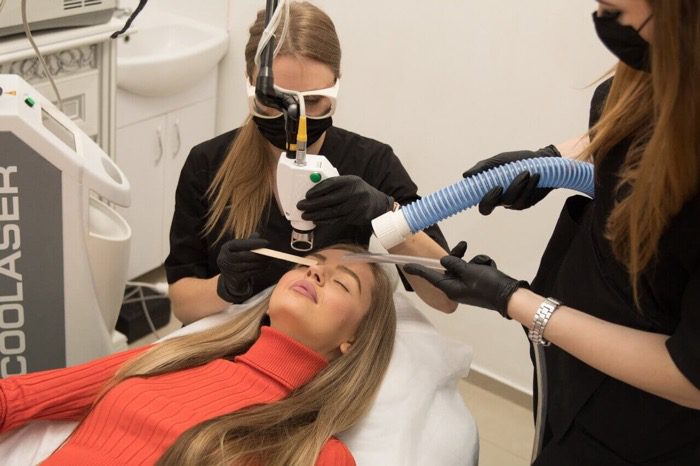 Does non-surgical blepharoplasty hurt?
We will answer you honestly. Despite the use of local anesthesia, some patients report discomfort. However, in comparison with plastic surgery, this is just an unpleasant sensation. The level of discomfort depends on the individual pain threshold.
What are the possible complications of laser fractional blepharoplasty?
Since non-surgical blepharoplasty is not a surgical operation, complications are minimal. Usually, this is redness and slight swelling over several hours.
How long will the result last?
Individually. Usually, the result of non-surgical blepharoplasty lasts from 3 to 7 years.
Fractional blepharoplasty result
Removing bags under the eyes
Smoothes expression lines
Complete removal of ptosis of the upper and lower eyelids
Correction of crow's feet around the eyes
Returns an open, youthful look
Benefits of non-surgical blepharoplasty:
Gentle approach.
Laser fractional eyelid surgery is a gentle procedure. It does not require long-term recovery. For the comfort of our patients, we apply an anesthetic cream. The more careful the approach, the faster you will see the result.
Fast results.
We will need about 30 minutes for the procedure. In some cases, rejuvenation and eyelid lift are visible immediately. Multiple sessions may be required depending on the patient's original data. As a result of non-surgical eyelid correction, only 3 procedures will give a 100% guaranteed result.
Short rehabilitation.
CO2 laser beams literally point out cells. As a result, small traces, fractions are formed. On average, 7 days are needed for complete recovery and natural convergence of the crusts. We recommend that you follow all the recommendations of your doctor. Then the rehabilitation will be easy.
Reliable result.
As a result, non-surgical blepharoplasty gives a high-quality lifting and rejuvenation of the eyelid. The CO2 laser intensively stimulates collagen synthesis, which lengthens the lifting effect. The final result will be visible already at the end of the recovery.
The feedback from our customers speaks for themselves. The non-surgical method of eyelid plastic surgery has proved to be an effective and most gentle method.
In difficult cases, to enhance the effect, a plasma blepharoplasty procedure can be performed before laser treatment.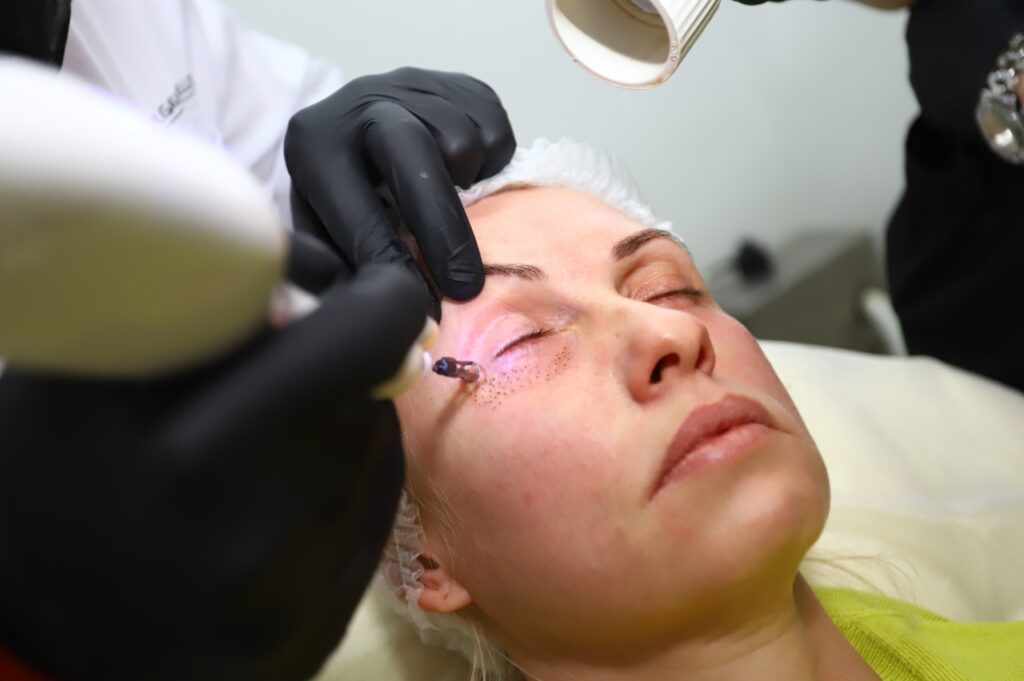 Contraindications
Pregnancy
Lactation
Oncology
Infections
Viral diseases
Inflammation of the century
Herpes
Diabetes
Blepharoplasty (eyelid plastic surgery).
The classic plastic surgery on the upper and lower eyelids is called blepharoplasty. Usually, surgery is resorted to in advanced cases or the impossibility of adjusting the eyelids without surgery.
What will I see after classic blepharoplasty?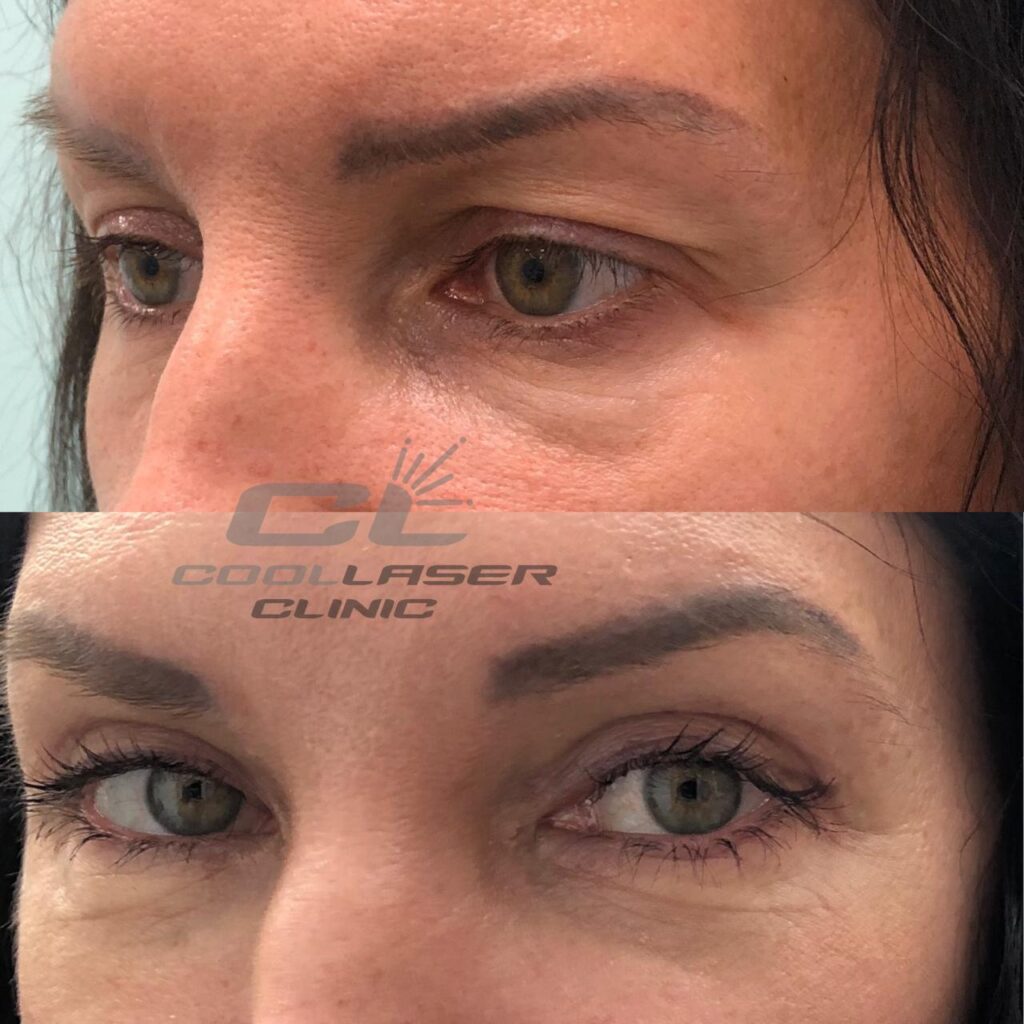 Upper and lower eyelid plastic surgery can produce stunning results. Hernias, bags under the eyes and overhanging skin will no longer bother you. Most of the patients who have already undergone blepharoplasty are satisfied with the result and share photo reviews with us.
I heard that healing after eyelid surgery is long and painful, is it true?
It all very much depends on the desired result and the original appearance. There are almost painless blepharoplasty methods that boast quick and easy rehabilitation.
If extensive interventions are required, such as correcting the size or shape of the eyes, recovery is not going to be quick.
We would like to draw your attention. If you follow all the recommendations of our specialists and follow the prescribed skin care at home, healing will be easy.
Every plastic surgery has risks. What should you be worry about blepharoplasty?
In the confident and experienced hands of our surgeons, you can feel at ease. Our specialists have not only innovative equipment, but also excellent experience. Reviews of hundreds of grateful clients and their photos Before and After will tell you about the safety of blepharoplasty.
Benefits of Surgical Blepharoplasty or Eyelid Surgery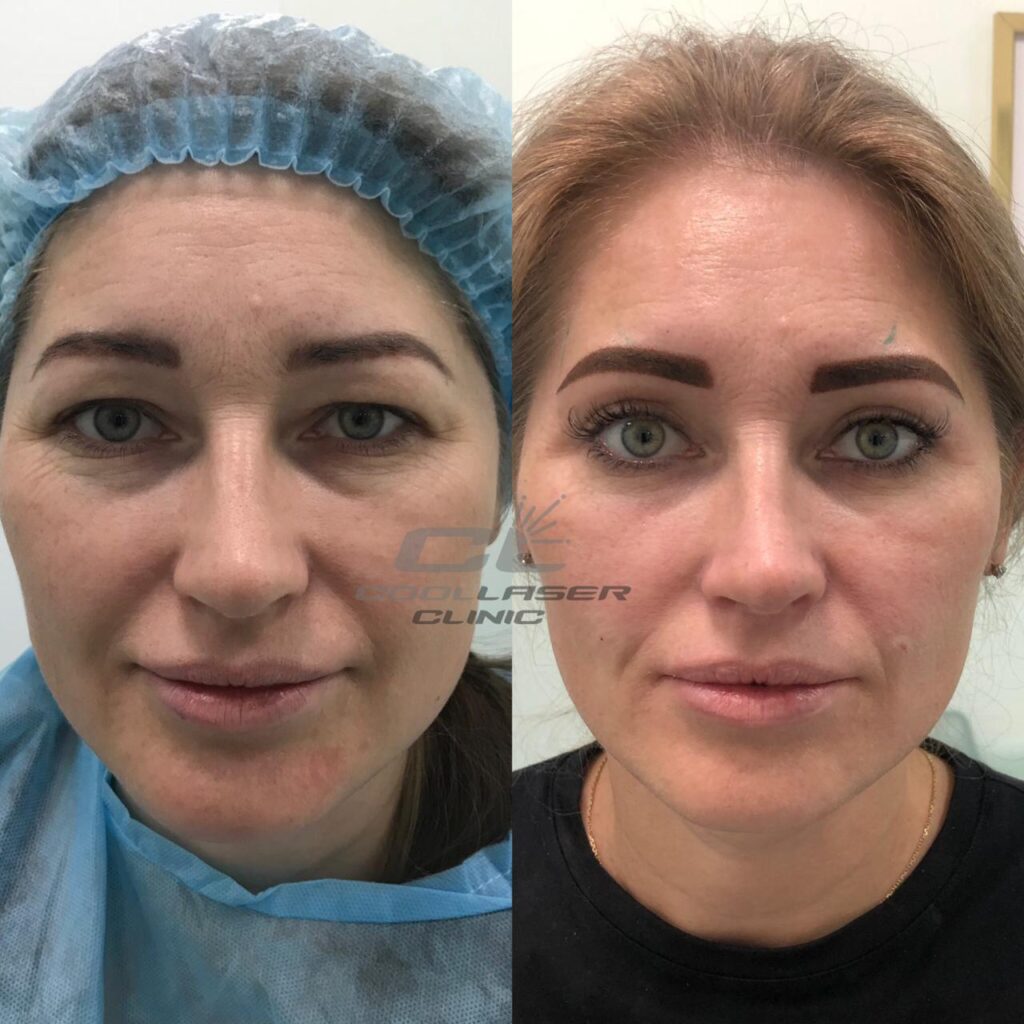 Facial rejuvenation. Rejuvenation of the upper and lower eyelids, removal of hernias and bags under the eyes rejuvenates all faces in general.
Reliable result. Even in the most advanced cases, the surgeon can easily correct the flaws and turn them into advantages.
Improving self-esteem. Agree, when you get the dream look, self-esteem rises significantly. You feel younger, more confident, and more attractive.
Disadvantages of surgery
We would not call this a disadvantage. Rather, an integral part of the surgical procedure. Trust me, in most cases it's worth it!
Appearance. Redness, swelling, and bruising around the eyes are common during the rehabilitation period. This is normal and will pass quickly.
Scarring. A rather rare, but possible phenomenon is the long healing of scars. Do you have a predisposition to keloid scars? Be sure to inform your doctor about this!
Dry and swollen eyes.
Attention! A correctly performed operation carries practically no risks of complications for the patient. With quality home care, the result of blepharoplasty will delight you for many years.
Contraindications
Since blepharoplasty is a full-fledged surgical operation, specialist advice is required. You will learn the full list at the consultation. This is necessary to maintain your health.
Pregnancy and lactation
Oncology
Diseases of the eyes
Diabetes
Viruses and infections
Diseases of the blood
Increased intracranial pressure
Endocrine system (thyroid) disorders
Let's summarize
Non-surgical blepharoplasty or laser eyelid surgery is ideal for patients who do not have serious disorders. The eyelid correction will be quick, painless with almost instant results.
Blepharoplasty or eyelid surgery can completely change the shape of the eyes and remove hernias. The rehabilitation will be long enough.
Not sure which type of eyelid correction to choose? Just call us or sign up for a consultation!
Coolaser Clinic in the center of Kyiv on Pechersk will give you exactly the look you have always wanted.
The author of the article: Vladislava Mashkova. Dermatologist.
Types of blepharoplasty: non-surgical and surgical – a worthy solution to any problem.