Nasal plastic surgery in Kyiv
Rhinoplasty in Kyiv
Rhynoplasty (from the Greek rhino – nose, plasticum – plastic) is the general name for surgical operations performed on the nose. Plastic surgery on the nose is aimed at correcting defects, congenital and acquired.
How often, looking in the mirror, do you think, why is my nose not the way I would like by nature? You no longer need to torment yourself, it is enough to come for a consultation with a high-class surgeon.
Indications for plastic surgery of the nose:
Physiological
apnea
snoring
curved septum
history of nose trauma
breathing problems
hypertrophy of the nasal mucosa
restoration of a lost nose
birth defects
Aesthetic
lateral curvature of the nose
saddle nose
hypertrophied wings
hump
disproportion
dropped / pointed tip
thickening of the bridge of the nose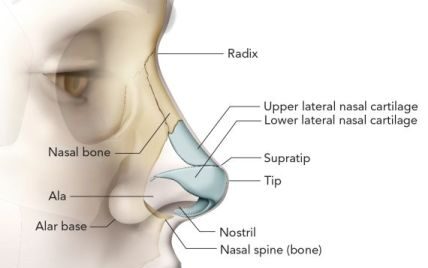 What are the methods of rhinoplasty?
Over the decades of its existence, plastic surgery has perfected its skills to perfection. Thousands of patients around the world have tried many variations and techniques to correct nasal defects.
The task of any plastic surgery is to restore the harmonious proportions and correct traumatic consequences.
There are several ways to get a plastic nose:
rhinoplasty
septoplasty
non-surgical rhinoplasty / injection
Interesting fact!
The first mention of plastic surgery was recorded in the oldest Indian treatise Ayurveda.
Knowledge of Life describes various types of nose plastics, including the restoration of a completely lost organ. In 1494, English doctors who visited Bombay adopted Indian practice.
Subsequently, rhinoplasty surgeries were successfully performed at home, grafting skin from the cheeks and forehead and correcting nose imperfections.
Since the 19th century, nose surgery has entered a new stage of development. Every country had the best rhinoplasty surgeons who could correct the tip of the nose and straighten the septum.
A number of successful operations are performed in our clinic. You can see the result in the photos before and after.
Rhinoplasty in Kyiv before and after photos
This operation was performed by the surgeon of the Coollaser Clinic, Dr. Gavrilyuk S.
The duration is 2 – 3 hours under general anesthesia. The procedure is tolerated comfortably and the patient can easily recover from anesthesia. Most often, the patient is discharged on the day of the operation, but sometimes stays in the clinic for no more than a day.
Contraindications for nose plastics:
age under 18
kidney disease
heart disease
lung disease
acute viral diseases
diabetes mellitus
exacerbation of dermatitis, acne, eczema
oncology
blood clotting disorder
Before plastic surgery, a specialist consultation is required: a surgeon, and sometimes a psychologist. The surgeon assesses the situation and its necessity, and the psychologist confirms the patient's intentions.
A visit to a psychologist is optional, but possible. It is sometimes caused by the need to confirm their intentions. A person should give a sober assessment of the situation and be absolutely sure of the need for rhinoplasty.
We take care of our patients.
Any defect in the nose can be eliminated by trusting a professional at the Coollaser Clinic in the center of Kyiv on Pechersk distr.
Photo materials