What is Stem Cell Bioreservation
Bioreservation of stem cells or bioinsurance is used for the advance preparation of a therapeutic therapeutic dose of mesenchymal stem cells (MSCs), especially during the period of the Covid19 virus epidemic.
Considering that in real conditions, preparation of a therapeutic dose of a MSC cell preparation takes a lot of time - from 5 to 30 days, and the complications of coronavirus very often progress in a short time, while there is very little time left for the preparation of a cell preparation. In this situation, this problem is solved by bioreservation with preliminary preparation.
We bioreserve two types of cellular material: our own cells and donor cells.
1) While you are healthy, have a small liposuction session under local anesthesia.
We will store and prepare your own cellular material in case of contamination.
2) You can also order and reserve donor cell material for timely preparation.
What is the difference between donor and self mesenchymal stem cells?
1) Donor mesenchymal cells.
Bioreservation of a donor cell preparation taken from the postpartum placenta and the donor's umbilical cord. This biomaterial is undergoing infection screening for 18 viruses - an extended examination for the absence of viral and microbial infection.
Subsequently, cells multiply under laboratory cell culture conditions to a predetermined amount in order to prepare an effective therapeutic dose (for example, 100 million MSCs).
In the future, this drug is administered in the form of a suspension intravenously. The number of cells, the dose and frequency of administration of the cell preparation depends on the therapeutic program and the type of disease.
Donor mesenchymal cells are a universal drug for enhancing immunity, treating diseases of various etiologies, as well as rehabilitation.
2) Own mesenchymal cells.
Bioreservation of own mesenchymal stem cells - preliminary preparation and storage in the biobank of cell preparations of healthy (not yet diseased) patients who may be at risk of infection with the Coronavirus COVID-19.
This is the safest and most effective way to treat somatic diseases with stem cell suspensions taken from the patient's own tissues. These cells are isolated from a small amount of adipose tissue (25-40 milliliters) by fermentation and scaling.
Cells are injected in order to strengthen the immune system, renew and regenerate tissues, improve blood supply, as well as for the purpose of recovery and rehabilitation after a possible illness or infection.
After administration, the cell preparation is guaranteed to take root and is not rejected by the immune system, since it consists of its own stem cells, which have been multiplied in a biotechnological laboratory.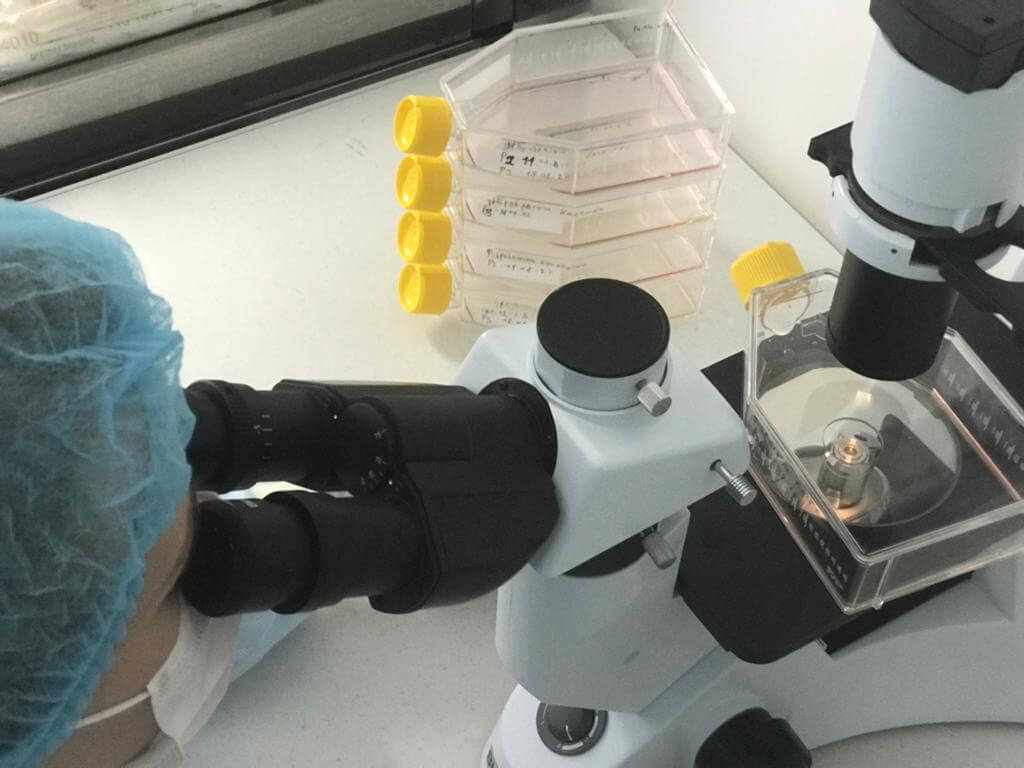 What benefits do you get?
- Use your cell material THREE TIMES with three injections:
for the first time prophylactically, to enhance immunity,
the second time for treatment in case of infection and illness,
the third time for rehabilitation after recovery.
- Free storage of biomaterial for one year
- Free delivery of biomaterial to the place of treatment in case of your illness
- Possibility of long-term storage of your biomaterial at a price of 70$ for each subsequent year
Prices for bioreservation and treatment with mesenchymal stem cells
Treatment with donor mesenchymal cells

40 500 UAH

24 500 UAH
Treatment with own mesenchymal cells

48600 UAH

29500 UAH