Work schedule
Monday-Saturday:
10:00-19:00
Mon-Sat:
10:00-19:00
Sunday:
Weekend
Aesthetic Medicine Clinic Coolaser Clinic
Top 5 plastic surgeries for the face
Top 5 plastic surgeries for the body
About the Coolaser Clinic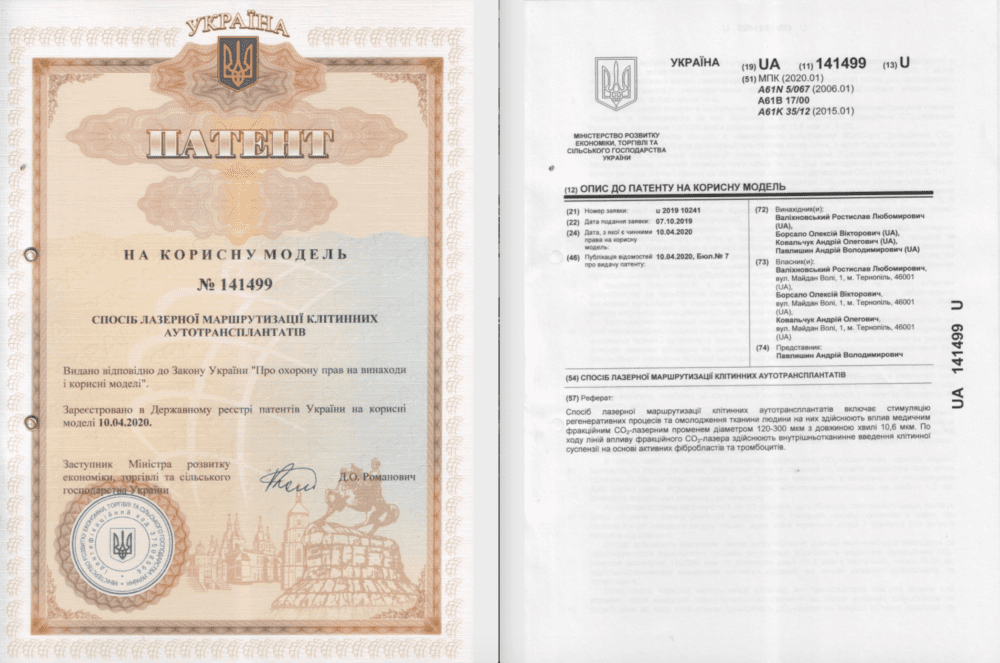 Why do patients choose Coollaser Clinic?

We use the latest technology to rejuvenate the face and body - laser resurfacing, scar and stretch marks removal.

Why is the clinic engaged in laser and cell medicine?

Oleksii Borsalo, the founder of the Kyiv Clinic of Laser Cosmetology and Cell Medicine Coolaser Clinic.

Is a co-author of a patent for the technology of injection of own fibroblasts and stem cells in combination with the Coolaser CO2 laser treatment. This technology is patented as an innovative method of complex rejuvenation.
More about the clinic
Робила лазерне шліфування шкіри обличчя у лікаря Юлії. Все сподобалось, результат хороший. Обов'язково прийду ще до неї взимку) Дякую за гарний сервіс♥️
Пришла в куллазер на фонофорез после операции в другой клинике к Любви Сергеевне и стала постоянным клиентом. За два месяца процедур с моя ситуация значительно улучшилась. Доктор также правильно подобрала мне уход для лица и процедуры по моему типу кожи. Далее попала к Сергею Григорьевичу и тоже осталась супер довольна. Очень помог мне решить мою проблему, современный подход, ответственно относится к пациентам, всегда идет на встречу, за что огромное спасибо. Отдельное спасибо администратору Алене, всегда на связи, всегда находит подходящее время для записи. Весь персонал доброжелательный, улыбчивый - всегда приятно быть гостем.
Very good clinic and equipments. English spoken. Yulya was very professional and did an excellent job on my face in order to remove the imperfections. Highly recommande for procedures.
Dimitri Dimitri
2021-10-04
Юлечка Михайловна отличный специалист, доволен работой и результатом от двух процедур лазерная шлифовка (одна на средних, вторая на максимальных настройках) плюс плазмолифтинг, плюс микроигольчатый rf лифтинг. И также 2 процедуры rejuran s делал. Реабилитация 1 неделя, все процедуры делал летом, сгладились старые рубцы, новые- до 1 года практически ушли, можно конечно ещё улучшать, но в рекламе косметических средств сниматься не собираюсь, а визуальный результат меня вполне устраивает, так что очень рекомендую !)
Natalie Sozanska
2021-09-27
Лучшая клиника евер 🤍🙌🏻
Клиника супер, бесит только ожидание и шум в соседнем кабинете. Так все ок
Лариса Макаренко
2021-09-25
Дякую клініці кулазер і їхнім працівникам, що так якісно та гарно працюють! Я дуже задоволена результатом шліфовки лиця!
Владимир Делюков
2021-09-25
Просто найкращі👍 З повагою, Володимир
Приезжали с мужем на пару дней в Киев, посетили клинику, чтобы убрать асимметрию губ. Все хорошо, доктор нормальная.
Спасибо клинике Куллазер за все, что Вы сделали для моего ребенка!!! Убрали шрам практически полностью, исчезла у Сына социальная дизадаптация. Сенкью, ваша Анна)
Make an appointment for a consultation
We recommend that you consult with our doctor before making an appointment for the procedure
Frequently Asked Questions
Laser facial resurfacing. Does it hurt?

How many procedures do I need to remove post-acne scars?

Is it possible for children to remove scars with laser resurfacing?

When will I be able to use makeup after polishing?

How do I know for sure if you can handle my case?

My scar is 3 cm, what is the cost?