Laser grinding CO2
Laser facial treatments – procedures aimed at activating the body's processes, activate the regeneration of skin tissues. The principle of action of this method of treatment: the influence of world points, which vary in intensity depending on the individual characteristics of the patient, his skin type and the desired result. The advantage of laser procedures is fast tissue healing, which does not require a long recovery period.
Another important point is that procedures such as laser laser grinding allow you to treat particularly sensitive areas on the face: around the eyes and lips. In addition, it is possible to affect both large and small areas of skin. These procedures solve the following problems:
stale and uneven skin tone and texture;
pigmentation
scars, scar tissues, postacne scars, after burn scars;
wrinkles and folds;
sagging and other skin aging defects.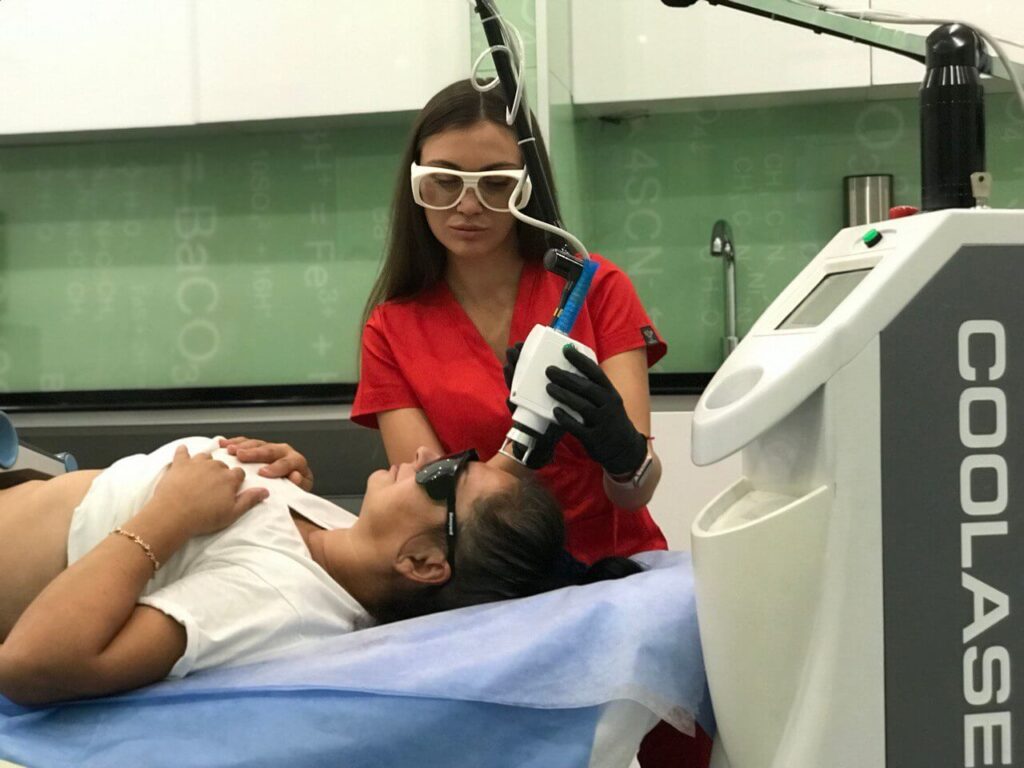 Coolaser technology is a modern method of smoothing wrinkles, which is based on the process of micron perforation of tissues by laser, by predicted evaporation without damaging the surrounding tissues.
The procedures consist of two stages: the first is preparatory (anesthesia) and the second is the procedure of fractional treatment of the skin, so that the laser beam evaporates a small amount of tissue, stimulating the production of collagen and elastin. The doctor determines how many treatments are needed.
Laser procedures are an opportunity to:
return youth to the face;
find the desired smooth and supple skin;
get rid of scars, scar tissues, pigment spots;
reduce the number of wrinkles and creases.
Coolaser laser skin resurfacing in our clinic in Kyiv is the right choice, because we have three important features: reliability, professionalism and quality.
Microneedled RF Viva
The microneedled RF Venus Versa Viva is a revolutionary, fully customizable solution for tightening the skin, removing wrinkles and scars, as well as for correcting the oval face. Delivering impressive efficiency with a combination of NanoFractional Radio Frequency (RF) and a one-of-a-kind SmartScan technology, Venus Viva is the first system to manually control ablation and coagulation to increase treatment efficiency.
The micro-needle RF Viva procedure is designed to restore the surface of the skin, which can improve the appearance of scars from acne, traumatic scars, stretch marks, rosacea, dyschromia, deep wrinkles, enlarged pores, as well as uneven skin texture and pigmentation.
Laser scar removal
Scar removal in our clinic we carry out with the help of complex treatment. The set of procedures may include injection techniques, surgical removal of scars, as well as CO2 laser in combination with LED therapy.
With the use of a CO2 laser, you can not only reduce scar tissue, but also treat color unevenness, as well as fight skin pigmentation around the scar. Laser grinding is considered the fastest way to correct scars and scar tissues.
There are also severe cases where old scars can reach such sizes that the laser can not change anything. Then you should resort to surgery. A large visible scar is surgically excised and heals. In its place, a fresher young scar is formed, which heals much easier and faster, and then corrected or removed by laser.
Scars are divided into several types:
1) normal, which in turn are divided into:
Normotrophic, located on the same level with the skin;
Atrophic, which are deep in the skin;
Malnutrition, rising above the skin.
2) pathological scars (scar tissues):
Hypertrophic, usually develop when the wound is infected;
Keloid, which are tumor-like formations.
Scar removal is a highly effective procedure that allows you to eliminate or significantly reduce all these types.
Laser scar removal
Scars or scar tissues are defects that occur due to skin damage.
Scar in Latin it sounds – cicatrix. dense formation of connective tissue, which occurs due to regeneration (recovery) of tissue after a wound or injury. Scar tissue contains an increased amount of collagen but is functionally much weaker to replace tissues.
In the scar tissue, sweat glands are not restored, there are no hair follicles. Therefore, scar removal procedures have their own characteristics and will not restore the skin 100%, but will help make scars and scars less or not noticeable.
Causes of scars:
Postoperative scars
Scars from injuries or dog bites.
Burns.
Scars will appear (after acne).
It should be noted that fresh scars are more successfully corrected than old ones.
Laser scar removal is a procedure that takes some time to get the desired result. It is impossible to get rid of deep scars in one procedure, however, it is possible to get a noticeable improvement and reduce the scar.
The price for laser scar removal is formed taking into account the applicable. In the treatment of scars, scars, stretch marks, we use the most modern, certified and safe equipment – lasers.
Our doctors will be happy to advise you on all matters. The beauty and health of every patient is very important to us.
Laser postacne scar removal
There are people who do not treat acne in the early stages. This leads to the formation of scars and scars after acne, called postacne scars. The presence of such defects looks unsightly and brings discomfort.
The clinic offers you a procedure for laser treatment of postacne. It should be noted that scars after acne are extremely difficult to remove and require comprehensive treatment. Therefore, we recommend that you be patient and sign up for the procedure.
Acne scars are divided into two types:
Atrophic (scar in the form of a dimple).
Hypertrophic (scar, which is in the form of a tubercle).
They usually appear as a result of acne damage during the healing stage or self-opening at home, which leads to inflammation.
Laser postacne treatment is the most effective and efficient way. In our clinic we practice comprehensive treatment, which includes:
Laser grinding of CO2.
Nanofractional treatment of Venus Viva.
IPL AC Dual procedure.
Our clinic employs only professionals who have undergone special training and internships. We treat each patient responsibly and with understanding. If you have any questions, call the clinic and we will be happy to answer them.
Reduce pores on the face
One of the cosmetic problems is enlarged pores. This not only creates discomfort in appearance, but can also cause acne.
Pores are enlarged openings of pollen-like follicles. Dirt can get inside and this leads to acne.
There are various reasons why there are enlarged pores:
Heredity.
Oily skin (Due to the spread of sebum, leads to the fact that the pores become wide).
Excessive sun exposure.
Improper skin care.
In our clinic there is a procedure to reduce pores on the face with a laser. However, this problem takes time. It is impossible to solve this problem in one session. Narrowing of pores on the face with a CO2 laser is carried out for 2-3 months.
This procedure is done once every three weeks. As a result, you get well-groomed, young skin with smaller pores. It should be noted that we have the opportunity to adjust the treatment to any skin type, while we achieve better results and try to reduce the rehabilitation period.
Our equipment is unique, certified and safe for your health. Our doctors will be happy to advise you on all issues in the heart of Kyiv in Pechersk in Coollaser Clinic. The beauty and health of every patient is very important to us. We are waiting for you for laser facial treatments!
Specialists in the procedure