Erbium laser peeling in Kyiv
Erbium laser peeling helps to fulfill the cherished desire – to look better and better. And this desire is already widespread not only among women but most men. We have the perfect solution to meet this beautiful desire of yours. We present the proven Laser Peel technology using the Venus ™ Erbium Laser
Laser Peel or Erbium Laser Peel is a proven classic formulation for treating the aging symptoms of sun-damaged skin, as well as for correcting stretch marks and scars.
The Venus 2940 nanometer Erbium laser used in this procedure provides a safe, precise and painless way to restore smooth, soft skin, without the time-consuming rehabilitation time compared to classic peels. The procedure takes no more than 20 minutes. The clinic has this particular laser.
Erbium laser peeling is specially designed to reduce moderately deep facial wrinkles, as well as to correct stretch marks and scars on the body. This procedure has been successfully used in the treatment of sebaceous glands and acne scars.
This procedure is especially popular in the United States.
How does an erbium laser work?
The energy of the Erbium laser is absorbed by water, and since the skin contains 70% water, the laser beam actually vaporizes the upper layers of the epidermis, eliminating skin imperfections such as discoloration, fine lines and scars. After the completion of the epidermis restoration process, the skin regeneration effect appears and becomes noticeable. It becomes smoother and denser.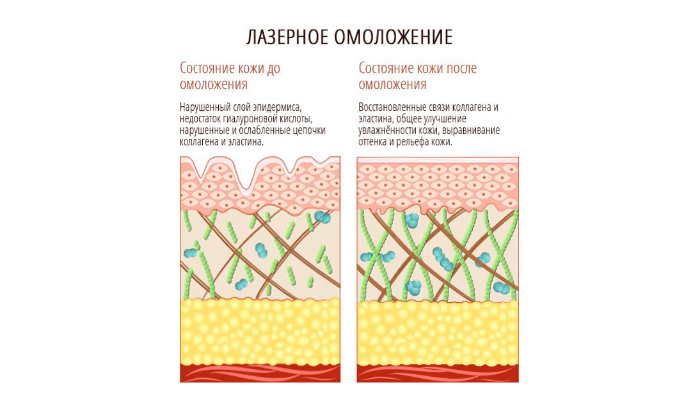 What is the difference between Erbium laser peeling and CO2 laser resurfacing?
The Erbium laser system uses a wavelength of 2940 nm and the CO2 laser system uses a wavelength of 10600 nm. The heat-affected zone of the erbium laser is so small that it practically does not cause pain. That is why the Erbium laser is called the "Cold" laser.
What is the working principle of an erbium laser?
The Erbium laser painlessly removes the micron-sized upper layers of the stratum corneum and epidermis. The procedure makes it possible to act not only fractionally (pointwise) like a CO2 laser, but also with a continuous stream, painlessly removing the epidermis layer, with an effect that looks like exfoliation. If a deeper treatment is required to remove damaged layers of the epidermis, multiple layer-by-layer resurfacing is used.
Comparing the two systems, it must be recognized that CO2 systems perform more efficiently, but with more time to rehabilitate the patient, but more painful than Erbium laser.
The Venus Erbium laser allows the physician complete control of the very light ablative treatment, allowing for a "lunch break" procedure with minimal downtime.
What skin defects can be treated with laser peeling?
This simple process helps to correct skin imperfections such as fine lines around the eyes, forehead, nose and mouth. Many facial wrinkles such as nasolabial folds, smoker's wrinkles can be reduced and even removed.
On the face, the effects of chickenpox, acne scars and sebaceous hyperplasia are significantly reduced, age spots are removed. Stretch marks and scars are successfully treated and reduced on the body.
What can you expect during your erbium laser peeling procedure?
Your skin will be exfoliated layer by layer during several treatments prescribed by your doctor, usually one month apart. This time ensures natural regeneration and new skin growth.
New skin gives youth and freshness to your appearance. Immediately after the procedure, your skin will have a white-pink color and in very rare cases it will slightly swell. You can return to your normal life within 24 hours. Makeup is not recommended to be applied within 24 hours.
Is there any discomfort during treatment?
Unlike other methods of laser peeling, there is minimal discomfort and usually no pain associated with this procedure. Most patients feel the "rubber band" clicking sensation and practically do not experience any painful sensations.
The Coollaser clinic is waiting for you for Erbium laser peeling.
Specialists in the procedure
Photo materials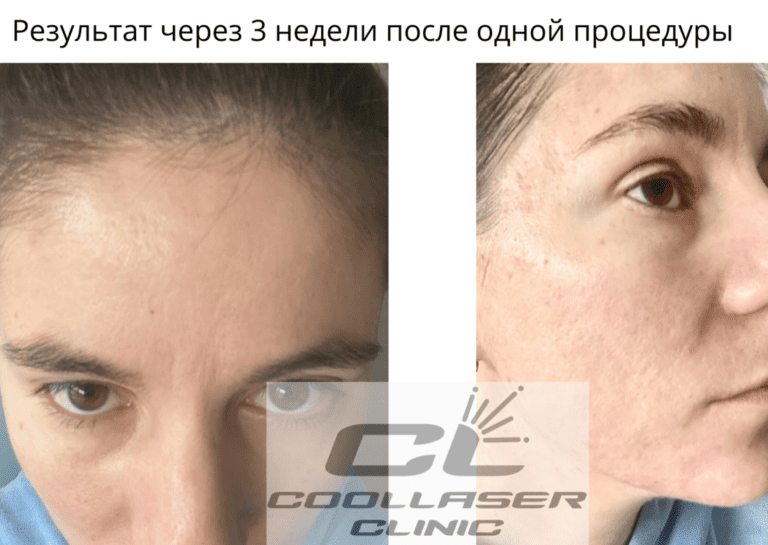 Useful articles
Lip Augmentation: Guide 2022
Lip augmentation procedure in Kyiv Lip augmentation is an aesthetic procedure that allows you to fill in the missing volume and give a seductive look to the face. Most often, […]
Read the sequel