Needle RF-body lifting – the best rejuvenation variations in one procedure!
Needle RF-body lifting is an innovative fractional rejuvenation, which is based on radio wave exposure.
Content.
Fractional RF-body lifting. Indications.
Fractional lifting. What is it?
I am afraid of pain and needles. What to do?
Time of the procedure.
The rehabilitation period.
Results of RF needle lifting.
Time is inexorably moving forward and every day not only the world around us changes. Our body is changing just as quickly.
A gradual increase in body weight, dramatic weight loss or weight gain, childbirth, illness, surgery. All this leaves pronounced marks on our body.
We value experience above many other things. But we want to get rid of its consequences on the body as soon as possible. What if you want to throw off a dozen or two years, but you don't want to go under the surgeon's knife?
How to tighten belly skin?
How to get rid of décolleté wrinkles?
How to keep your neck skin young and firm?
Fractional, needle RF-lifting of the body at Coollaser Clinic will return your beauty and youthfulness to your skin!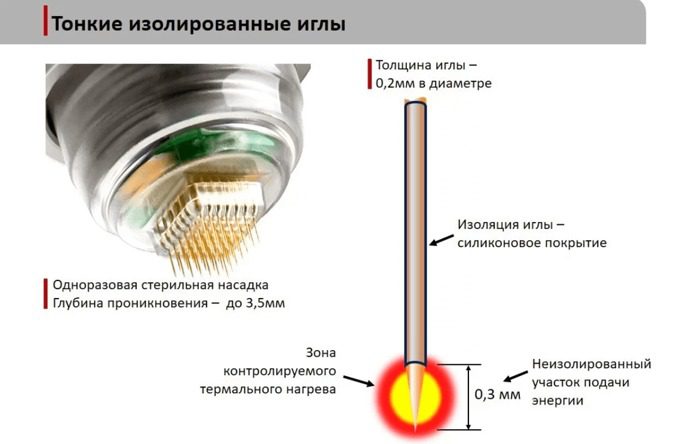 Fractional RF body lifting
Indications:
A procedure such as the RF needle lifting is suitable for almost any area of the body, even the most sensitive. Including microneedle RF-face lifting.
Stretch marks
Pigmented spots
Reduced skin turgor
Atrophic and Normotrophic scars
Scars
Flabby neck
The first signs of aging in the décolleté area
Mesh of age-related wrinkles on the neck and décolleté
Fractional body lifting. What is it?
Needle RF-lifting is a hardware rejuvenation performed on the American Adonyss apparatus. Micro-needle RF-lifting allows you to quickly and gently tighten the skin, remove wrinkles and skin folds.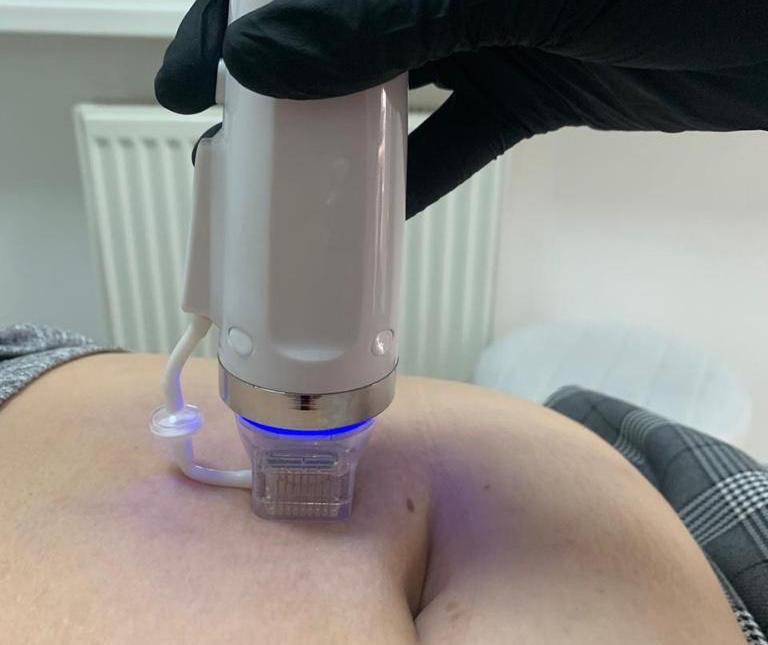 Especially needle RF-lifting is suitable for combating atrophic and normotrophic scars.
Important! Needle RF-lifting is not suitable for all types of scars.
When removing hypertrophic scars, correction using laser resurfacing with a CO2 laser is indicated.
A disposable nozzle with a microneedle complex is used to work with the patient's skin. Needle RF-lifting involves the use of needles with jewelry sharpening.
RF or radio frequency energy is applied to the very tip of the microneedle. This allows the radio frequency pulses to penetrate as deeply into the epidermis as necessary.
Needle RF-lifting is also called fractional. The needles sometimes leave small spots – fractions. In place of the fractions, crusts are formed, which quickly fall off. Their appereance is absolutely normal.
RF body lifting is suitable for all skin types, including very sensitive and tanned skin.
Unlike other procedures, fractional skin rejuvenation can be performed at any time of the year.
Before the procedure of needle RF-lifting, it is necessary to consult a specialist. An experienced doctor will determine the type of skin and the patient's wishes for the selection of an individual skin treatment program.
In particular, the intensity of radio wave energy and the depth of penetration depend on this, the range of which varies from 0.5 to 5 mm.
I am afraid of pain and needles. What to do?
You will not feel any discomfort and pain during needle lifting! The size and sharpness of the microneedles, as well as the presence of vacuum technology in the device, make the procedure of non-surgical tightening almost painless.
However, for the peace of mind of our patients, the specialist applies a special anesthetic cream before the procedure.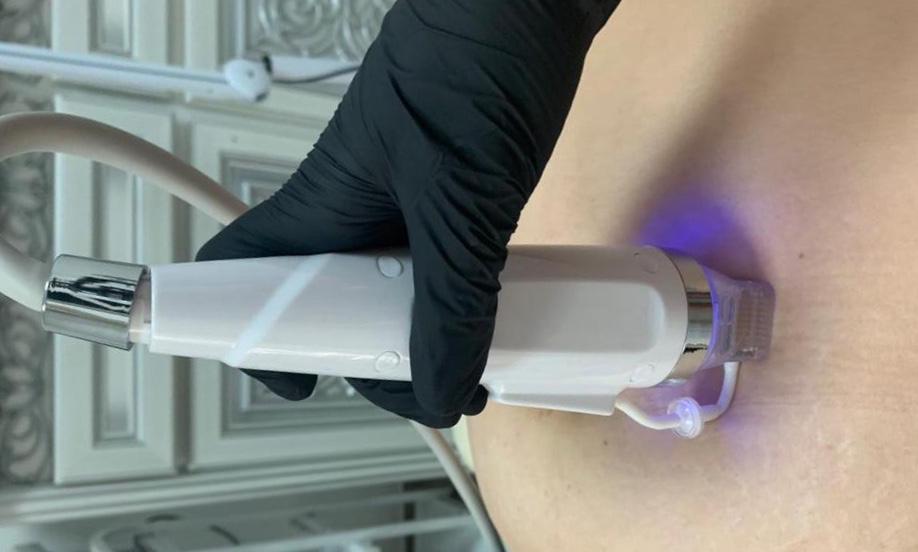 The timing of the needle lifting of the body.
The total time for RF needle lifting is 60 minutes.
It takes 15 minutes to examine the skin and apply local anesthesia.
It takes 30 minutes for the Adonyss to operate. The time can be increased due to the individual characteristics and the number of zones.
The rehabilitation period after fractional lifting.
Please note that after needle RF-lifting, local reddening of the epidermis is possible. This is normal and goes away within 1-2 hours. The crusts that may appear after exposure to microneedles quickly go away within a couple of days.
As a result of exposure to a radio wave pulse, the cells of the epidermis are actively transformed, the processes of tissue restoration and regeneration are launched.
It's Important!
Cell regeneration and collagen and elastin synthesis are not a one-step process. The first obvious result of skin rejuvenation and tightening will be noticeable in the first hours.
For complete restoration and renewal of tissues, 1 procedure will be required once a month, during a 3 month course of treatment. It is after 3 months that a lasting result will appear.

RF Body lifting result.
Needle RF-lifting has an amazing result on the epidermis within a short time. Normalization of collagen and elastin production contributes to the rapid rejuvenation of skin cells, as well as:
Removal of normotrophic scars
Correction of atrophic scars
Skin tightening
Strengthening turgor
Neck lift
General rejuvenation of the epidermis
Skin tightening of abomen
Neckline lifting
Wrinkle removal
Correction of stretch marks.
Modern methods of needle RF-lifting for rejuvenation must certainly include high-quality equipment and the attention of an experienced doctor.
Our specialists undergo training in Israel and the United States and work only on state-of-the-art devices.
Coollaser Clinic in the center of Kyiv on Pechersk meets all the requirements for providing excellent quality of care procedures.
Needle RF body lifting is the best anti-aging procedure for your skin!
Specialists in the procedure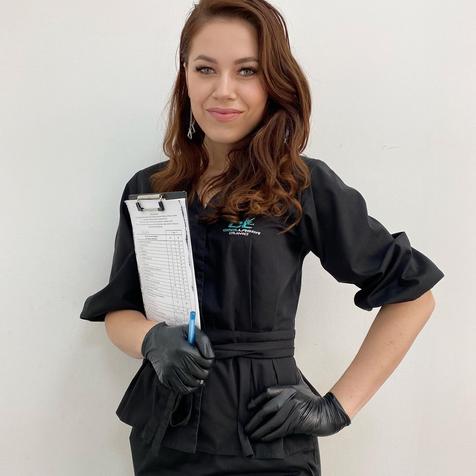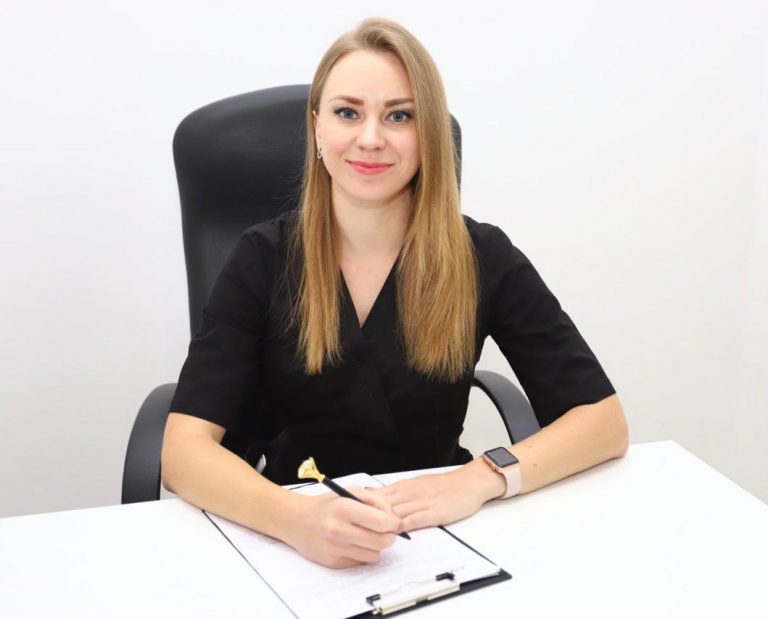 Photo materials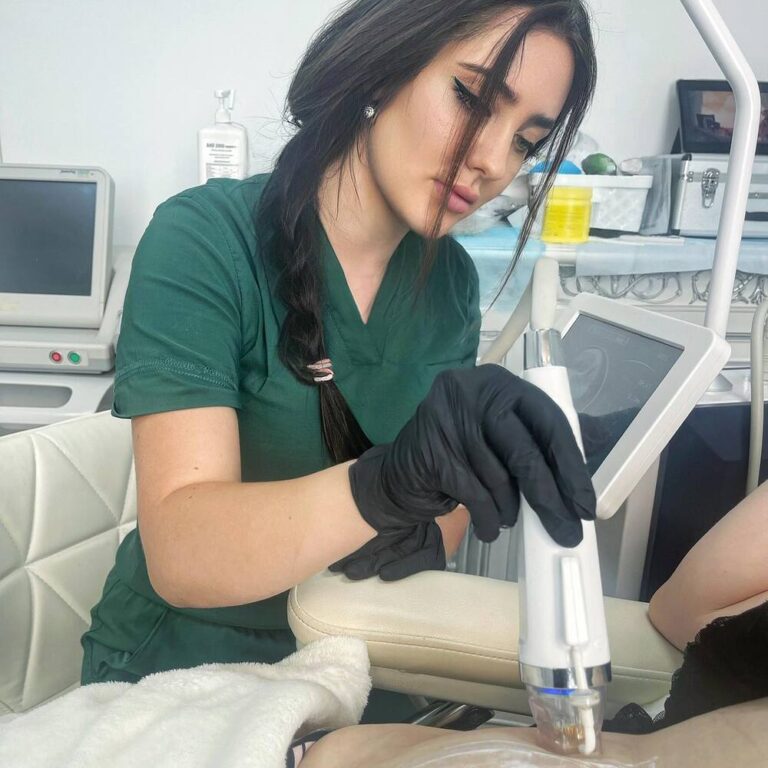 Useful articles
Стрелы Амура или микроигольчатый RF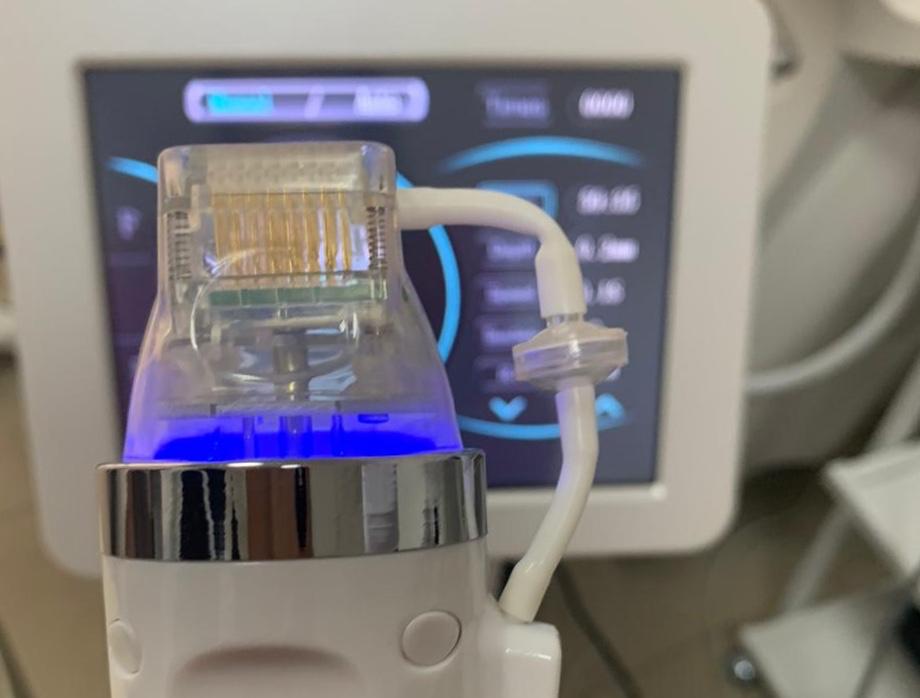 Cupid's arrows or microneedle RF – Beauty that does not require sacrifices! Cupid's arrows or microneedle RF – know-how in cosmetology. After 25 years, women and men begin to notice […]
Read the sequel