How to get rid of stretch marks at home – 10 ways
How to get rid of stretch marks at home is the first thought of almost every woman who has just given birth or has her weight increased sharply. Often, stretch marks are encountered with multiple pregnancies and rapid weight gain.
Stretch marks – how much disappointment there is in this word! Excessive stretching of the skin and increased stress leave ugly white or pink furrows on our skin.
"Save cannot be reduced."
The decimal place depends on the person's decision to live with stretch marks or remove them.
But there are times when a simple genetic predisposition causes large stretch marks on the body. Dry, thin and not elastic skin cannot stretch enough and return to its shape.
What to do? Not every person decides to go under the surgeon's knife because of such a small flaw. On the other hand, even a small flaw can cause significant damage to our self-esteem.
Stop hiding imperfections under your clothes! Come to the Coollaser Clinic, our specialists will find the perfect method for dealing with stretch marks!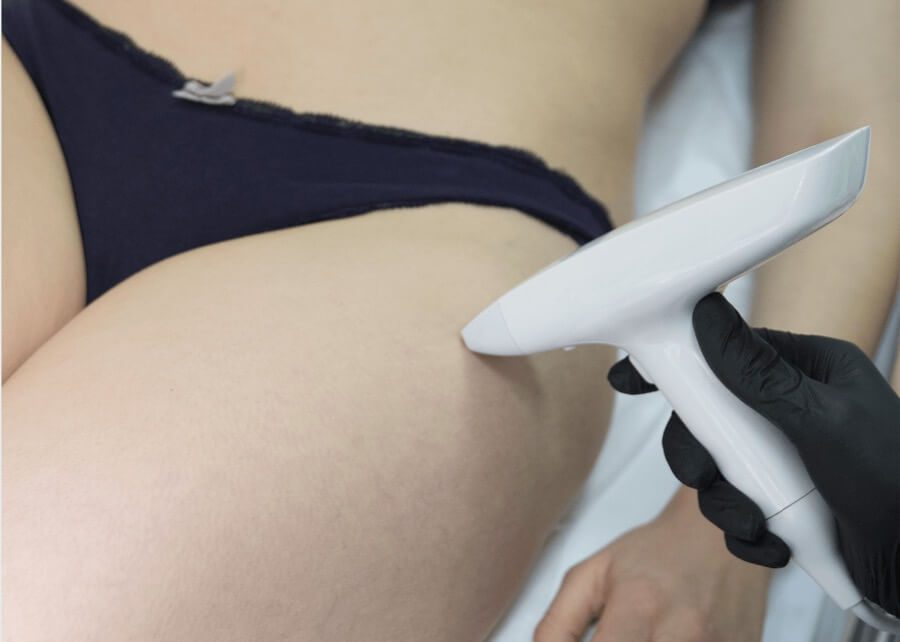 How are stretch marks formed?
Stretch marks occur as a result of strong pressure on the epidermis and its thinning. With poor collagen and elastin production, the skin becomes less elastic and firm.
To make it easier to understand the principle of stretch marks, imagine a situation – you are trying to put on a thing that is significantly small. At some point from the tension, it will burst at the seams.
The same thing happens with our body, when the inner part increases dramatically. The inner tissue is torn and tightened with connective tissue. As a result, purple, white, pink and brown stretch marks appear.
Can stretch marks be removed at home?
How to remove stretch marks at home if they are small? You can make them less noticeable. This will take time and the necessary components.
Serums based on hyaluronic acid.
Hyaluronic acid actively stimulates the production of collagen and elastin, making the skin more elastic and elastic. Skin color evens out. With its help, only small striae can be removed.
Retinoid ointments.
Retinoids are substances that also stimulate the production of collagen and elastin. However, it will take about 6 months of regular use of the ointment to lighten stretch marks.
Attention! Retinoid ointments and creams should not be used during pregnancy.
Creams with the addition of various oils.
Cocoa butter, shea butter, almond, olive and coconut butter have recently become very popular. The moisturizing and healing properties of oils will perfectly prepare the skin and help prevent new stretch marks.
Proponents of natural ways to remove stretch marks at home do not ignore Ayurveda. This is an Eastern teaching about healing, which is gaining more and more supporters every year.
Centela oil will help smooth and even out scars and stretch marks.
Salt scrub.
Salt scrubs are very popular. Efficiency consists in gentle exfoliation of the stratum corneum. To make such a scrub, we need salt, moisturizing oil and sugar.
Sugar will act as abrasive particles that polish the top layer of the epidermis, oil will moisturize the skin, and salt will have an anti-inflammatory effect. Due to the constant renewal of the epidermis, stretch marks will become less noticeable.
Agree, not every person wants to wait for months until the coveted formula bears fruit. We have described all the main known methods of how to remove stretch marks on your own. We suggest you try them and see if the result suits you. If it does not work out, then our opinion is that it is better to entrust the removal of stretch marks to a specialist. Want to see our work Before and After? Look at THIS LINK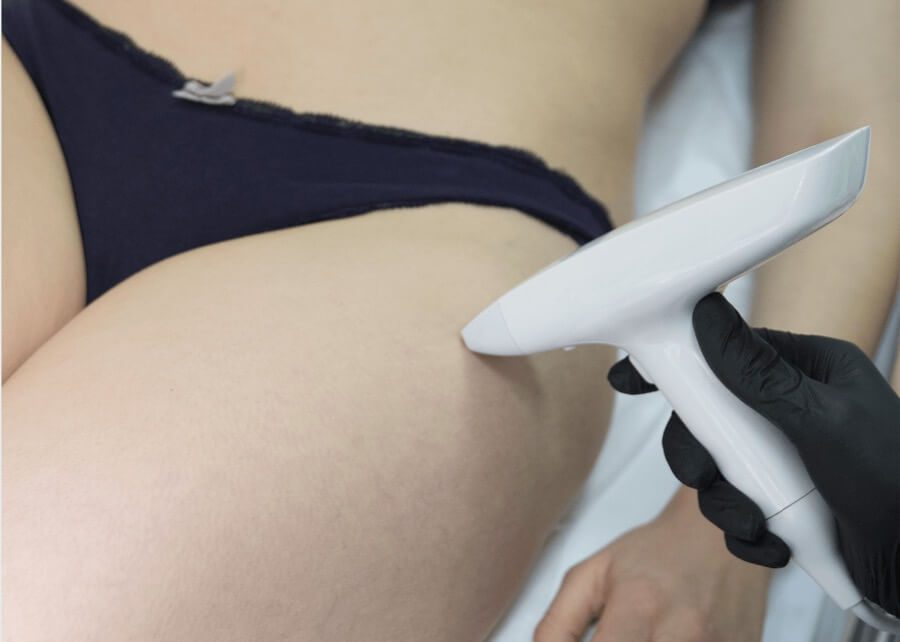 Stop hiding imperfections under your clothes! Come to the Coollaser Clinic, our specialists will find the perfect method for dealing with stretch marks!
What are the professional ways to correct stretch marks?
Cavitation
Cupping massage
Cryotherapy
Microneedling
Shock wave therapy
Laser peeling
Microneedle RF
Viva nanofraction removal
Laser resurfacing
All professional methods of stretch marks removal have specific protocols for different types, colors and ages of stretch marks. Laser and hardware methods are combined and combined. The treatment cycle is performed under the close supervision of a specialist.
Only laser and hardware correction in a clinical setting can give a patient a 100% result! After just a few sessions, you will be convinced of the effectiveness and speed of medical methods.
Do you want to wear an open-top swimsuit and feel free to stretch marks in the pool? Sign up today at the Coollaser Clinic in the center of Kiev on Pechersk.
Take advantage of the best, turn back the clock! Now you know how to get rid of stretch marks.