Cellulite removal in Kyiv
Cellulite removal is a very common task that modern women have to solve. Every second woman suffers from the so-called "orange peel". Unfortunately, this problem happens in life not only for "crumpet", because the appearance of cellulite doesn't depend on weight. Desperate women are trying to buy closed-toe clothing so as not to stand out from the crowd, but we have found the perfect and modern treatment option that can save you from this problem forever.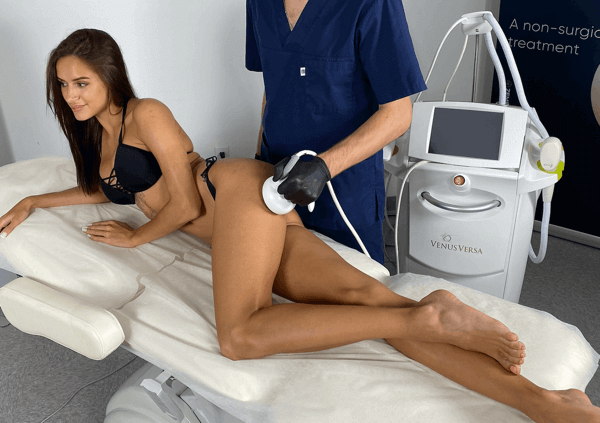 Cellulite treatment with Venus Versa is the case when the "orange peel" has no chance.
Thanks to its mild effect on deep skin, cellulite is gradually removed permanently.
I want to remove cellulite forever
What are the causes of cellulite?
Some of the main reasons are genetic predisposition, metabolic disorders, unbalanced nutrition, ecology, sedentary lifestyle, hormonal and age-related changes. Due to various factors, structural changes occur in the subcutaneous layer, leading to a violation of lymph outflow and hardening of collagen fibers. The appearance of cellulite in such cases simply cannot be avoided.
How does hardware treatment work?
The hardware method of fighting cellulite works by using alternating current, which is transmitted into electromagnetic waves, and then into radio waves. In the course of treatment, the waves of the apparatus are transmitted to influence the fat cells of adipocytes, grouped into nodes that provoke tissue fibrosis. Consolidation and hardening of fibrous tissue cause the formation of so-called screeds, which cause bumps and unevenness of the skin surface.
Treatment is due to the fact that the fat cells and fibrous nodes begin to heat up. The molecules contract and contract dramatically, breaking hardening and stimulating tissue synthesis.
Device cellulite treatment is the safest and most effective solution. Today, using the Venus Versa device allows you to restore the skin to its elastic and healthy appearance in just a few procedures. This procedure works well in combination with procedures such as the RF Viva microneedle.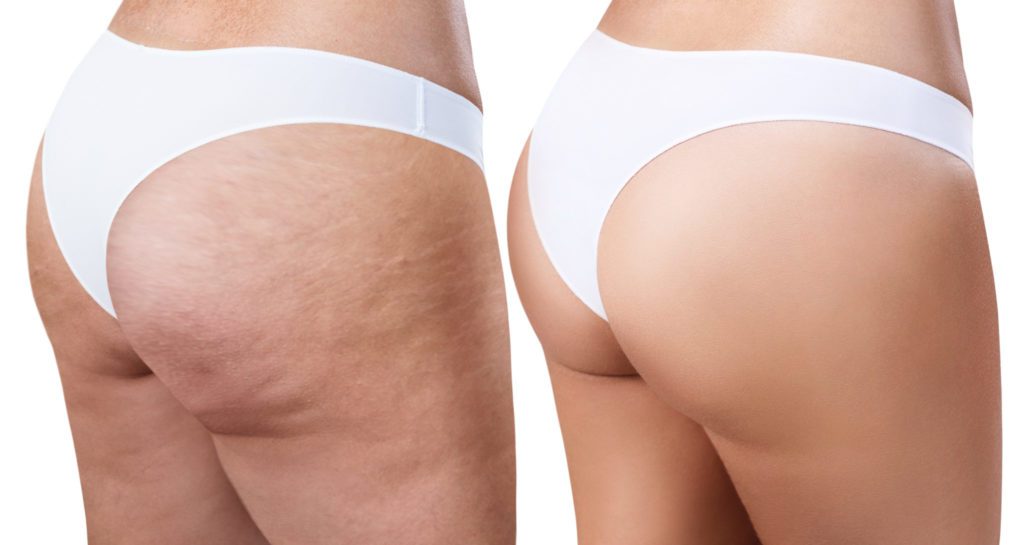 Where does the treatment take place?
If you are looking for a cellulite treatment procedure in Kyiv, then contact the Coollaser Clinic, where specialists are ready to help all women who are tired of enduring sagging skin and cellulite. Using our experience and professional skills of specialists will help you to get rid this problem forever.
Removing cellulite with various cheap means from pharmacies and stores not only doesn't help, but can aggravate the situation. Treatment should be carried out using only a professional apparatus, under the supervision of specialists who can carry out the correct treatment after a preliminary examination and consultation.
If you suffer from cellulite and don't know how to painlessly and effectively cure skin irregularities, the best option would be to immediately contact our clinic. We specialize in laser cosmetology and are located in the center of Kyiv – on Pechersk.
A team of specialists will conduct a preliminary examination, after which they will prescribe a course of procedures for the near future to remove cellulite as soon as possible.
How many procedures do you need to get a treatment result?
Typically, 6 to 8 treatments with the Venus Versa will be enough for the removal to take place and for the annoying orange peel not to bother you anymore.
How to sign up for hardware cellulite removal?
In the right corner of the screen there is a "Call" icon, in the upper left square there is a number (068) 938 03 03 (Viber, WhatsApp) or in the Instagram direct – @ coollaser.clinic
The best dermatologists in Kyiv are waiting for you at the Coollaser Clinic for cellulite removal.
Specialists in the procedure