Retinoic peeling in Kyiv
Yellow retinoic peeling is a procedure to qualitatively improve the structure of your facial skin. Retinoic peeling is an effective remedy against age-related tissue changes. It actively stimulates the cellular structures of the dermis, however, it acts much more gently compared to other peels. When applied, it does not injure or damage the skin, unlike TCA, salicylic acid, phenol and others.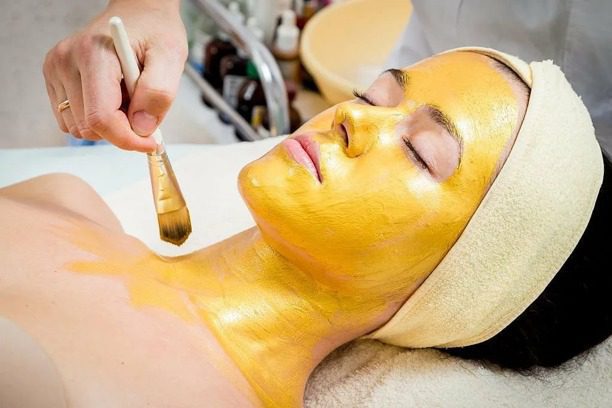 Content
What is retinoic facial peeling
What are the indications for yellow peeling
What are the types of yellow peeling
How does yellow peeling work
Results after yellow peeling
FAQ
What are the contraindications for yellow peeling
What is retinoic facial peeling
Retinoic facial peeling is an effective and popular procedure that removes the upper stratum corneum of the epidermis. The procedure perfectly fights against age-related changes of the skin, delicately cleanses and evens out the micro-relief.
Among patients, the name yellow facial peeling is also used due to the yellow color of the composition. Another name, less common, is a weekend peel – many women do it on Friday. And on Monday they already go to work with a clean and beautiful face without redness.
Duration: about 30-40 minutes
Number of procedures: 1-2 procedures
Break between peels: 10-12 days
What does yellow peeling give
Exfoliation of the dead layer of cells
Stimulation of skin regeneration processes
Activation of collagen synthesis
Thorough cleansing of the epidermis
Prevention of inflammation and rashes
Fresh complexion
Smoothed skin relief
What is retinoic face peeling for?
Yellow peeling is needed to cleanse and renew the skin of the face. The meaning of any peeling is to restore the processes of cell regeneration and renewal. If there are a lot of dead cells on the surface, wrinkles and inflammation appear faster. When the upper, stratum corneum of the epidermis is removed, these processes are activated.
Retinoic peels are essential for giving the skin a healthy, fresh and well-groomed appearance.
What are the indications for yellow peeling
Scars
Keratomas
Inflammation
Acne
Postacne
Age spots and freckles
Photoaging
The first signs of aging
Wrinkles and skin breaks
Dull complexion
What problems does retinoic face peeling solve?
Retinoic peeling has a beneficial effect on the skin of the face, making it well-groomed and healthy:
Removes scars
Smoothes wrinkles
Provides prevention of breakouts, acne and acne
Removes age spots and freckles
Returns a healthy complexion
Evens out skin microrelief
What is yellow peeling for?
Retinoic peeling improves blood circulation, speeds up the metabolism in the skin. Actively stabilizes cell walls, accelerating their recovery. Provides reliable protection and removal of free radicals from cells. Retinol stimulates the production of collagen and elastin.
Restoration of the natural protection of the epidermis
In order for the skin of the face to remain young and healthy as long as possible, it needs protection. Not only high-quality care, but also the normal functioning of its own protective properties. Retinoic acid helps restore the skin's natural defenses against microbes and active cell regeneration.
The better the epidermis is cleansed, the better the processes of cell self-renewal work. This means wounds heal faster and better, burns heal more effectively, and acne is less bothersome.
One of the best functions of retinol is its ability to brighten skin. The process of lightening and removing age spots and freckles is not only possible through exfoliation. A huge role is played by the peeling components, which simply block the synthesis of melanin.
Prevention of oncological processes
There is an opinion among doctors that it is retinoic acid that can prevent malignant neoplasms. Retinol and its derivatives destroy abnormal skin cells, preventing the development of formations leading to oncology in them.
Who is yellow face peeling recommended for?
Yellow face peeling is recommended for all patients from 18 years of age in the absence of contraindications. If the patient is under 18 years of age, but there are clear indications, the consent of the parents or other legal representatives of the child is required. Such exceptions are decided on an individual basis.
Yellow retinoic peel is recommended for patients suffering from persistent breakouts and acne.
For patients over the age of 40, yellow peeling will help smooth out wrinkles, remove pigmentation and give the face a fresh look.
What are the types of yellow peeling
All types of peels are divided according to the depth of cleaning (superficial, medium and deep) and the method of action (mechanical or chemical).
Yellow retinoic peel is a chemical peel. Cosmetologists distinguish 2 types of retinoic peels:
Superficial. Affects only the upper layers of the skin. Superficial peeling removes the stratum corneum of the epidermis and copes with a dull complexion, inflammation.
Medium. Works on the upper and middle layers of the skin. Suitable for removing scars, scars. Smoothes wrinkles and removes hyperpigmentation.
Different beauticians use different formulations for a yellow peel. For example, professional exfoliators have a concentration of about 10% retinoic acid and 90% excipients.
Some retinoic peels manufacturers use more aggressive formulations. Usually, they are applied in two steps with a difference of 1 day (due to the potent synthetic retinoic acid).
Other companies use formulations with natural retinoids. Such formulations are more gentle on the skin and are applied only once per procedure.
Yellow peeling with salicylic acid
Yellow peeling with salicylic acid is more effective, but requires longer skin regeneration. Retinoic peeling with salicylic acid is suitable for patients who have several days to effectively treat their skin.
The difference from the classic yellow peeling is that the specialist applies salicylic acid to the face before peeling.
This improved composition improves exfoliation, but also makes the procedure more aggressive.
Yellow peel with salicylic acid is recommended for patients who suffer from regular acne, breakouts.
Yellow peel with salicylic acid can cause discomfort in problem areas. Discomfort, redness, and burning are normal options. Hyperemia or redness of the skin can persist for several days. After the beauty subsides, the epidermis will begin to actively peel off.
In no case should you try to "help" remove the stratum corneum
Cosmetics will not help smooth out the appearance at this time, but can cause infection or inflammation
Not recommended for patients with dry, thin and sensitive skin.
Yellow peeling with salicylic acid is perfect for owners of oily and combination skin
What is the composition of yellow peeling used by our specialists
We value each of our patients. That is why we use only high-quality and highly effective peeling formulations.
Medic Control Peel 5% retinoic (yellow) peeling:
Removes acne scars
Removes pigmentation (especially good with additional IPL procedures)
Effectively smoothes wrinkles
Treats acne
Provides a pronounced lifting effect
Such a composition for exfoliating the stratum corneum of the epidermis shows good results in the fight against the signs of aging and photoaging.
Advantage: 1-2 yellow peeling treatments are enough for significant results
Areas: face, neck, décolleté, back and intimate area (lightening of the intimate area)
Rehabilitation: 3-5 days
Depth of action: middle peeling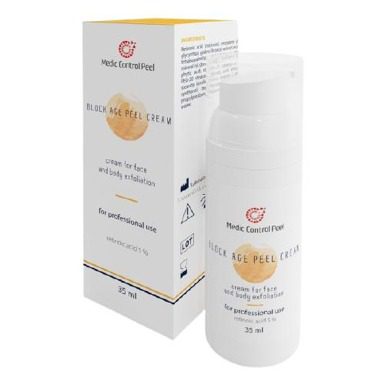 How yellow peeling works
To better understand how the yellow peel works, you need to understand the composition of the exfoliation a little. The main active ingredient is retinoic acid (retinol). It is scientifically proven that retinol improves skin condition without aggressively affecting the dermis.
It is correct to point out that retinol is very similar to another acid, acetic. But unlike her, it has a more gentle, but no less effective effect.
Also, the yellow peeling contains special components that improve the functioning of fibroblasts. They activate the synthesis of collagen and elastin – the most important proteins of beauty and youth.
Thanks to this, the cells are provided with constant nutrition, quick recovery and high-quality self-renewal. The skin becomes more hydrated, smoother and healthier.
Interestingly, unlike other peels, retinol acts on the skin from the inside.
Glycolic acid. One of the most corrosive fruit acids, it is very damaging when exfoliating tissue. In contrast, retinol has a mild effect due to its work with the intercellular space, and not with the cell itself.
All retinoids have an interesting property – they work only with the basal layer of the dermis. It is there that the nucleation of skin cells occurs. As a result, nutrients penetrate faster and are more actively absorbed by young cells. As a result, abnormal and old cells are exfoliated, and new ones are replacing them.
The main difference between yellow retinoic peeling is that it does not injure skin cells, but helps them exfoliate naturally. And the composition of the peeling accelerates the processes of tissue renewal and regeneration.
How is the yellow face peeling procedure done?
Consultation with a specialist. A preliminary consultation is necessary in order for a specialist to assess the condition and needs of your skin. It is at this stage that contraindications are revealed, if any.
Preparation for peeling. To improve the quality of the procedure, you can prepare the skin at home. To do this, use products with retinoic acid no more than 0.1%. 7 days before and after the procedure, you cannot sunbathe and do other peels or hardware cleaning.
Yellow skin peeling. Before the procedure, the specialist will thoroughly cleanse the skin from impurities and makeup residues. The necessary composition is applied to the epidermis and and take the recommended time. After the yellow mask turns into a film, it is removed.
Application of a protective SPF cream.
When to do retinoic facial peels
Retinoic or yellow peels can be done at any time of the year for patients over the age of 18. It will be especially effective to use an exfoliating procedure over the age of 40 to remove hyperpigmentation and tighten tissues. The use of peeling in the summer requires special attention and care.
Experts recommend choosing winter and autumn time for yellow peeling. This will help reduce the risk of exposure to direct sunlight and ultraviolet light.
However, if you are ready to give up walking in the active sun for a while, the procedure can be performed in the summer. A prerequisite is regular use of SPF.
How often can yellow peels be done?
The yellow peeling procedure is usually performed 1-2 times a year. Histological studies have shown that the stimulating effect on the cellular structures of the skin persists for 6 months after the procedure
Yellow peeling shows a noticeable effect after the first session. The recommended break between peels is from two to three months to six months with the obligatory preparation of the skin.
Benefits of retinoic peels
Gentle effect on the epidermis
No pain or discomfort
Fast recovery
There are no risks of complications
Long lasting result
Safe
Results after yellow peeling
After the process of skin rehabilitation after yellow peeling is completed, you will be able to evaluate the results. Your skin will become firm, taut and velvety. The face will return to a smooth and healthy complexion, wrinkles will be smoothed out, and age spots and scars will be removed.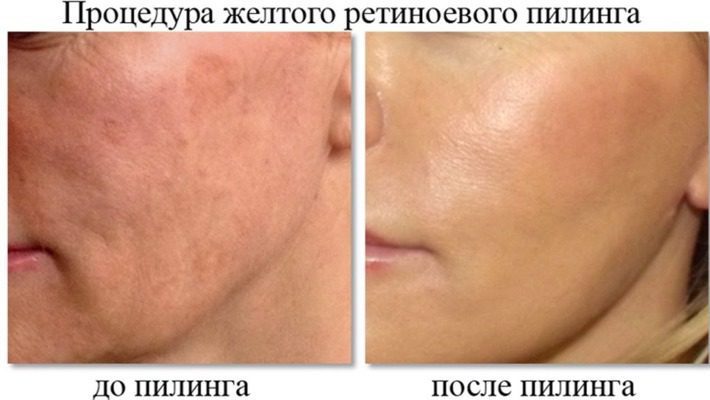 Home care after yellow peeling
Many patients are interested in how to properly care for facial skin after yellow peeling? During the recovery process, you may experience the following symptoms: dryness, itching, irritation, slight swelling and redness.
The exfoliation process will be complete by about the end of the week after the procedure. To help your skin recover and renew itself faster, follow these simple tips:
Drink plenty of clean water daily
Before going outside (even in winter), use sun protection (SPF at least 30)
In the first week, gentle washing without the use of aggressive components (alkali, acids and abrasive particles) is permissible. It is very important to let your skin exfoliate dead cells on its own!
Do not overload your skin with cosmetics and greasy creams. Use thermal water with a spray nozzle for humidification.
Refuse for the recovery time from the bath, sauna and solarium
During recovery, do not take drugs containing retinol.
FAQ
Does yellow peeling hurt?
No, the procedure for exfoliating dead cells is not painful. However, in some cases, the patient may experience burning sensation and discomfort.
How long do the results of retinoic peels last?
On average, the result of retinoic peeling lasts for 3-4 months. If you do supporting procedures, this period can be increased. The duration of the yellow peel results can be reduced due to individual characteristics.
Who Can Perform Retinoic Peels?
Exfoliation of the skin can only be performed by a specialist with a higher medical education (dermatologist or cosmetologist).
What is the recovery time after yellow face peeling?
The procedure has a very fast rehabilitation period – 1-2 days. The procedure is perfect for a weekend to meet the new work week with a well-groomed and radiant face.
What are the pros and cons of retinoic peel?
Pros of yellow peeling: short course of treatment, quick rehabilitation and visible results
Disadvantages of yellow peeling: you need to be patient and have a few days free from activities and work to calmly restore the skin.
Why is yellow peeling harmful?
There is a well-founded opinion that retinoids, and more specifically retinol, can be harmful to health. However, in order for retinol to have a negative effect on health, a high concentration of the substance and a large amount of the drug are required.
In the process of retinoic peeling, a very small concentration of the active substance is used, which is eliminated by the body without any problems.
What complications can there be after yellow face peeling?
It has almost no risks of complications and side effects after the procedure, since the procedure is carried out by an experienced doctor in compliance with medical protocols of use.
Variants of the norm are: hyperemia of the skin within 2 days, slight discomfort and burning sensation during the procedure.
Complications after retinoic peeling can occur in the following cases:
active tanning within a month after the procedure, pigmentation, individual characteristics of the body, hypermia, allergy to the components of the drug, itching, irritation, inept home use – chemical burn.
Draw your attention to! Homemade ic use may result in extensive chemical burns. When using retinoic peeling at home, you must strictly follow the application rules and strictly adhere to the recommended time.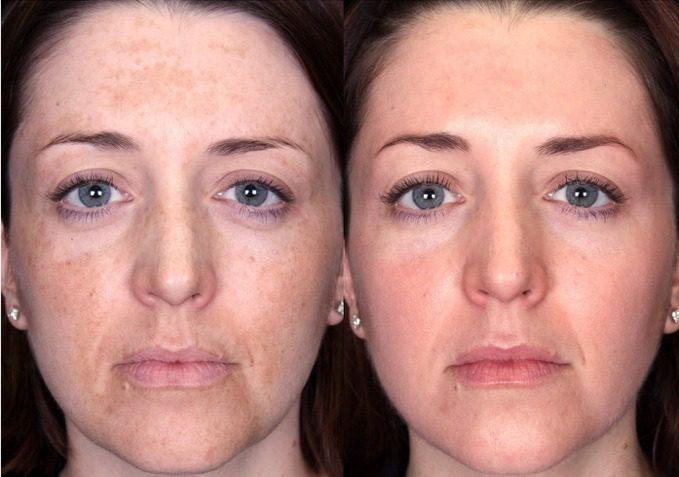 Also, before peeling at home, you need to do an allergy test. To do this, a small amount of the composition is applied to the inner bend of the elbow, the film is removed and the mixture is allowed to wait for 6-12 hours. If during this time there is no itching, redness or swelling, the product can be used.
Can yellow peels fail or show very poor exfoliation results?
This is possible in two cases: if the specialist used a poor-quality drug or a fake, as well as in the case of an individual peculiarity of the skin. Thick, elastic skin is less susceptible to exfoliation and it is on this skin that the result may be negligible or completely absent.
In this case, experts recommend a preliminary stronger exfoliation of the stratum corneum and only then yellow peeling.
How many procedures do you need to see the result of retinoic peeling?
The first changes will be noticeable immediately after the first exfoliation procedure. We use high-quality formulations, so there is no need to undergo whole skin treatments. 1-2 procedures will be enough for an effective result.
What procedures are combined with yellow facial peeling?
Works best with IPL Phototherapy.
Can yellow peels be done at home?
You can, but it's dangerous. Modern online stores offer an extensive selection of yellow peel formulations for home use. However, we draw your attention to the fact that only the patient is responsible for the results of such a procedure.
Violation of the technique or protocol for performing the procedure, as well as changing the exposure time, may result in a chemical burn to the skin.
We do not recommend using retinoic peel formulations at home.
What should not be done after yellow peeling?
After retinoic peeling, it is advisable to avoid exposure to direct sunlight and ultraviolet radiation. If you do not have this opportunity, then 15 minutes before going outside you need to use a cream with SPF protection.
What are the contraindications for yellow peeling?
Pregnancy
Lactation
Viruses
Infections
Allergy to the components of the composition
Photosensitivity
Liver diseases
Dermatitis and eczema in the acute stage
Taking Roaccutane
Presence of neoplasms of unknown etiology
Coollaser Clinic in the center of Kyiv on Pechersk takes care of every patient, which is why we guarantee safety and high quality in every procedure.
Yellow face peeling – transform your skin, just give us a call!
Retinoic yellow peel price
| | | |
| --- | --- | --- |
| Yellow (retinoic) peeling face mask | 1550 UAH | |
| Yellow peeling face + neck | 1850 UAH | |
| Yellow peeling face + neck + neckline | 2550 UAH | |
| Yellow retinoic peeling back | 2950 UAH | |
| Intimate retinoic peeling | 2650 UAH | |
Specialists in the procedure