Acne scars removing with a laser in Kyiv
Removing acne scars with a laser requires a certain amount of time and effort to get a noticeable result. It is necessary to immediately warn that today there is no one universal way to deal with acne scars and this treatment requires an integrated approach. However, we will focus on the most effective and cardinal treatment in our opinion – laser treatment.
It is recommended to combine laser treatment of acne scars with other treatments. The combination of treatments may vary depending on the types and types of scars.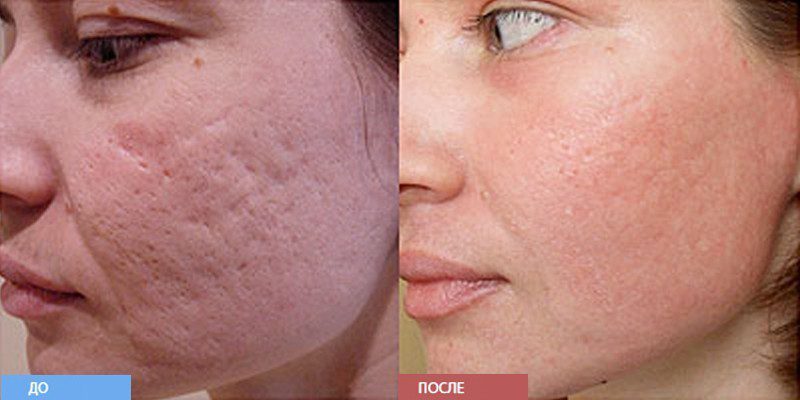 Acne scars, as a consequence of acne, can be divided into several types.
Here are the main ones:
Red spots
Scars
Deep scars
Enlarged pores
Depigmentation
Post-acne is a consequence and appears for the following reasons:
Incorrectly selected therapy
Self-cleaning of blackheads at home
Untimely treatment of the patient
Severe inflammatory form of the disease
Acne scars depend on the depth of the lesion. The deeper the lesion, the greater the change in the structure of the skin is. Acne scars can result from skin damage during active acne healing, depending on whether there is net loss or gain in collagen (atrophic and hypertrophic scars). Eighty to ninety percent of people with acne scars have scars associated with loss of collagen (atrophic scars).
There is a classification system for scars proposed by Goodman and Baron. According to this classification, there are four different classes of acne scars that differ in size, shape, location, and shape. But most often, acne scars are classified into two types.
Acne scar treatment defines two main types of acne scar / scar:
Atrophic scars are more common than keloids and hypertrophic scars
Hypertrophic scars are associated with excess collagen deposition and decreased collagenase activity. Hypertrophic scars, usually pink, raised, and firm, with thick, hyalonized collagen bundles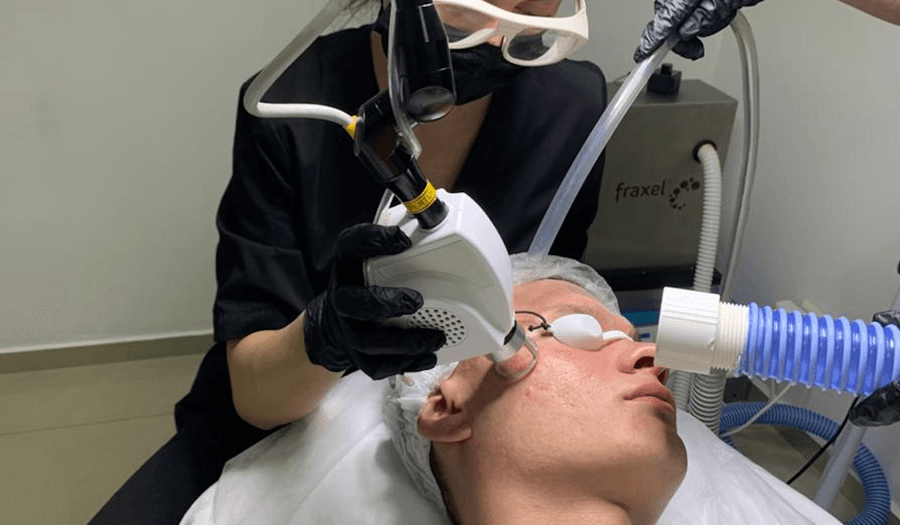 The clinic uses one of the most effective forms of treatment for acne marks – laser. Speaking about laser treatment of acne scars in Kyiv, we mean a complex of hardware effects, such as CO2 laser resurfacing, Venus Viva nano fractional resurfacing, in combination with IPL.
CO2 laser resurfacing of potacne scars at Coollaser Clinic in Kyiv
Laser resurfacing of acne scars is the most successful and proven method of treatment. Fractional skin treatment on problem areas is performed with a CO2 laser using Coolaser technology.
This procedure in our clinic is offered in combination with Dermapen microneedling therapy or Viva Venus Versa RF microneedling therapy. Most often, to obtain the desired result, you may need not one procedure, but 2 – 3. It depends on the degree and age of the scars, as well as on the patient's desire to get a result that will satisfy his expectations.
The photos below show the result of laser removal of acne scars and chickenpox scars. The rehabilitation period after using the CO2 laser was 6 days. The stages are clearly visible in the photo. A grateful patient left a review about laser resurfacing.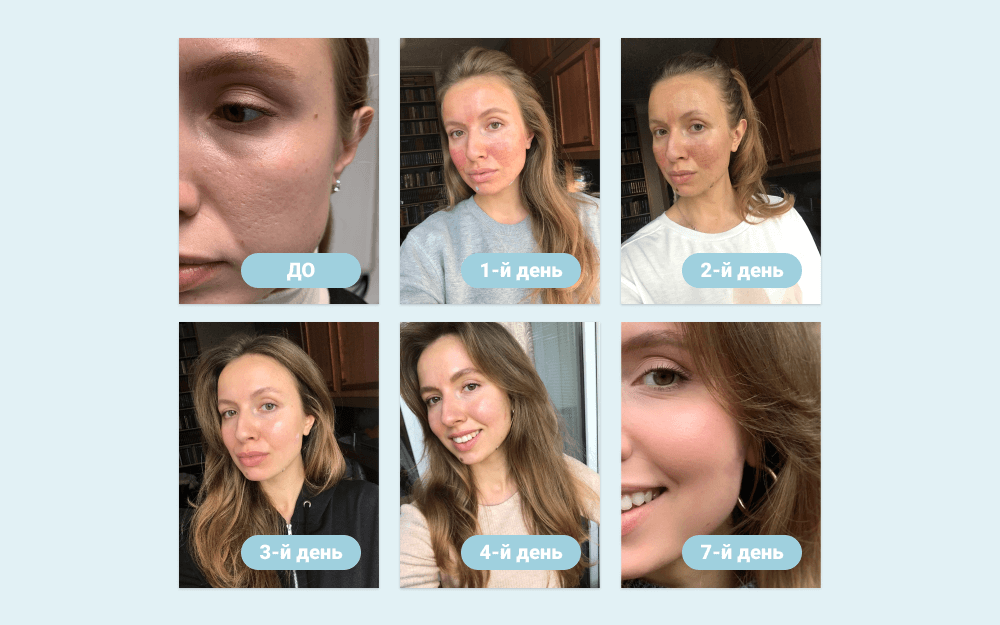 Fractional resurfacing after acne Venus Viva
Venus Viva – rethinking the concept of fractional RF treatments:
Nanofractional RF 150X20 mcm contact print for fast wound healing
Smart scan allows you to use different print templates for adjustable treatment areas and reduce energy density, which is responsible for a low risk of post-inflammatory skin
Unique fractional RF system that exemplifies controlled ablation / coagulation function – for consistent, predictable results and fully customizable treatment procedures
Combined use of techniques such as CO2 laser and PRP therapy (plasmolifting) is also recognized as a very effective treatment for acne scars. As a rule, in our clinic, this combination is accompanied by a specific protocol for the use of additional procedures and injections. We use these techniques based on the experience of our colleagues from the United States.
Get a clearer complexion at the Coollaser Clinic with Laser Treatment for Acne Scars.
Acne scar removal cost
| | | |
| --- | --- | --- |
| Resurfacing CO2 scars (1 square centimeter) | 300 UAH | |
Specialists in the procedure