How to remove a keloid scar in Kyiv
How to remove a keloid scar is a question that we increasingly hear from our patients. The formation of a keloid scar occurs due to many reasons:
Cuts
Wounds
Burns
Consequences of surgery
Removal of moles
Removal of papillomas
Patients with a tendency to form keloids often ask themselves a question. How to remove a keloid scar quickly and permanently?
The answer to this burning question will be given to us by doctors from the Coolaser Clinic. Our specialists are trained in the leading countries of medicine and have extensive experience in solving such problems.
Keloid scar
Before talking about removal methods, you need to understand what it is. A scar or scar tissue is a consequence of trauma to the skin. A wound in which regeneration is impaired is restored not into skin cells, but connective tissue cells.
A keloid scar is a type of scar that is difficult to correct and often causes discomfort. The most common ones are itching, pain and burning.
Types of treatment. How to remove a scar?
Removing a keloid scar is a complex and time-consuming process. However, a highly qualified doctor and well-chosen treatment allow you to remove a keloid scar permanently.
The main types of treatment are divided into two types:
Medication. Correction of a keloid scar using enzyme therapy – injection of drugs. Removal of keloid scars by injections has a number of contraindications and average efficiency.
Medication removal of keloid.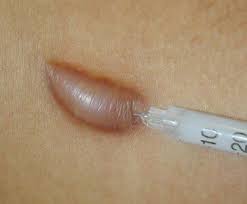 Mechanical. It is the mechanical effect in the form of surgical intervention and cryodestruction that can give an effective result of scar removal.
Laser exposure.
Laser scar removal is a modern and safe way to treat scars. The laser has minimal contraindications, does not leave burns or scars.
5 effective procedures for keloid scar removal: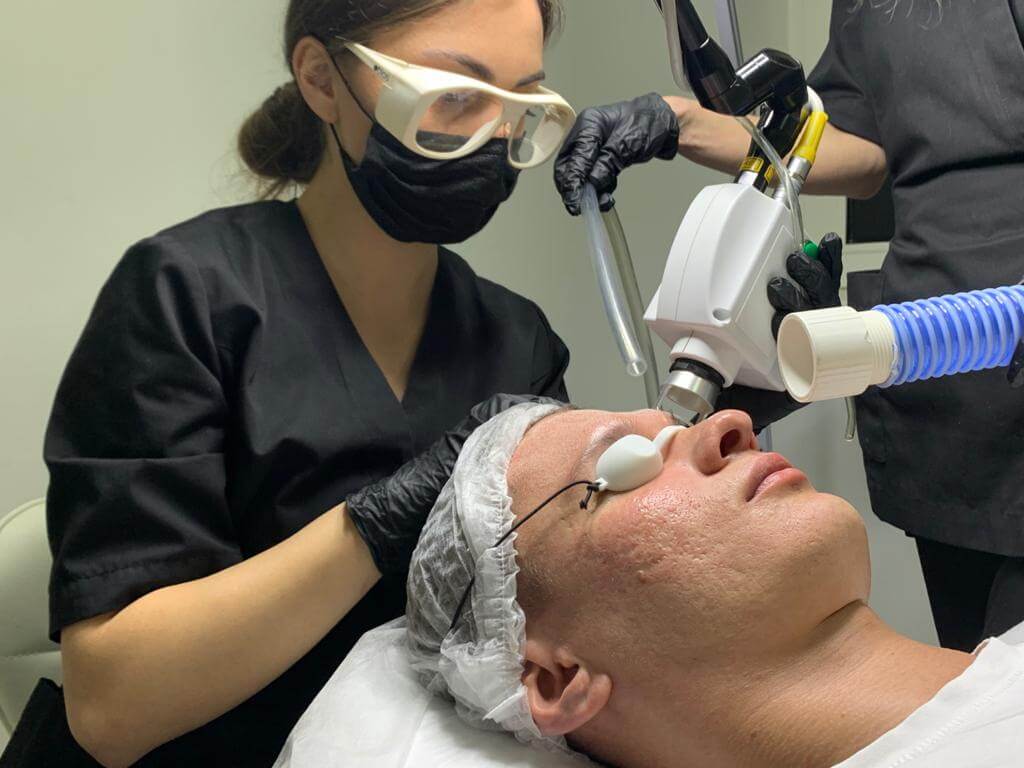 Removal of a keloid scar
Laser resurfacing. Rejuvenation and removal of keloid scars and scar tissues. Effective stimulation of all necessary processes.
Fibroblasting. An innovative way to correct imperfections and rejuvenate the skin. Plasma energy for the beauty of your skin.
Erbium laser peeling or cold laser. The classic method of correcting and removing stretch marks (striae), as well as scars and scar tissues.
Removal with nitrogen. Cryo-removal of a keloid scar is a complex solution for your skin. Liquid nitrogen breaks down scar tissue and removes keloid scars excellently.
Scar irradiation – Bucky therapy. Radiation therapy uses a variety of sources to remove keloids. This can be mega-wave and long-wave X-rays. In dermatology, as a rule, ultra-soft X-rays are used – the so-called borderline rays, or Bucca rays.
Excision of the keloid scar. Surgical excision of a keloid scar is the most radical and at the same time effective method of scar removal. The surgeon cuts the scar with a scalpel.
Thanks to the operation, the tissues are actively restored, and another young scar is formed at the site of the keloid scar. It is his experts who recommend laser treatment to remove the keloid scar once and for all.
The doctor's consultation
For a competent and reasonable choice of the technique for removing a keloid scar, we recommend consulting a doctor. A doctor with extensive experience will help determine the type of scar, its condition and assess which method will have the maximum effect.
Contraindications
Important! Contraindications for each scar correction method are individual and depend on many factors.
Oncology
Pregnancy
Viral diseases
Infections
We believe that you can enhance the beauty of every person. Every day our experts prove we can remove almost any skin imperfection.
Coollaser Clinic in the center of Kyiv on Pechersk is a combination of a variety of techniques, the best doctors and equipment, recognized worldwide as the best.
How to remove a keloid scar? – ask us and we will answer!