Laser tattoo removal. When is it applicable?
An existing tattoo can lose its appeal in the moment when you enter to new phase in your life.
The doctors of our clinic in Kyiv offer a solution:
laser removal of tattoos that have lost their relevance
laser removal of old, faded tattoos
laser correction and lightening of tattoos
tattoo fix
Laser tattoo removal begins with the first session, usually lightening the pattern. Sometimes this is enough so that you can overlap the old tattoo with a new pattern. The complete removal of the old tattoo will require several sessions.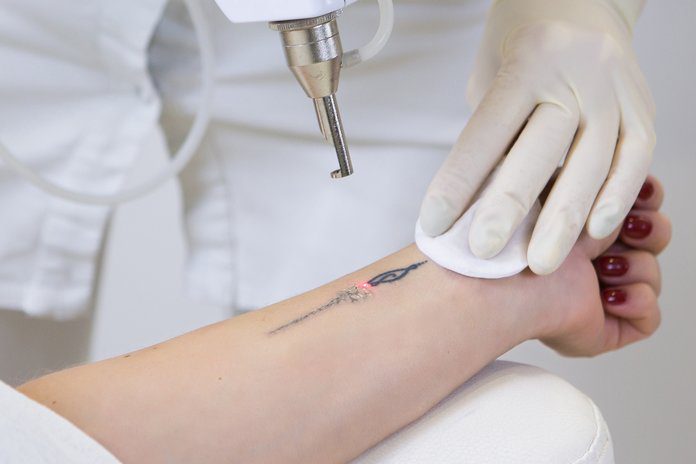 Laser tattoo removal in Kyiv
Tattoos are popular form of self-expression. A tattoo can be a highly artistic, professional decoration.
But in order for the ink to be constantly in your skin, there must be a very strong moral incentive and argument. Your intention and decision should not change over the long years of your life.
If your life or your taste has changed, then it's very difficult, painful and very expensive to get rid of your past commitments and principles. But nevertheless, you have such an opportunity. The advent of lasers for tattoo removal has reduced the moral burden and has given us a new chance.
The most modern technologies for laser tattoo removal in Kyiv
The CE / FC certified Q swithced nd-yag laser RL-IRM is a powerful dual-mode, nanosecond Q-Switch laser with three different wavelengths in one system.
High pulses of intense laser light create a photoacoustic wave that significantly brightens or completely removes pigments and tattoo particles with the laser, without harming the surrounding skin tissue. This is especially important for patients with darker skin tones, as the skin has a higher concentration of melanin (pigment).
The pigment readily absorbs laser radiation with a high risk of overheating the skin and burns to a dark-skinned or sunburnt patient.
This wave energy destroys the ink molecules at such a high nano-second speed that they vibrate and shatter into microscopic particles.
These microscopic fragments are absorbed by the body and pass unnoticed through the body.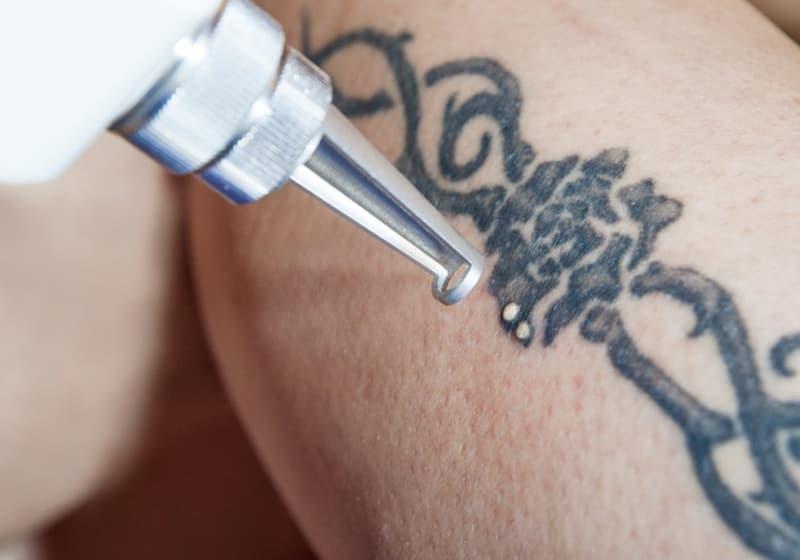 Benefits of RL-IRM Q swithced nd-yag laser for tattoo removal
Less pain, shorter rehabilitation period.
It is possible that you will have some discomfort when performing a procedure to remove ink from your skin (imagine, for example, clicking a rubber band on your skin).
The RL-IRM laser produces a non-ablative effect where the surrounding skin does not burn. You will immediately see the skin "swelling" over the tattoo lines and brightening the filling of your tattoo, without damaging the non-inked tissue around it.
The pain subsides within a few hours and there is no bleeding or burns or scabs. Breaks between courses of treatment are 2.5 – 3 weeks. This is less than traditional lasers (4-8 weeks).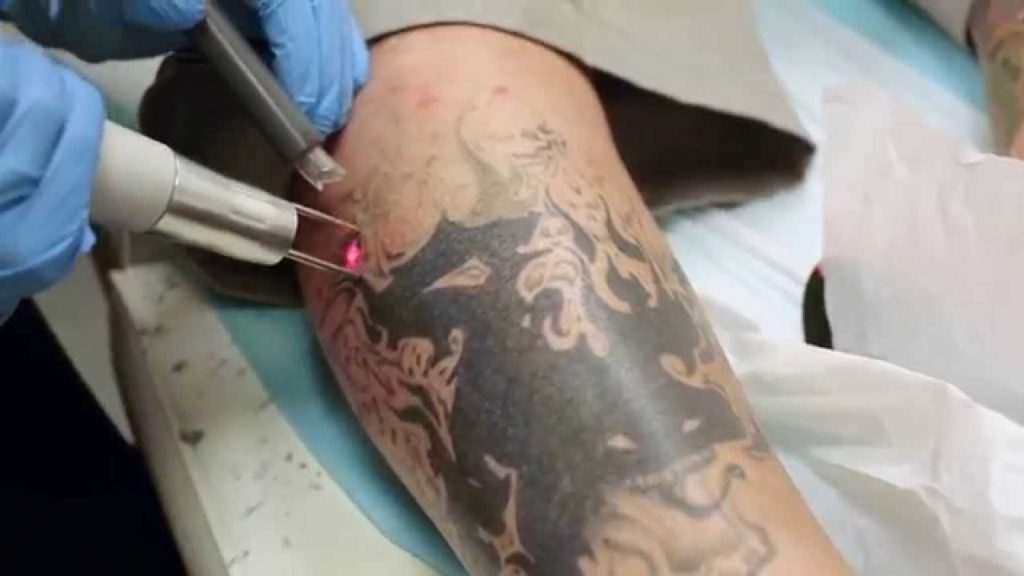 Less Procedures for Tattoo Removal
Traditional lasers require 6 to 15 treatments, depending on ink density and color. The RL-IRM laser treats all ink colors (green is the hardest) using on average less than half the number of treatments compared to traditional lasers.
Only 3-5 procedures, depending on the saturation and depth of the pattern, for the complete removal of the tattoo with a laser!
Side effects and their elimination.
Overall, the RL-IRM laser is capable of completely removing or almost completely removing most of the colors in tattoos. Blue and black tattoos can be removed as if they never existed. In some very rare and difficult cases, the laser can leave a light "spot" at the site of the removed tattoo during the removal of a deep and luscious tattoo.
It rarely happens that minor residues of color pigment appear after complete removal. This happens most often with green. This means that there is a small amount of ink that cannot be removed in this way in a short time.
With a large volume of ink removed, a moment may come when the skin no longer responds to laser pulses of nano-second speed. In this case, it is necessary to take a break from treatment for several months.
The principle of operation of the Q swithced nd-yag laser RL-IR to remove blue and color tattoos in Kyiv
The powerful energy of the Q-switched ND-YAG laser absorbs blue, black and colored melanin.
Melanin is further fragmented and crushed into very small particles, which are easily absorbed by the lymphatic system and excreted from the body naturally. Thus, a tattoo or other pigmentation is removed without damage to the skin without burns, without wounds, without scars.
The Q swithced nd-yag laser is suitable for standard European skin types (Fitzpatrick skin phototype 1, 2, 3).
Treatment is safe and comfortable, without side effects, it takes place in our clinic .
Q swithced nd-yag technical parameters:
laser wavelength: 1064nm / 532nm / 1320nm
laser power: 500W
pulse energy: up to ~ 2000mJ
pulse width: 10ns
The cost of tattoo removal in Kyiv
The price for the laser tattoo removal procedure is determined during a free consultation by measuring the size of your drawing. The price of laser removal is determined based on the size of the treated area. The cost for one session per square centimeter is 50 UAH.
Your doctor may suggest a better package based on the number of sessions required to flatten the tattoo, taking into account such nuances as:
skin tone,
ink color,
tattoo density,
age of tattoo, etc.
You need to pay attention to the fact that you may need additional treatment associated with increasing the functioning of the immune and lymphatic systems, presumably assessing the number of tattoo removal procedures.
Get rid of the past and take a course in laser tattoo removal in Kyiv.
Laser tattoo removal
| | | |
| --- | --- | --- |
| Removal of tattoos | from 500 UAH | |
| Removal of tattoo and permanent makeup | from 1500 UAH | |
Specialists in the procedure