Laser body hair removal IPL or photo hair removal is one of the most effective methods of getting rid of unwanted hair growth. The main task of high-quality laser hair removal is to REMOVE HAIR WITHOUT PAIN. Hair growth practically stops in a few sessions. As a rule, one maintenance procedure is recommended per year after several sessions.
What is Venus Versa laser hair removal?
VERSA INTENSE PULSED LIGHT (IPL) is the latest and most advanced laser hair removal system currently used on the market using innovative lighting technology that uses pulses of light energy to gently penetrate the skin and specifically target, immobilize and destroy unwanted hair follicles.
This is a non-invasive treatment. It's a convenient and easy treatment for age-related unwanted body hair problem. Smart PulseTM technology maintains optimal energy and wavelength with every pulse.
What are the benefits of laser hair removal?
the most painless procedures of all types of hair removal;
get rid of the eternal problem of hair growing under the skin;
hair that has been removed no longer grows;
impulses act directly on the hair follicle and do not injure the tissues around.
Laser hair removal is the fastest and most effective hair removal.
Laser hair removal with our device is much faster and more efficient than other devices. For example, processing one leg below the knee will take no more than 5 minutes.
Venus Versa delivers higher energy and unique SmartPulse ™ technology that maintains even energy levels.
Revolutionary built-in cooling system means increased safety and comfort for you.
Unlike other treatments, our treatments cover a large area so that your sessions are shorter and your visits are less frequent.
Excellent cooling effect to improve patient comfort – an innovative forced cooling system that makes the patient feel comfortable during the photoepilation procedure, completely blocking pain. The patented cooling system checks the applicator temperature 1000 times per second! This option allows you to achieve the pinnacle of comfort and safety. Avoiding the need to spend time on cooling improves the productivity of the treatment.
You can go back to your daily activities immediately after the procedure. The absence of pain, swelling, burns, inflammation and redness is a pleasant result of photoepilation.
How laser hair removal works
Laser hair removal provides excellent photothermal energy to hair follicles. By choosing the appropriate wavelength for hair reduction (650nm or 690nm), your doctor will be able to tailor treatments to your skin type for optimal results.
Hair grows in three stages, and when the hair is in the anagen (growth) stage, it's most vulnerable to light therapy. The device selectively heats the entire length of the nested hair follicle, cutting off the supply of nutrients from it, thereby canceling its growth. Since all hairs are not always in the anagen stage at once, multiple treatments are needed to treat it while it is in the anagen stage.
What areas can be laser treated?
Hair reduction laser hair removal offers patients a safe, fast and effective alternative to eliminate unwanted hair. The process is safe enough to use on any part of the body (e.g. face, neck, armpits, bikini line, legs, arms).
Can tanned skin be treated?
Active tanning from the sun or tanning beds interferes with laser hair removal procedures or. Sun-dark, tanned skin has a lot of pigment or melanin that will absorb light energy destined for the hair follicles.
Contraindications to laser hair removal
There is no laser or IPL technique today that works on white, red, or gray hair. The effectiveness of laser hair removal is based on melanin / hair pigmentation.
It's important to discuss the following medical contraindications with your healthcare professional before processing:
herpes,
lupus,
melanoma,
tendency to keloid,
psoriasis,
problems with pigments and previous treatments.
We recommend that the person doesn't have sunburn on the treated area. Places to be epilated must be protected from the sun 3 weeks before the start of the procedure.
How many treatments do I need for laser hair removal?
As mentioned, hair doesn't all grow at the same time. It's believed that they are always in three different stages. The hair can only be affected by light energy when it is in the anagen stage. In addition, hairs located on different parts of the body have different growth cycles and percentages of anagen hair at any given time.
Due to this physiology, a series of 6-8 treatments or more must be given over a period of time, about It is usually 4-8 weeks to return to the hair growth cycle.
Will I be uncomfortable?
Protective goggles will protect your eyes. You may briefly feel warmth or small clicks, similar to being hit by a linen rubber band, as the light is absorbed in the targeted areas. Your procedure can take anywhere from a few minutes to half an hour, depending on the size of the area to be treated and the type of procedure being performed. The procedure is gentle, non-invasive and safe. There is generally no need for a local anesthetic, but if agreed with you, it can be used on the most sensitive areas.
What can I expect after laser hair removal?
You will most likely see some localized redness in the treated area, which should disappear within a short time from 10 minutes to several hours. The results depend on the condition of your skin, the amount of treatment performed and the area being treated.
What are my steps at the end of the procedure?
You need to follow your doctor's recommendations. Certain skin care products may be offered to you with detailed instructions on how to use them and with appropriate advice. If you need to go outside on a sunny day, we recommend covering the treated skin and using a sunscreen of at least SPF 50.
Why do I still see body hair after laser hair removal treatments?
Hair removal treatments are based on the principle of stopping hair growth. Their target is the pigment around each hair follicle. This principle slows down hair growth and makes the skin smoother. Did you know that a slight appearance of new hairs is completely normal after any laser and photo hair removal procedures? Want to know why hair can't disappear once and for all? Don't be discouraged, this is completely natural and has its own explanations. Everything is related to the main trends in body hair growth.
Hair Growth
Hair removal treatments using laser hair removal or intense pulsed light (IPL) affect hair follicles in the anagen phase, delivering heat to the follicle, destroying its structure and minimizing its ability to regenerate.
The principle of photoepilation and laser hair removal
This treatment only acts on the hair follicles in the anagen phase. The follicles that were in the catagen and telogen phases during this first treatment will enter the growth phase and will be removed during subsequent treatments according to your treatment schedule.According to the American Academy of Dermatology, you can expect hair growth to decrease after the first treatment. by 10-25%. But the hair growth cycle is not the only factor to consider.
Medical conditions or changes in hormone levels also play a role in hair restoration, whether IPL or laser hair removal in a mixture or not. Hormones can keep some hairs in the resting phase during hair removal treatments, which means these follicles are not affected by the treatment. Hormonal changes after treatment can lead to hair regrowth.
Simply put, hair growth is more complex than it seems.
Getting the effect and maintaining it – the best results
It would be wrong to think that laser hair removal will completely and permanently stop hair growth. But the results are still impressive – with modern hair removal methods, you can expect to see a significant reduction in growth, with hair becoming much lighter and finer than before, to the point where it can be completely invisible. Maintaining expectations and predicting outcomes throughout and beyond the multi-procedure process can greatly help increase overall satisfaction.
During your consultation with your doctor, ask about the optimal timing for maintenance treatments to get a better understanding of what your laser hair removal plan will look like in the future.
A laser hair removal plan is your roadmap for achieving the most effective results possible. Avoid skipping or interrupting your laser hair removal appointments and pay attention to the advice of your doctor or beautician regarding grooming before and after each procedure.
Photoepilation Body
| | | |
| --- | --- | --- |
| Photoepilation of the leg completely | | |
| Photoepilation of two hands completely | 500 грн | |
| Photoepilation of two hands | | |
| Photoepilation of two forearms | 400 UAH | |
| Photoepilation of one armpit | 400 UAH | |
| Фотоэпиляция спина | 750 грн | |
| Фотоэпиляция белая линия живота | 200 грн | |
| Фотоэпиляция живот | | |
| Фотоэпиляция грудь женская | 250 грн | |
| Фотоэпиляция грудь мужская | 500 грн | |
| Фотоэпиляция две руки полностью | 900 hrn | |
| Фотоэпиляция две кисти рук | 200 грн | |
| Фотоэпиляция двух предплечий | 400 грн | |
| Фотоэпиляция одной подмышек | 200 UAH | |
Specialists in the procedure
Useful articles
Обмен опытом в США с топ-хирургом из Беверли Хиллс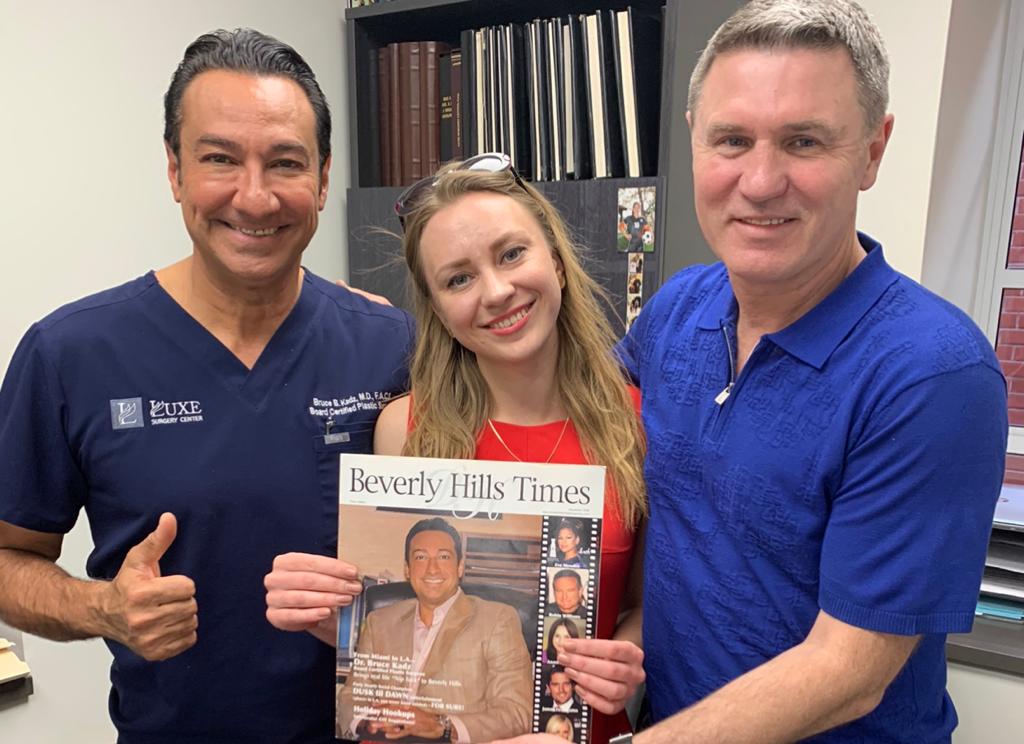 During a business trip to the USA, within the framework of communication and friendly exchange of experience, representatives of Coollaser Clinic, represented by the founder of the clinic Borsalo Oleksii […]
Read the sequel