Cryodestruction in Kyiv
Cryodestruction is a procedure for removing skin neoplasms with nitrogen. An ultra-modern method that effectively copes with the removal of pathological formations with nitrogen.
Coollaser Clinic guarantees the effectiveness and safety of every procedure.
Content.
Indications.
Cryodestruction.
Briefly about the main thing.
The essence of the procedure.
Types of cryosurgery.
What formations lend themselves to complete treatment?
Rehabilitation
Contraindications.
Indications
An absolute indication for the removal of neoplasms is active growth, severe discomfort and increased size.
Pappillomas
Warts
Moles
Hemangiomas
Benign tumors
Malignant tumors
Keloids
Cryodestruction
Cryodestruction or cryosurgery is the treatment of skin neoplasms using very low temperatures. Cryogen, acting on altered tissues, destroys cell structures. The body naturally removes dead cells and builds up healthy tissue.
Cryogen is a generic name for various freezing materials. Cryosurgery uses liquid nitrogen with a variety of application methods.
Briefly about cryodestruction or cryosurgery.
Average cryogenic temperature -180-198`C
At -198`C, an inert gas, nitrogen passes from a gaseous state to a liquid, which is necessary for the procedure
30` average exposure time for 1 skin area
Painless
Effective
Forever
No scarring
Can I get burned or spilled liquid nitrogen?
Quite a common question for patients who have decided on cryodestruction. We hasten to assure you that liquid nitrogen removal is not dangerous in the experienced hands of our doctors!
Important! 0.05% of the world's population suffers from cold allergies. It manifests itself with swelling, bumps, itching and headache after being in the cold.
The essence of the procedure
The essence of the cryodestruction procedure is in active freezing and destruction of pathological tissues. Low temperatures destroy diseased cells at different depths. After the procedure, complete healing and growth of healthy cells occurs.
Types of cryosurgery.
Removal with liquid nitrogen is possible in 3 different ways. They differ in the method of application or applicators for liquid nitrogen removal.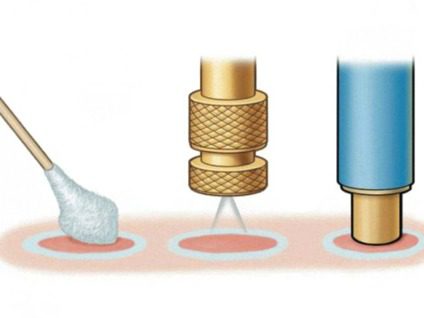 Reed's method.
A cotton swab is abundantly moistened in liquid nitrogen and the pathological formation is treated in several approaches. The maximum exposure time for 1 approach is 30`.
Ideal for gentle removal of superficial lesions with liquid nitrogen: warts, nevi.
Spray Method.
Liquid nitrogen spray removal is suitable for treating large skin areas. However, it is also suitable only for superficial lesions: acne, keratomas, removal of warts, lentigines.
Probe.
Cryosurgery uses probe removal in many cases and on different parts of the body. Suitable for deep removal of formations both on the epidermis and on the mucous membrane. Typically, the probe method is used to remove benign tumors with liquid nitrogen.
What formations can be treated with cryodestruction?
Removal of scars and scars with nitrogen
Removal of warts with nitrogen
Removal of moles with nitrogen
Removal of warts with nitrogen
Cryodestruction of the cervix
Cryodestruction of tonsils
Cryodestruction of papillomas
Callus treatment
Basiloma treatment
Polyp treatment
Rehabilitation period
2-3 weeks is the average period of tissue repair
15 weeks average time for wound healing after a benign tumor
The dressing applied after the cryosurgery procedure must be changed.
The wound is treated with an antiseptic and healing ointment.
Contraindications
We care about your health! Before any procedure, you must consult a specialist. A highly qualified doctor will be able to identify the best method of skin treatment and possible contraindications.
Allergy to cold
Cold urticaria
Cryoglobulinemia
In case you have contraindications, then we recommend an alternative removal – laser.
You can read about the best way to remove neoplasms – Nitrogen or Laser – in the article HERE.
Coollaser Clinic in the center of Kyiv on Pechersk will carry out any procedure with high accuracy and 100% efficiency.
Cryodestruction is a real cold treatment.
Specialists in the procedure