Ultrasonic face cleaning in Kyiv
Ultrasonic face cleaning or ultrasonic peeling – gentle and deep removal of impurities and stratum corneum of the epidermis.
An important step in any face and neck treatment is thorough cleansing. For 1 day our skin is faced with many destructive factors: ecology, nutrition, aggressive creams and cosmetics.
Deep but gentle cleansing is the key to high-quality and beautiful skin.
Coollaser Clinic introduces you to a modern approach to skin care for the face and neck – Facial technology, stage 2 of Ultrasonic facial cleansing.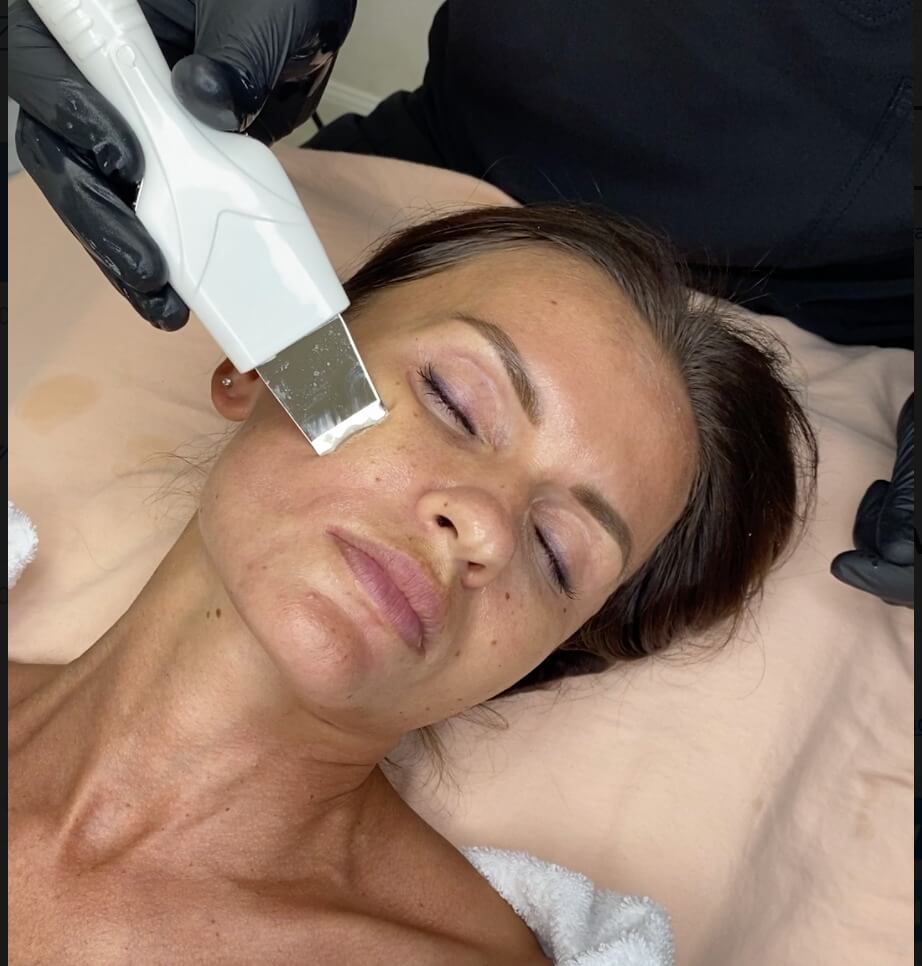 Indications
Oily skin
Enlarged pores
Daily use of cosmetics
Dull color
Comedones
Hyperkeratosis
Ultrasonic cleaning
For accurate and effective cleansing, you need to choose an experienced doctor and high-quality equipment. Zemits ultrasonic cleaning equipment ensures control over every movement and 100% efficiency of any procedure.
Ultrasonic cleaning or ultrasonic peeling is a gentle but deep skin cleansing. Zemits' unique technology exfoliates dead cells and unclogs pores from surface impurities.
The essence of the procedure
Ultrasound converts the cleansing serum into a low molecular weight emulsion. The alternation of sound waves exerts strong pressure on the cell membranes. The emulsion deeply cleanses the pores and removes. Additional mechanical action exfoliates dead cells.
The effect of ultrasound on cells stimulates the normalization of many processes. Blood circulation and lymph drainage improves. The skin is well hydrated, tissue elasticity increases. Ultrasonic peeling provides pore tightening.
By cleaning the skin with ultrasound, the penetration of vitamins into cells is improved. The cells are effectively renewed, leveling the skin microrelief.
Briefly about the main thing
10-15 minutes average duration of the procedure
1 procedure every 2 months will provide a long-lasting result of facial cleansing
A noticeable result of skin cleansing after 1 procedure
70% reduction in the reappearance of inflammation
Important! The regulation of the upper layer of the epidermis with ultrasonic cleaning significantly slows down the aging process.
Benefits of the procedure
Gentle approach. Professional cleansing of the face skin without redness and skin damage.
Safe. No pain or discomfort while cleansing your face.
Can be done even in summer.
Suitable for all skin types.
An individual approach to each patient allows us to guarantee high quality and effectiveness of ultrasonic facial cleansing.
Contraindications
Your health is important to us. Therefore, we recommend that you consult a specialist before any procedure. An experienced doctor will determine the type and needs of your particular skin.
Pregnancy
Lactation
Oncology
Diabetes
Infections
Viral diseases
Inflammation
Coollaser Clinic in the center of Kyiv on Pechersk works only with the best professionals in their field, using the most modern technologies.