Phonophoresis for the face in Kyiv
Phonophoresis or sonophoresis for the face is an amazing addition to any facial treatment. Phonophoresis improves the quality of the skin, delivering nutrients to the deepest layers of the dermis.
If every cell of our skin is moisturized, nourished with vitamins and cleansed, youth and beauty will not take long.
The best Coollaser Clinic experts will tell you how ultrasound and phonophoresis can transform your skin.
Indications
Acne
Dryness
Scars and scars
Stretch marks
Inflammation
Swelling
Phonophoresis for the face
Facial phonophoresis or ultraphonophoresis is the process of delivering nutrients and vitamins to the cells of the dermis using ultrasound.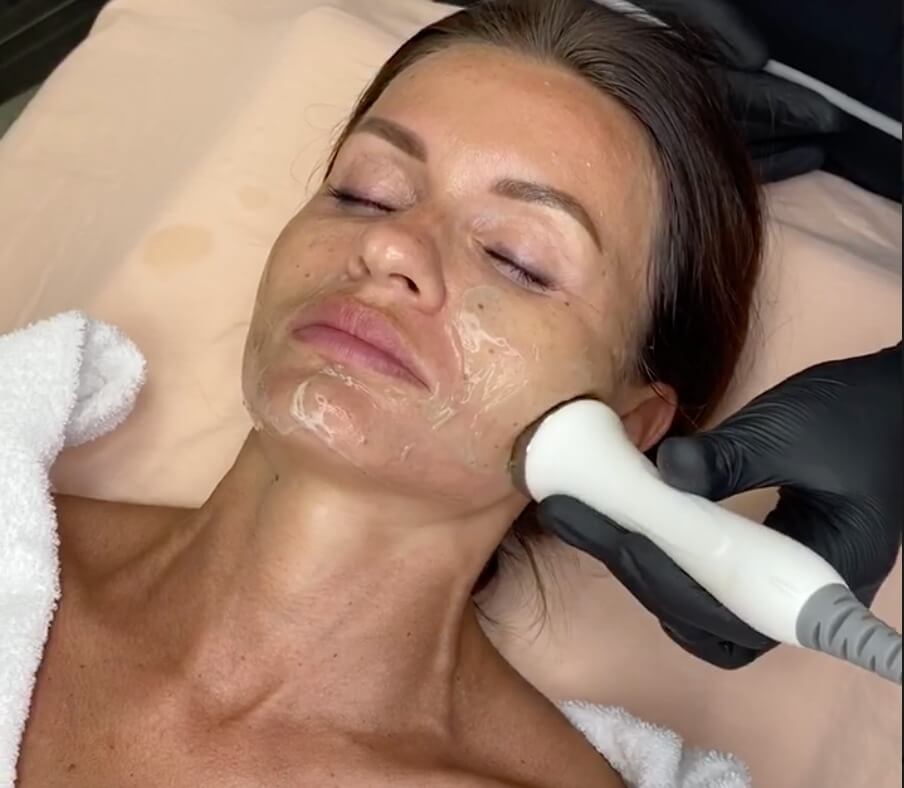 Ultrasonic vibration along with vacuum massage is a good micromassage. Phonophoresis and ultrasound restore metabolism, improve blood circulation and lymphatic drainage.
Active lymph flow effectively and quickly removes facial swelling, improves skin color and prevents inflammation.
Advantages of phonophoresis
You will not feel any discomfort during the procedure. Feedback from patients after ultraphonophoresis indicates absolute painlessness. Tissues are saturated with oxygen, and cells are actively regenerated. The skin of the face and neck looks young and healthy again.
Effective removal of scars and scars.
Small scars and scars can be removed by ultraphonophoresis. The ultrasonic wave in combination with organic, softening serums effectively removes scars and scars of the small size.
Anti-inflammatory action.
Sonophoresis is often prescribed to the patient in the rehabilitation period after surgery. It is ultrasound phonophoresis that is needed for recovery when tissues are particularly prone to swelling and inflammation after surgery.
Increasing the duration of action of drugs.
Effective delivery of drugs and vitamins deep into the dermis provides a lasting effect. Serum nutrients continue to work in the cells after the phonophoresis procedure for the face.
Ultraphonophoresis in couperosis
Facial sonophoresis for couperosis is as effective as ultrasound for the treatment of vascular walls. Ultrasound ultrasound is one of the few techniques allowed for the treatment of couperosis.
Features of serums for the procedure
We do not use vitamin cocktails. Vitamin cocktails are destroyed by ultrasound.
Professional hardware cosmetics have a greater effect than conventional serums. This is due to the composition specifically suitable for the procedure.
Hyaluronic acid, aloe vera and collagen are the best ingredients for an effective serum or gel.
We use an individual approach to each patient. The specialist assesses the condition of the skin, its type, needs and selects the skin treatment protocol you need.
Contraindications
We take care of each of our patients. We recommend that you consult a specialist before the procedure to identify individual contraindications.
Pregnancy
Lactation
Oncology
Infections
Viral and inflammatory diseases
Herpes
Heart disease
Coollaser Clinic in the center of Kyiv on Pechersk – your personal guide to the world of youth and beauty.
Facial phonophoresis – trust us and the results will exceed your expectations.
Specialists in the procedure