Aesthetic procedures
Aesthetic procedures at the Coollaser Clinic are a respectful attitude and high quality. Our collection of professional cosmetics brands will be the perfect addition to your skincare program.
How can you save your beauty in such difficult, modern conditions? Our facial treatments will help prevent and protect your skin:
Microdermabrasion
Cavitation
Microcurrents
Microdermabrasion of the face.
Microdermabrasion or diamond peeling is a facial cleansing aimed at combating age-related skin changes. A treatment that combines the best qualities of cleansing: exfoliation, micromassage and renewal.
How is the diamond peeling procedure going?
Microdermabrasion is a mechanical peeling by its nature. Thanks to the scrubbing composition of abrasive particles, the surface of the epidermis is effectively cleaned of impurities.
A special nozzle delivers a jet of abrasive powder and at the same time collects exfoliating particles. During the session, the patient experiences light, pleasant tingling sensations.
What are the results of microdermabrasion?
The unambiguous advantage of diamond pilling is the safety of the method.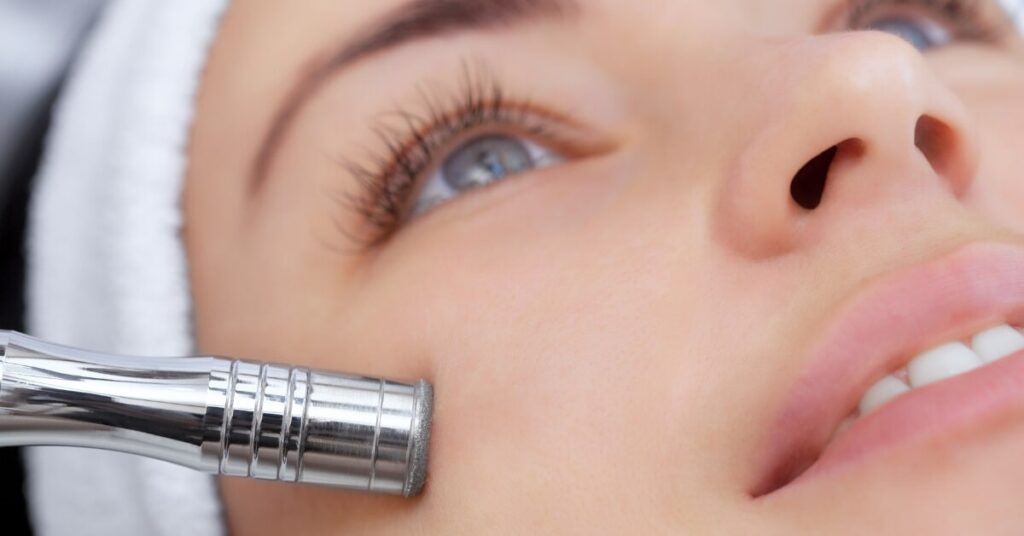 Since only the upper layer of the epidermis is cleaned, the procedure does not require post-rehabilitation, does not cause redness and allergies.
Renewal of the upper layers of the skin
Micromassage
Activation of metabolic processes
Deep cleansing and tightening of pores
Reduction of scars and scars
Preparation of the skin for subsequent procedures
Cavitation.
Modern hardware technology that allows you to remove imperfections and fat deposits in the problem area. The cavitation care procedure will help to correct the oval of the face, tighten the skin, and give a fresh look.
Cavitation does not require surgical intervention, but in terms of efficiency it is on the same level as liposuction.
Cavitation or massage?
A vacuum or ultrasonic nozzle, in contact with the surface of the epidermis, corrects folds and starts active lymphatic drainage.
The result is a gradual reduction of unwanted pounds. The benefit of lymphatic drainage is that the body stops retaining excess water.
Ultrasonic vibrations, working on the subcutaneous fat layer, allow faster and more efficient breakdown of fatty deposits.
Microcurrents.
Microcurrent facial therapy is a low-frequency, pulsed current applied to the surface of the epidermis.
Despite the non-invasiveness of the method, the device works both on the surface of the skin and in its deep layers.
American studies in recent years have shown the high effectiveness of electric current in aesthetic medicine:
Active synthesis of collagen and elastin
Synthesis of hyaluronic acid
Cellular regeneration
Accelerated removal of toxins from the body
Pronounced lifting, as a result of the work of microcurrents, is able to tighten the skin of the face and neck by 30%.
Coollaser Clinic in the center of Kyiv on Pechersk invites you to try the best care procedures!
Specialists in the procedure