Psoriasis: treatment in Kiev with cellular preparations
Psoriasis, the treatment of which can be long and difficult, occurs in 2-3% of the population. That is, at the moment, about 125 million people need effective methods of therapy for this serious dermatological disease.
Psoriasis is a chronic autoimmune disease. It is characterized by the appearance of white or pink scaly plaques on the skin. The disease affects mainly the scalp, genitals, lumbosacral region, elbows and knees. Psoriasis affects people of all ages, but is most commonly diagnosed in patients between the ages of 15 and 25. The disease tends to progress. For many people, it leads to the development of psoriatic arthritis, a painful inflammation of the joints.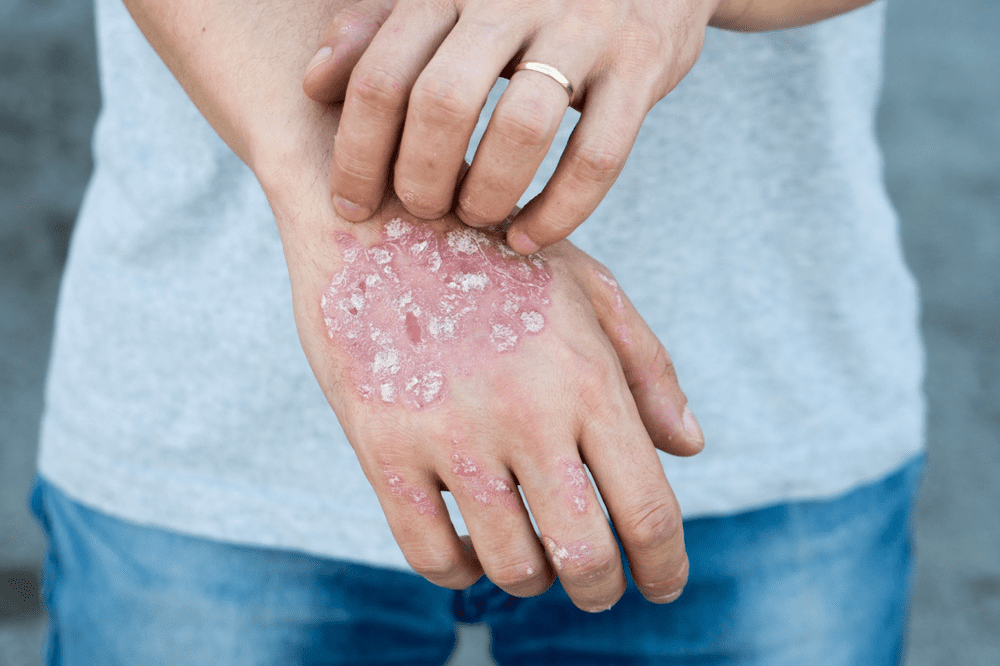 Currently, there are different ways to treat psoriasis, but they only help to relieve symptoms for a short time. Therefore, scientists are actively looking for new methods to combat the disease. Treatment with cell preparations is a promising technique that has already proved its effectiveness in achieving sustainable remission in psoriasis.
Effective treatment of psoriasis with cellular preparations: a history
A stem cell is an immature cell that is able to renew itself and transform into specialized cells (skin, muscle, cartilage, and any other tissue). Due to the ability to create different cell types, stem cells are the most important regenerative reserve in the human body.
Currently, cell therapy is used to treat a wide range of diseases, and psoriasis is no exception. In recent years, significant progress has been made in understanding the causes of the disease. However, the exact development mechanism is still unknown. In 2017, Polish scientists concluded that the dysregulation of the inflammatory response in psoriasis may be due to dysfunction of some stem cells.
Scientists from the United States confirmed their assumption, noticing an interesting fact. In patients with psoriasis treated with hematopoietic stem cells, a long-term remission occurred after some time.
Psoriasis: treatment with cellular preparations, what do the studies say?
The latest study on cell therapy for psoriasis was published by scientists from South Korea in 2021. It describes a case of treatment of a 47-year-old man. He suffered from psoriatic plaques on his fingers, hands and behind his ears. A 25-year-old man received various treatments. However, it did not help to achieve a significant improvement.
The patient underwent 3 transplantations of mesenchymal stem cells derived from the umbilical cord. The procedure was performed once a week. Treatment of psoriasis with medicine during this period was not carried out. Erythema (intense reddening of the skin) began to gradually disappear 122 days after the start of cell therapy. Within 5 months, the patient's psoriatic plaques completely disappeared and there was no recurrence of the disease. This was another proof of the effectiveness of cell therapy for psoriasis.
How to treat psoriasis with regenerative medicine?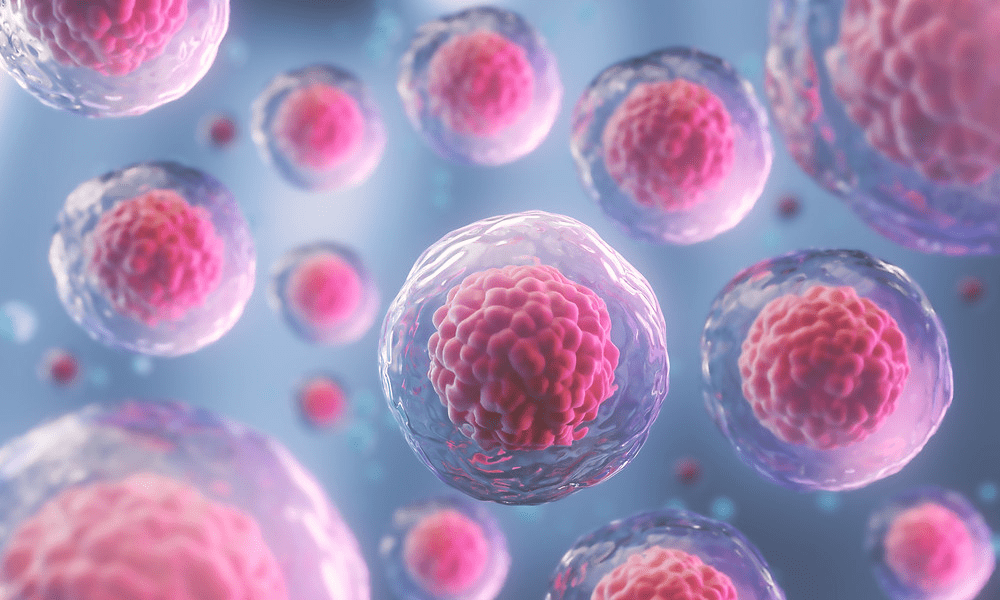 Treatment of the disease involves the use of mesenchymal stem cells taken from the patient's own adipose tissue. If psoriasis is due to genetic causes, there is the possibility of using allogeneic umbilical cord stem cells. They are obtained from donor material.
The collection and preparation of cell material is carried out at Coollaser clinic. And the procedures for scaling and cultivation are in the Genome laboratory (Ternopil). Within 30-40 days, the cells will multiply and grow under controlled laboratory conditions. After that, the material will be transferred to the Coollaser clinic for administration to a patient in Kyiv.
Local administration of cellular material stimulates the following processes:
cell proliferation (distribution and growth of healthy cells);
synthesis of collagen and elastin fibers;
strengthening the structural framework of the skin;
microcirculation (transport of biological fluids at the tissue level);
metabolic processes
As a result of cell therapy, tissue defects are gradually replaced by their own newly collagen fibers. Thus, the skin is regenerated in a natural way.
The introduction of stem cells in psoriasis can achieve a significant improvement in health. In this case, the
normalization of the immune, hematological and endocrine status occurs;
a sharp decrease in the titer of viral antigens and antiviral antibodies (IgM), up to complete disappearance;
decrease in the activity of the inflammatory process until complete elimination;
elimination of signs of chroniosepsis (chronic, prolonged current sepsis).
In addition, cell therapy allows you to cleanse the skin of psoriatic plaques and achieve complete regeneration of the epidermis and dermis.
Psoriasis: treatment of psoriatic arthritis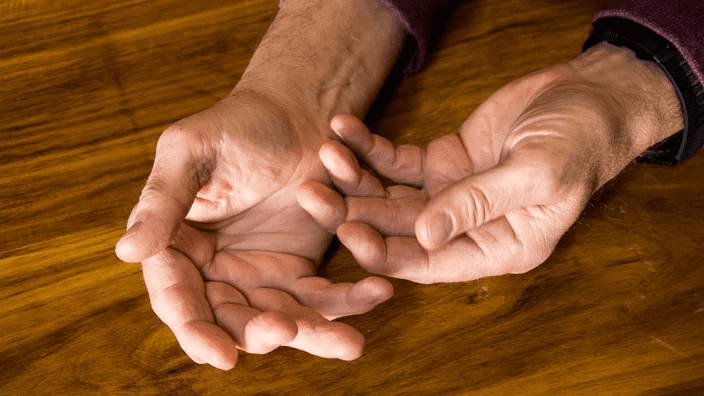 Most people develop psoriasis first, and psoriatic arthritis is diagnosed much later. However, in rare cases, joint problems can occur even before psoriatic plaques appear on the skin.
The main manifestations of psoriatic arthritis are pain and stiffness in the joints. The disease can affect different parts of the body: from the fingertips to the spine. Both in psoriasis and in psoriatic arthritis, episodes of exacerbation of the disease alternate with periods of remission.
Psoriatic joint damage is prone to progression. Approximately 20% of patients develop a severe form of the disease with multiple joint deformities and bone erosions. The inflammation caused by psoriatic arthritis can affect the gastrointestinal tract, lungs, liver, and kidneys.
For the treatment of the disease, mesenchymal cellular material taken from adipose tissue or the umbilical cord, as well as hematopoietic stem cells obtained from the bone marrow, can be used. Interestingly, cell therapy simultaneously helps to cope with the symptoms of arthritis and improve skin condition.
Cellular treatment of psoriasis: price
Coollaser Clinic offers a package of cell therapy services:
Standard program (therapy with own stem cells obtained from adipose tissue. 2 injections) – 58,000 UAH.
Local therapy program (local administration of stem cells derived from adipose tissue) – 30,000 UAH.
Standard plus program (100 million cells, 2 injections) – 99,000 UAH.
Premium Program. (200 million cells. 4 injections) – 160,000 UAH.
Premium Max program (accelerated treatment with high doses of combined cellular preparations) – 420,000 UAH.
Cell Therapy Options at Coolaser
Clinic Patients at Coolaser Clinic are more likely to choose the following regenerative medicine treatment options:
Stroke rehabilitation in patients aged 18 years and older.
Treatment of arthrosis of the knee joint at different stages.
Metabolic syndrome and obesity in men and women.
You can make an appointment for a consultation by phone: (068) 938 03 03. If you are diagnosed with psoriasis, you can treat the disease with cell preparations at the Coollaser clinic in Kyiv at the address: Pechersky district, st. Konovalets, 32B.
Calculate the cost of the procedure "Treatment of psoriasis with cellular preparations"
Leave your details and we will contact you for an accurate assessment of therapy
Sources