Laser scar removal on the body in Kyiv.
Laser scar removal on the body is used most often after injuries, dog bites, surgical operations and burns. Doctor selects the ideal scar treatment, based on the type of skin and scar.
An effective modern solution is laser scar removal at the Coollaser Clinic of laser and cell medicine.
Scars origin
A scar is commonly referred to as a linear scar from a healed wound.
Scars are a natural effect of the skin's healing process. These seals form in the connective tissue after wounds and damage to the skin. Since they are composed of collagen, they are less durable than the tissues they are replacing.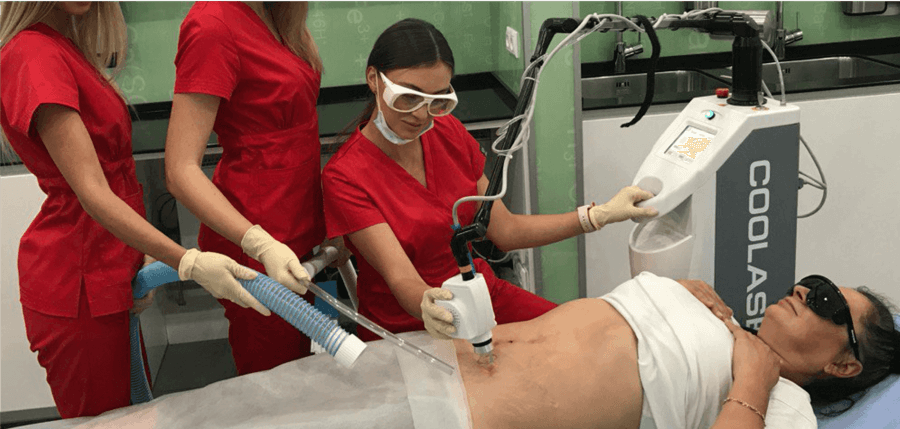 Sometimes they cause not only physical but also psychological discomfort. Sweat glands are not restored in scars and hair follicles are absent, therefore, scar removal procedures have their own characteristics.
Types of scars
Removal of scars with a laser in our clinic, regardless of their type, age and size, is carried out with minimal discomfort and the risk of complications.
Scars are divided into three main groups:\

A scar located below the level of the epidermis. The color varies from white to pink and blue.
A scar that is flush with the skin. Usually doesn't cause discomfort, rarely itching and burning.
Hypertrophic / keloid. A scar protruding above the surface of the skin, which has a different color. More often brown, purple or pink. The most difficult type of scar to treat.
Methods and technologies for scar correction
laser treatment
nanofraction microneedle treatment
surgical treatment and cryodestruction
injection treatment
Procedure steps
Consultation with a specialist. Determination of the type of scar, its age, condition, as well as the patient's history is collected to identify possible contraindications.
Individual treatment plan. The doctor determines the possibility of combining it with other procedures, such as photorejuvenation or plasmolifting.
Application of anesthetic cream if necessary.
Resurfacing or removing a scar, depending on the method which is chosen.
Recommendations for the care of the treated area during tissue repair.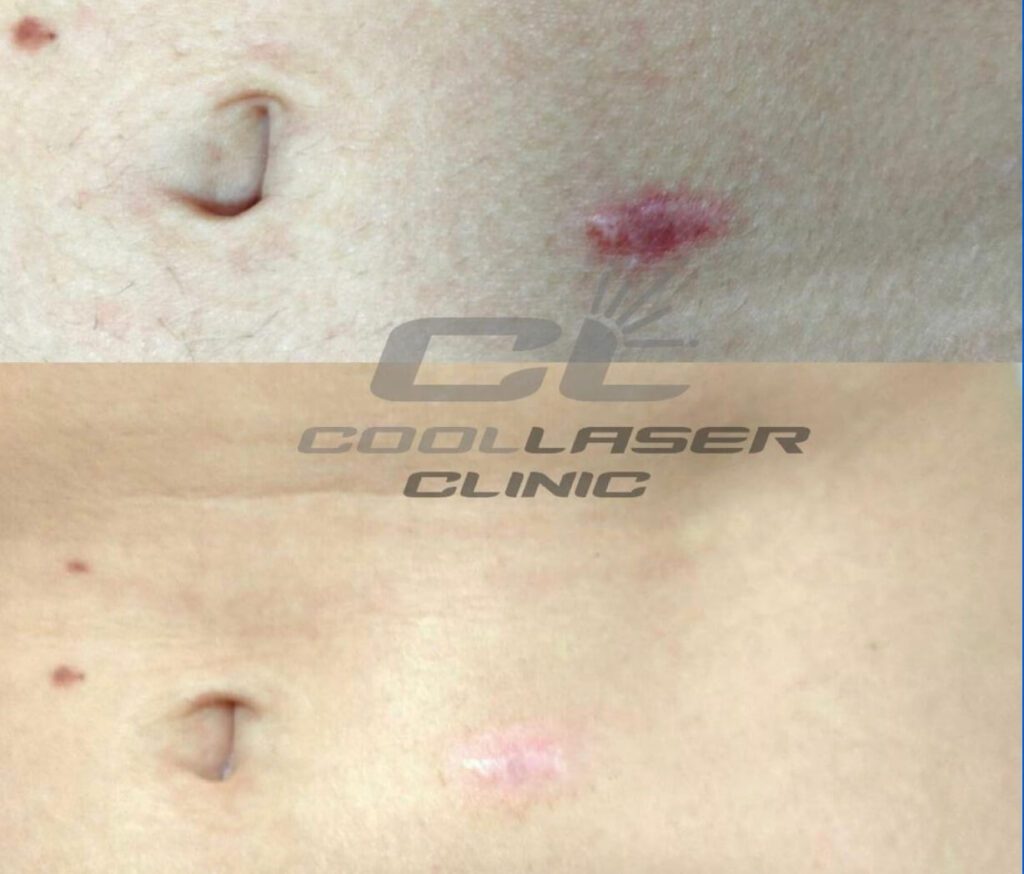 Scar Correction Equipment
Laser scar removal is a technology that allows you to carry out a laser resurfacing procedure with the shortest rehabilitation period.
We use the most innovative equipment for the effective correction of scars.
Powerful and efficient "Adonyss" CO2 (for the correction of difficult scars)
Ultra-thin and delicate "Coolaser" CO2 (for areas requiring a careful and accurate approach without losing the result)
Venus Versa device with Viva attachment (used as microneedle RF, affecting all layers of the dermis.)
Surgical excision (used in rare cases when the size and type of scar doesn't allow the use of sparing technologies). After excision of the scar and its healing, we carry out a course of laser treatment, which shows high efficiency.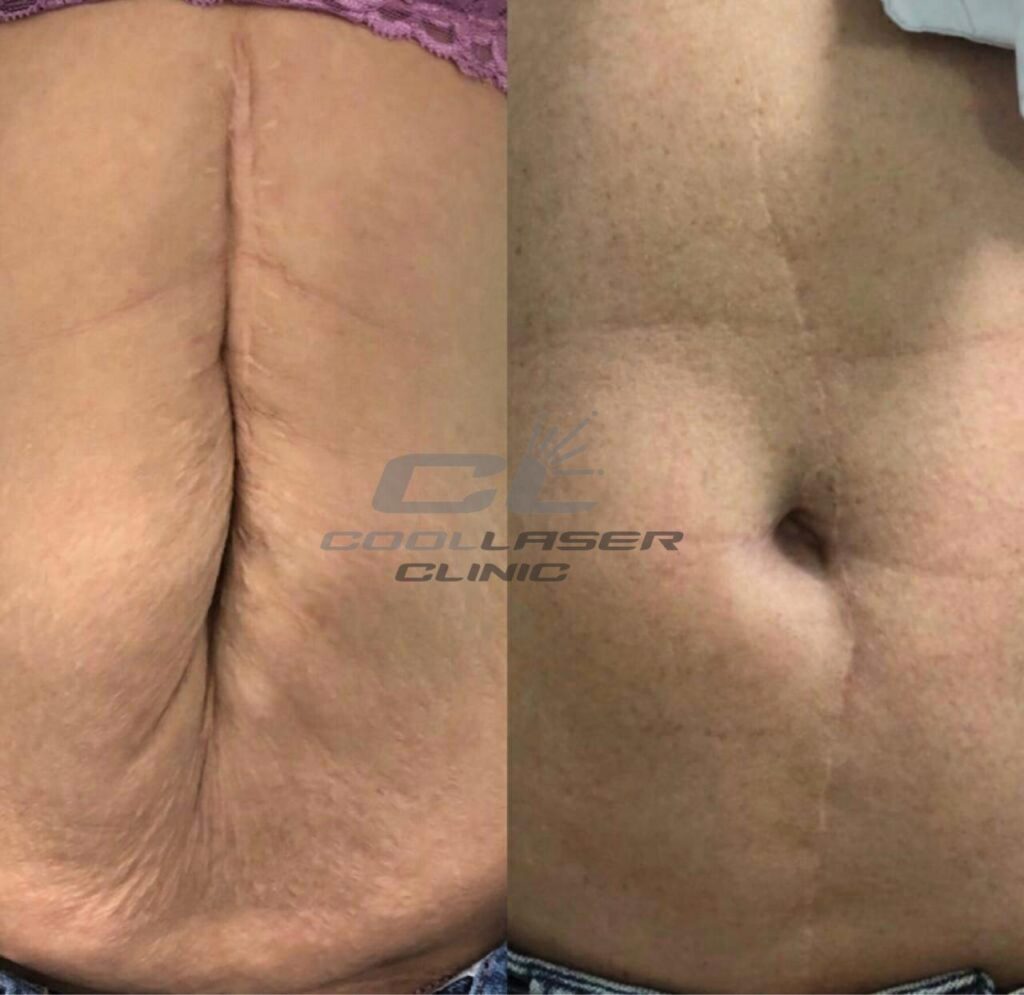 What course of procedures is required?
The number of sessions is individual for each patient. The length of the course depends on many factors.
Depending on the complexity and type of scar, from 2 to 6 or more procedures can be prescribed. They are carried out with a break, which will be determined by your doctor.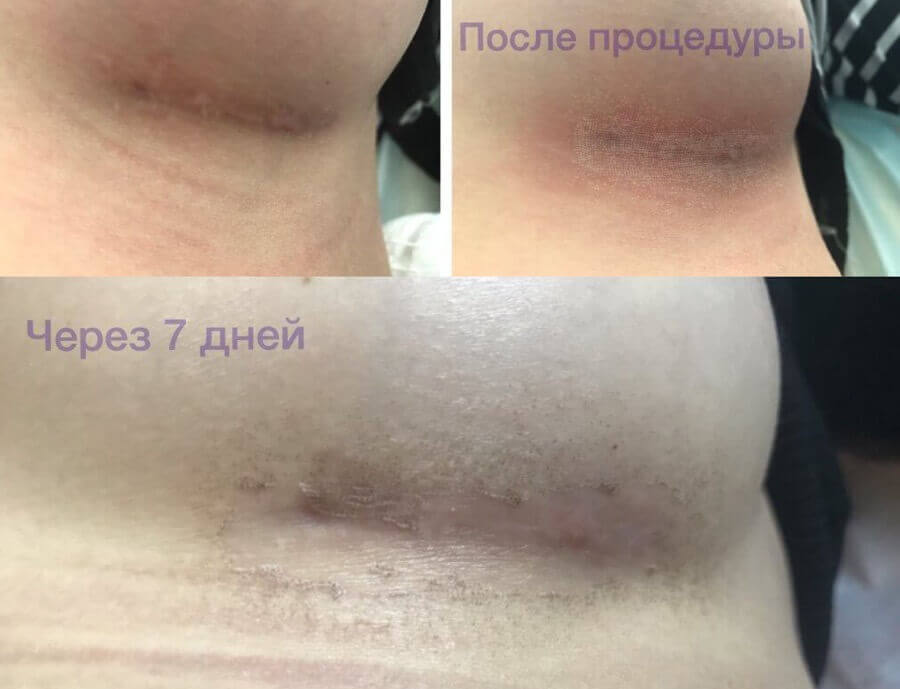 Why is it worth removing a scar at the Coollaser Clinic?
We use unique equipment (the world's thinnest laser beam Coolaser CO2 is the only one in Ukraine. Kim Kardashian used this laser to remove stretch marks on the chest!)
For 3 years of work with this laser, more than 250 patients of the clinic are satisfied with the results of laser resurfacing of scars.
Compared to other types of lasers, the large and powerful Coolaser CO2 scanner provides a fast skin processing speed of 10–20 minutes and a short rehabilitation period of 3–7 days.
Cooled air at a temperature of 2 degrees Celsius is used for anesthesia.
Device with filters is used for the evacuation of harmful fumes during the procedure.
We use the treatment protocols used by US celebrity doctors.
Consultations and procedures are carried out by certified dermatologists who have completed training and training abroad;
We combine laser resurfacing with other cosmetic procedures to achieve a comprehensive solution to the problem.
Contraindications
We take care about the beauty of your skin and your health. Therefore, we recommend consulting with a specialist before laser scar removal.
Only an experienced dermatologist will determine the type and age of the scar and will select the ideal treatment for you.
pregnancy and breastfeeding;
fresh tan;
autoimmune diseases;
psoriasis;
photodermatosis;
diabetes;
allergies;
infections (active herpes);
tendency to keloid – the formation of connective tissue in the scar and its growth;
disorders of coagulation;
taking anticoagulants;
oncological diseases;
Pay your attention! In the case of skin treatment with isotretinoin – preparations containing retinoic acid, laser treatment can be carried out 6 months after the end of treatment.
Coollaser Clinic in the center of Kyiv on Pechersk guarantees safety and high results from each procedure for scar removal.
Laser scar removal on the body – come to us and we will return you confidence in your beauty!
Шлифовка СО2 шрамы - Цена
| | | |
| --- | --- | --- |
| Шлифовка СО2 шрамы/рубцы | от 500 грн | |
| VIVA растяжек, рубцов, шрамов 100*100 | 3500 грн | |
| Инъекции в рубцы Дипроспан, Лидаза/Гиалуронидаза | 2350 грн | |
Specialists in the procedure