Laser scar removal: how many procedures do you need to do to correct a scar?
Laser Scar Removal: How many procedures do you need to remove or make invisible? This is a fairly common question. To answer it correctly, you need to know some facts.
The best specialists of the Coolaser Clinic will help us find out exactly how many procedures are needed to remove a scar.
Scar or scar tissue?
The people use both versions of the names. A scar tissue is more often used in medical practice, implying a healed suture from an operation. The scar is used in the context of an accidental home injury.
A scar or scar tissue, if it is small and inconspicuous, does not bother us. But there are symptoms that should be alarming and become a reason to see a specialist.
What symptoms can a scar or scar tissue have?
Pain
Itching
Bleeding
Overgrowth
One or more of these symptoms indicate a pathological process in the scar. To maintain your health, we recommend consulting a doctor.
What are the scars and scars tissue?
Scars are divided into several categories. Each category has its own characteristics of treatment and removal.
For example, keloids or keloid scars are considered the most difficult to remove.
Keloid scars usually have a deep pink, brown, red, or purple hue. Such a scar is rather difficult to remove.
Usually, four methods are used to remove a keloid:
surgical excision
cryodestruction with liquid nitrogen
injection enzyme therapy
laser removal
Pay your attention!!! Only an experienced physician can determine the method of removal and the exact number of procedures to remove a scar or scar tissue during a personal examination.
How to determine the type of scar or scar tissue, you can find out at the consultation.
How many laser treatments do you need to do to remove a scar?
The average amount for laser scar removal is 2 to 10 sessions. The number of sessions depends on the age of the scar, its type and skin type.
Normotrophic scar. 3-5 procedures.
Atrophic scar. 3-5 procedures.
Hypertrophic scar. Individually. Minimum 4-6 procedures
Individually. In every 2 patients, the scar is noticeably reduced after the 1st laser resurfacing by 25%. For maximum results, an integrated approach to correction is required.
Stretch marks. Individually. Improvement of skin condition by 80% after 3-6 procedures.
Photo reviews of satisfied patients before and after the course of laser resurfacing speak for themselves.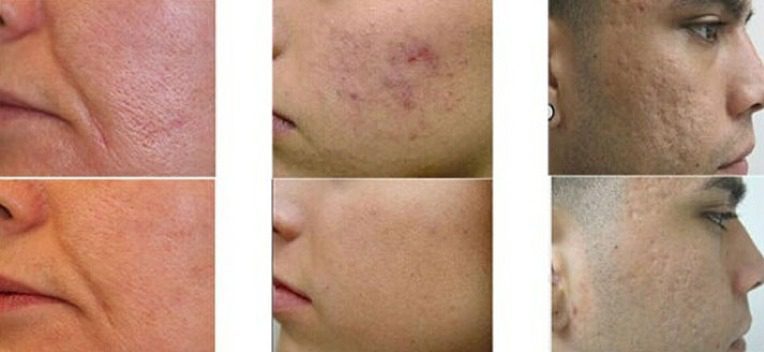 Laser scar removal: how many procedures do you need
How often can laser scar resurfacing be done?
It is important to understand that we are trying not only to enhance your beauty, but also to preserve your health. For a high-quality result, complete skin restoration after the previous procedure is necessary.
On average, it will take 3 to 5 weeks for the epidermis to fully recover. It is in this case that laser resurfacing of a scar or scar tissue will give the greatest effect.
Execution time: 10-20 minutes.
Season: any you want
Effect Duration: Forever
Combines with: Plasma lifting, Photorejuvenation, RF lifting.
Contraindications
Oncology
A tan
Diabetes
Dermatitis in the acute stage
Viral and infectious diseases
Pregnancy
Lactation
Coolaser Clinic in the center of Kyiv on Pechersk has the latest medical equipment to ensure maximum quality from each procedure.
The author of the article: Lyubov Melnichenko. Doctor cosmetologist.
Laser scar removal: how many procedures need to be done – come to our appointment and we will select the ideal course of treatment.