Abdominoplasty in Kyiv
Abdominoplasty is a plastic surgery. In our age of innovative technologies, it is very easy to change yourself. It is enough to find the most experienced surgeon and then, the body that you have dreamed all your life, will finally become a reality.
Abdominoplasty is performed to correct the proportions of the abdomen by removing excess skin and fatty tissue.
Of course, for the sake of the cherished cubes, you can give large sums monthly for individual training and proper nutrition. But even such dedication cannot always bring results.
Lady Gaga, Ivanka Trump, Britney Spears, Giovanna Versace, Tara Reed – the list of stars is endless. They have one thing in common – they all have already done abdominoplasty for themselves.
With the plastic surgery available today, you don't have to be a pop queen or the daughter of a president to afford an abdominoplasty.
See for yourself by visiting the Coollaser Clinic. Our best specialists will make your dream come true!
Indications
Loose skin
Excess fat mass
Multiple pregnancy
Diastasis
Extreme weight loss
Consequences of previous abdominal plastic
Stretch marks, scars
Hernia
Ptosis
Important! Abdominal liposuction or abdominoplasty is a corrective surgery. With its help, it will not be possible to fight obesity and overweight.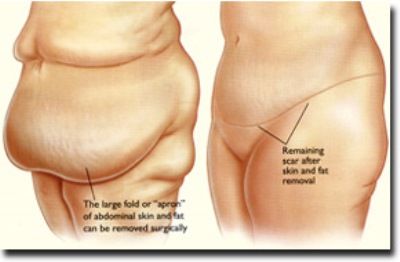 Preparing for surgery
Preparation for surgery is an important step in abdominoplasty. For each patient, it is imperative to undergo all examinations and consultation with a surgeon.
At the consultation, the specialist will determine the problem area and the method of its correction, in accordance with the patient's desire. And the necessary examination is required to assess the general condition of the body. This usually includes:
General analysis of blood and urine
Blood clotting test
ECG
Determination of blood group and Rh-factor
We care about the health of our patients! Please note that two weeks before the abdominoplasty, we recommend giving up bad habits.
Smoking and alcohol significantly affect blood clotting. It is also necessary to discontinue medications, if possible. A week before the operation, it is recommended to exclude foods that include starch, sugar, fat from the diet.
How does belly liposuction work?
Any plastic surgery, including abdominoplasty, is performed under general anesthesia. There is no need to be afraid of this, because a competent anesthesiologist will facilitate the course of liposuction for the patient.
The surgeon makes a vertical or horizontal incision in the skin. Which one depends on the individual characteristics of the patient and the purpose of the plastic surgery.
If necessary, not only sagging skin is removed, but general liposuction is also performed. The specialist accurately and accurately regenerates muscles and sutures tissues. Also, if you wish, you can correct the navel or completely restore it.
If the volume of abdominoplasty is relatively small, the surgeon performs minimal plastic surgery. It consists of a small incision in the lower abdomen. This seam is very small and can be easily hidden under the underwear.
Rehabilitation period
Since abdominoplasty is a rather extensive operation, many tissues are involved. Of course, the recovery period for muscles and skin cannot be quick.
The first few weeks will be quite tangible. However, following the doctor's prescriptions, the recovery period after abdominoplasty will be easier and faster.
You need to wear compression garments after abdominoplasty! This will reduce the risks of complications to zero and help the body recover faster.
Six months is about how long it takes for the body to recover from an abdominoplasty. After this period, the result will become more pronounced and obvious, the swelling will disappear and the skin will even out.
Contraindications
Oncology
Pregnancy
Lactation
Heart pathology
Diseases of the blood
Renal failure
Diabetes
Severe obesity
Acute respiratory and viral infections
HIV infection
Abdominoplasty ultimately yields stunning results!
Elastic, toned belly, athletic outlines of muscles and beautiful skin will delight you for more than one year!
The surgeons at Coollaser Clinic in the center of Kyiv on Pechersk will do their best to make every reflection in the mirror joyful.
Abdominoplasty – give yourself a beautiful belly!
Specialists in the procedure
Photo materials