How to remove facial scars at home yourself?
How to remove facial scars at home is a question every person with a scar or a scar tissue asks himself. Here are 10 proven homemade and 5 professional ways to remove scars.
The face is the hallmark of a person. When hiring, at the first meeting with a person, we turn our attention to the person.
When scars and scar tissues appear on the skin, it darkens both our lives and our self-esteem. Agree, it is difficult to feel confident when the face is "adorned" with traces of injuries and illnesses.
There are many ways to remove facial scars. There are dozens of ways you can find on the internet how to remove scars.
Today we will look at 10 of the most effective methods of dealing with scars and scar tissues, both at home and in the clinic.
What are the types of scars?
Before considering the different methods for removing scars, we will talk about what they are in structure and how they differ.

Atrophic scars – sunken scars at the site of mechanical damage or at the site of acne, chickenpox and other minor skin lesions. They look like dents, depressions and grooves, differing in color. Scars after facial acne illness are called acne scars.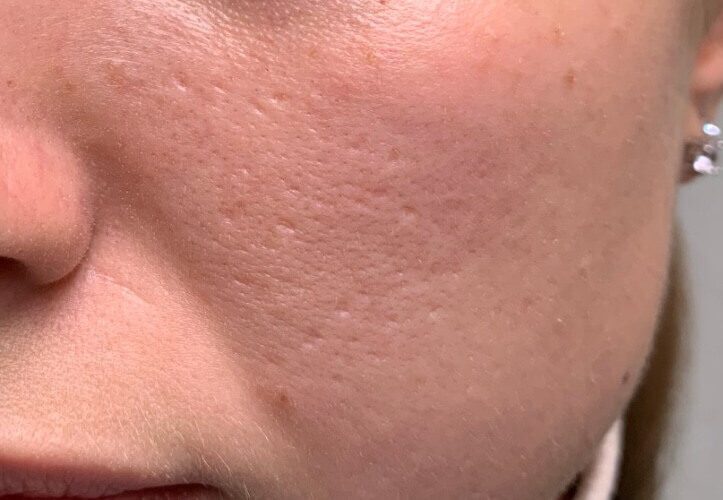 Normotrophic scars are less noticeable, usually not discomforting streaks. Occur with any damage to the skin (cuts, stitches from surgery, piercings, etc.). Are located flush with the rest of the skin.
Hypertrophic scars are the most prominent. They are brightly convex and discolored. Most often appear after imposed and poorly healed sutures.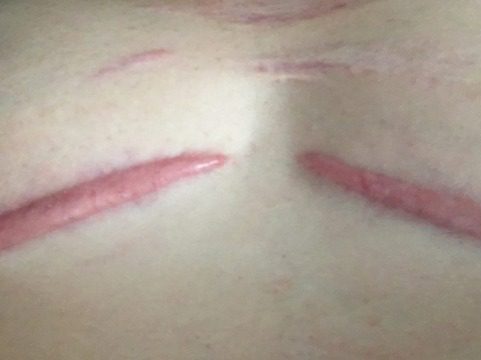 Methods for removing scars and scars directly depend on their structure and appearance. While some can be corrected (not removed!) At home, others can be removed only with the help of specialists.
How to get rid of a facial scar at home?
Anyone looking at their reflection in the mirror dreams of seeing smooth and beautiful skin. Redness and inflammation can be corrected by washing.
But what if scars appear on your face? You can try to remove acne scars or small trauma marks at home.
Draw your attention to! It is possible to completely get rid of a scar on the face quickly only with the help of a specialist. Professional methods of scars and scars correction guarantee you the result without long waiting times.
TOP 10 Ways to Get Rid of a Facial Scar at Home
To effectively remove a scar, you need to carefully examine the skin. The home method directly depends on the localization of the scar, its age, size and color.
If a scar or scar causes discomfort, pain, itching, increase in size, you should consult a doctor.
Ointment for scars and scar tissues
Today, almost every pharmaceutical company offers an extensive selection of gels and ointments for scars, stretch marks and scar tissues.
Before using for the first time, we advise you to familiarize yourself with the composition of the drug on the Internet or at the pharmacy. If the ointment or cream has a hormonal basis, then it is not recommended to use it alone.
If you decide to use hormonal ointment, be sure to read the contraindications. Before you start taking it, it is recommended to do an allergy test: apply a small amount of ointment to the bend of the elbow.
If within 24 hours there is no redness, itching, headaches, the ointment can be used.
The most effective ointments for scars and scar tissues:
– Contractubex
– Curiosin
– Mederma
– Dermatix gel
Badiaga cream is confidently among the leaders of home methods for removing scars and scar tissues. In addition, Badiaga gel removes bruises and prevents their appearance after a bruise.
The drug Badyaga is available in the form of an ointment, gel and powder. The powder has a higher concentration of the drug, but the effect on the skin is more aggressive.
– Badyaga Forte is best suited for the face.
– using the powder leads to redness, itching and flaking. Some patients report painful sensations.
– Badiaga powder can be applied to the scar once a month. The most pronounced effect is achieved after 6-7 months of use.
Mumiyo
Mumiyo. In the USSR, the mumiyo was almost a healing pill for all ailments in the world, and it was quite difficult to buy the drug. Today, there is no more aura of mysticism around the mummy, everything is simple and scientific.
Shilajit is a natural mountain resin, which has a large list of beneficial properties for the body:
– tightening effect
– antibacterial
– tissue restoration
– deep cleansing
Shilajit helps to reduce expression lines, stretch marks and significantly lightens scars on the face. In order to get rid of a scar, you will need:
– Mix 2g of mumiyo powder with 1 tsp. water and 1 tube of regular baby cream (about 50 grams). The cream is stored only in the refrigerator for 30 days. Apply to the scar and rinse off after half an hour. Use daily.
– Mix 50 ml of brewed and strained chamomile with 2 g of cocoa powder and 2 g of mummy powder. The drug must be prepared right before use. Apply to the scar, wait 15-20 minutes and rinse. Use daily.
The main point of using a mummy is as follows. The product effectively dries and starts regeneration processes. Shilajit can greatly dry out the epidermis and instead of improvement, we will get a deterioration of the skin.
You can come up with a recipe yourself, the main thing is to add the necessary components:
– mumiyo
– moisturizer
– nourishing oil (for example: jojoba, almond, kosovy or tea tree)
Castrov oil is famous for its abundance of vitamins and minerals. Recinoleic acid is especially useful in it. It is she who brightens, moisturizes and nourishes the skin.
We do not recommend using pure castor oil. To improve the effect, it can be mixed with any directly squeezed cosmetic oil.
Before use, it is necessary to make an allergy test in an inconspicuous area of the body (elbow bend or the area behind the auricle).
– 1 drop of castor oil mixed with 1 drop of any oil is applied to a scar, scar or stretch mark. Rub in the oil in a circular, gentle motion and leave it on for a maximum of 2 hours. We wash off.
– a course of 5-6 months will help to lighten the scar and make it less noticeable.
– not suitable for the correction of a keloid scar.
Tea tree oil is often used in scrubs, cleansing foams and peels. Pronounced antiseptic and brightening properties help to cope with traces of acne on the face.
Draw your attention to! Pure tea tree oil can dry out the skin or cause minor burns. To soften, mix 1 drop of oil with 1 drop of olive or apricot oil.
– apply massaging movements to the scar
– in case of burning sensation and burning, immediately wash off with cool water
– daily use for a month will make the scar less noticeable
– a pleasant plus: tea tree oil dries out inflammation and prevents the emergence of new ones
Apple cider vinegar contains powerful fruit acids. They are also part of most cosmetic products. Using apple cider vinegar helps to remove the upper stratum corneum, initiate the process of cell renewal and reduce the scar.
– never use pure vinegar to avoid burns;
– mix apple cider vinegar 1: 4 with water;
– put in the form of lotions from cotton pads on the area of the scar or stretch marks;
– keep it for no more than 10 minutes, wash off the remains with cool water.
Vitamin E is extremely beneficial for the health of epidermal cells. It triggers active cell regeneration and helps fight acne. One of the reasons for the long healing of small scars – dry and lifeless skin.
Regular vitamin E masks moisturize, nourish and soothe the skin. Thanks to vitamin E, the epidermis gets rid of scars more effectively.
In order to effectively remove a scar or scar tissue, it is necessary to remove the stratum corneum of the epidermis. Old cells do not allow starting the process of tissue repair and provoke inflammatory processes.
Peeling based on oatmeal or coffee beans is the most popular and effective.
– boil oatmeal with boiling water, stir and let it swell
– there should be not a lot of water at all to get a dense mass
– Apply the cooled flakes to the problem area of the skin or the entire face at once.
– stand for 30 minutes, massage thoroughly and rinse.
For coffee peeling you need:
– 1 cup of coffee brewed from freshly ground beans
– it is better to grind medium or fine, as for a French press
– we drink coffee, cool the rest of the thick and apply it to the scar. The effect can be enhanced with tea tree oil or lemon oil. These oils have a pronounced brightening and anti-inflammatory effect.
We use any home peeling no more than 2 times a week. After the procedure, be sure to apply a moisturizer to your face.
Fresh banana is rich in vitamins and fruit acids. For a banana face pack, it is best to use a yellow banana. Banana with blackened peel loses its whitening properties.
– interesting fact! Immunologists have proven that every 3 people on the planet are allergic to bananas. It manifests itself in different ways, but symptoms appear within 1 hour after eating a blackened banana.
– chop the banana with a fork into a homogeneous puree just before cooking
– apply to the scar for 10-15 minutes and wash off with water
Tomato as part of a tomato mask can most often be found in South Korean cosmetics. Its acidic juice brightens the skin perfectly with regular use.
Ripe, red tomatoes will do. Important! A low-quality vegetable can cause redness and rashes due to the substances used to grow it. An allergy test should be performed before use. If redness, itching and rash do not appear within 30 minutes, the vegetable can be used.
– remove the skin of the tomato. To do this, cut and pour boiling water over the tomato. The skin will peel off by itself.
– knead with a fork until smooth
– moisten a cotton pad and make a lotion on the scar.
– repeat daily for 2-3 weeks
5 professional ways to correct scars.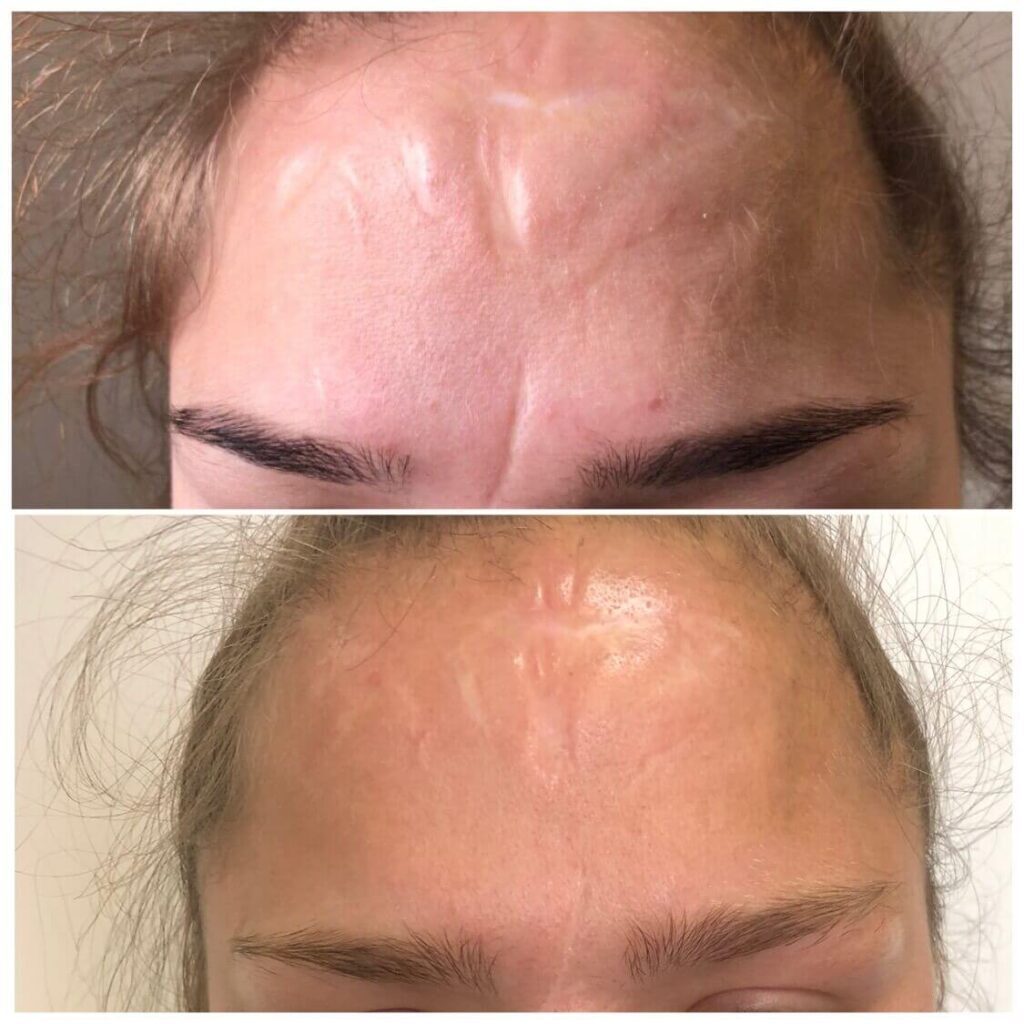 The result of removing old 10-year-old scars after 4 sessions of laser resurfacing in combination with microneedling. The treatment continues.
CO2 laser resurfacing. Removing scars and scars with a laser will remove the old layer of skin. After a short rehabilitation period, there will be almost no trace of the problem in place.
Removal of large hypertrophic scars with liquid nitrogen. Will erode large bulging scars.
IPL Phototherapy. Powerful pulsed light, as well as infrared and ultraviolet radiation affects all layers of the epidermis. Thanks to this, it is possible not only to reduce scars and scar tissues, but also to effectively fight acne. Used to reduce acne scars in active acne.
Filler injections. A fairly safe and atraumatic way of filling deep atrophic scars with hyaluronic acid fillers.
Enzyme therapy. There are injectable preparations – enzymes that effectively soften and break down the scar tissue of hypertrophic and keloid scars – Hyaluronidase and Collagenase.
Reviews about real laser removal of scars after acne and chickenpox can be read ON THIS LINK
Local preparations (ointments) are also used to correct scars and scar tissues. But due to the fact that many of them include hormonal components, a dermatologist's consultation and additional tests are required before using them.
Let's sum up
Experienced specialists and high-quality laser and hardware equipment will help to remove scars and scars on the face. But you can try at home to slightly correct and lighten skin imperfections.
Coollaser Clinic in the center of Kyiv on Pechersk stands guard over your beauty every day. Send a photo of your scar to our clinic and find out the price of the actual removal.
Make your choice. Use home remedies or entrust your face to professionals.
Now you know how to reduce or remove facial scars at home.
Author
Dr. Melnichenko Lyubov
Cosmetologist Melnichenko Lyubov Sergeevna Master of Medicine, general practitioner, Beauty expert.