Laser face resurfacing reviews – perhaps the very first query that is driven into the Google search platform by those people who decide to improve their facial skin quickly.
There are many different cosmetic and hardware techniques aimed at improving the skin of the face. However, the fastest and most reliable way to correct imperfections of the skin of the face is laser face resurfacing with a CO2 laser.
How to choose a method for treating facial skin?
Of great importance for the final choice of a method for treating scars, wrinkles, reducing pores, removing dark circles under the eyes are the reviews of those who have already tried laser face resurfacing.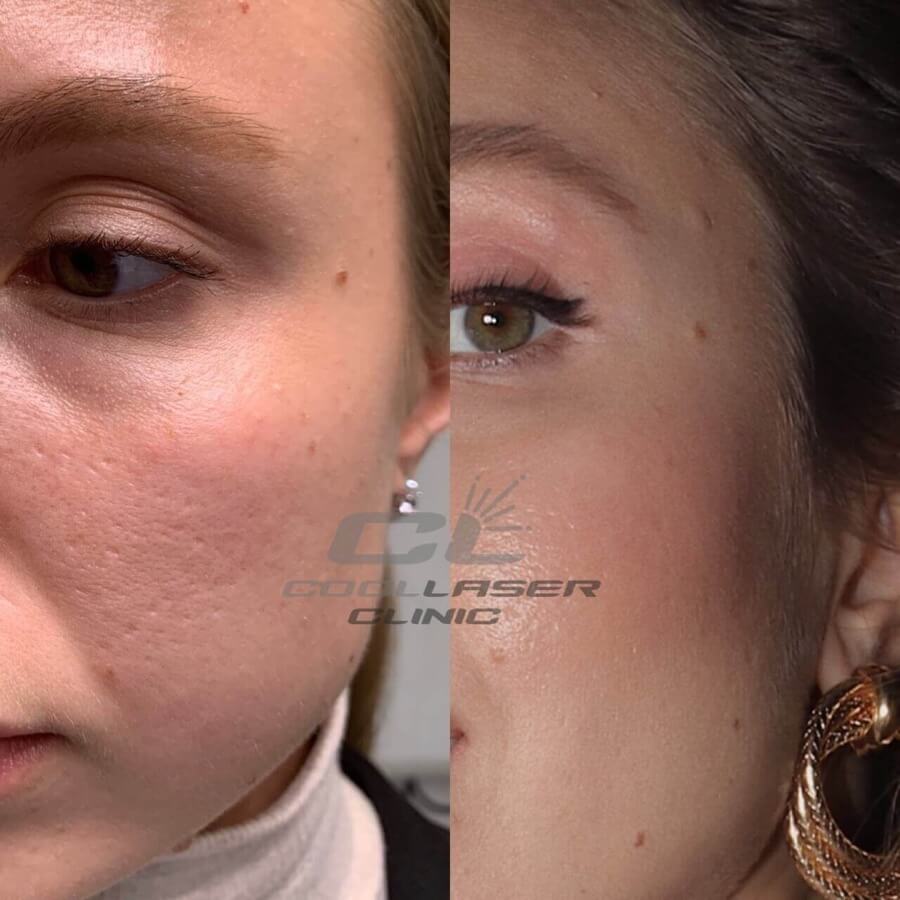 The price of laser resurfacing is not the lowest compared to other cosmetic procedures. However, the effect of CO2 laser resurfacing is amazing. You will more clearly understand what the procedure is when you read the reviews of real people and see their photos BEFORE and AFTER the treatment. Of particular interest can be a series of photographs by day, where you can see how the face has changed every day after the resurfacing.
How to remove facial scars?
That is why in this article the Coollaser Clinic wants to introduce you to one of our most beloved patients – Irina Lyubchenko.
Irina is a sweet, beautiful and fragile girl who showed strength of character, perseverance and showed a desire to achieve her goal. She had chickenpox scars on her face, as well as acne scars from an old acne illness. She had very enlarged pores and an uneven complexion. How to get rid of scars after chickenpox? How to remove acne scars? How to get rid of acne scars?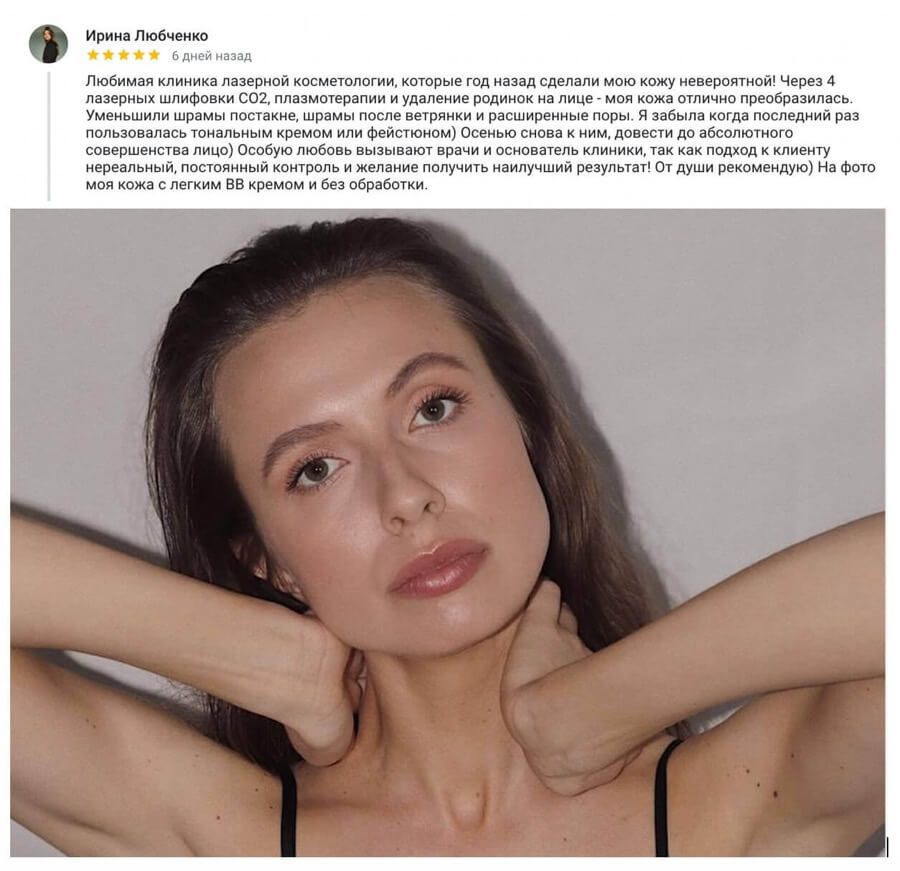 How to get rid of scars after chickenpox?
Irina perfectly understood that removing scars at home was unrealistic and therefore turned to the Coollaser Clinic for laser cosmetology and medicine.
Irina came to the Coollaser Clinic and learned about laser face resurfacing. At the consultation, a dermatologist explained how to treat scars and how to get rid of acne scars.
In order to understand how to get rid of scars on the face, a consultation was held. The consultation was conducted by a dermatologist – cosmetologist.
The doctor explained in detail how to get rid of scars on the face and how to treat scars.
After the consultation, it became clear that the best way to remove old scars is CO2 laser resurfacing combined with Microneedling and PRP therapy. It was then that she learned that the best way of treatment is not MONO treatment, but a combination of laser procedures with hardware and injection techniques.
How to remove acne scars?
The task was to narrow the pores of the face, even out the complexion, remove traces of chickenpox and remove acne scars.
Irina was prescribed a day of laser resurfacing combined with additional treatment. We took photographs and took photos of laser resurfacing on days BEFORE and After treatment. We will not describe the process itself, but dwell on how many days the rehabilitation period lasted. In the photos below, you can see how many days it took to fully recover from laser resurfacing by day.
Laser face resurfacing before and after: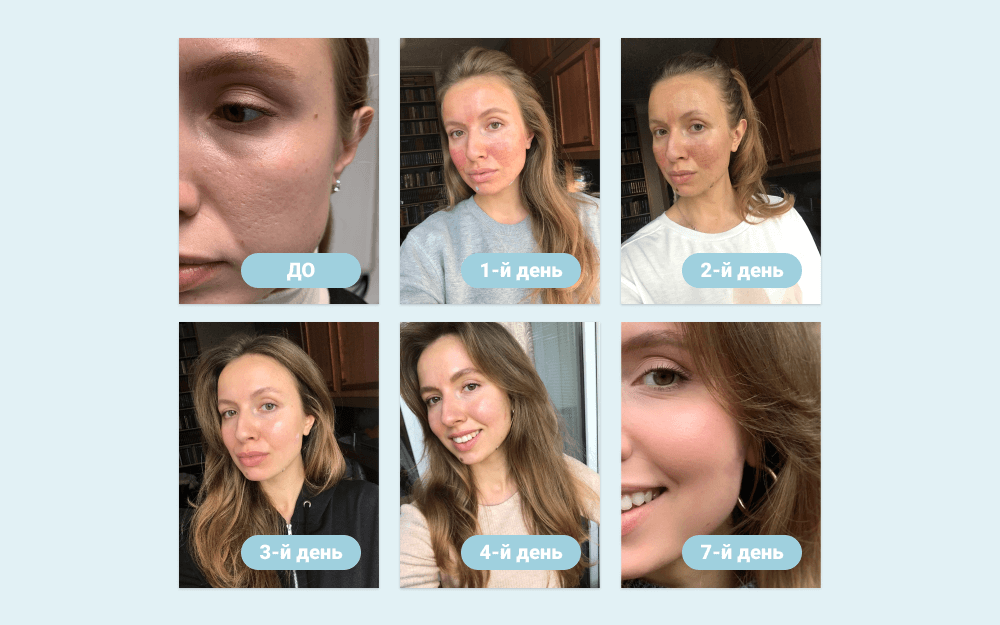 The face fully recovered on the seventh day. However, on the third day, Irina went to work, because she knew what her face looks like after laser resurfacing. It can be summed up in one word – excellent.
We hope that Irina's experience and her feedback on CO2 laser resurfacing at the Coollaser Clinic will help many people make the right choice.
Our experienced dermatologists and surgeons will use the world's most famous and popular Coolaser laser to help carry out laser resurfacing and get rid of scars, scars on the face and body.