Дмитрук Надежда Александровна врач дерматолог-хирург
Doctor of the highest category, certified member of the Society of Aesthetic Plastic Surgeons of Ukraine (USAPS), member of the International Society of Aesthetic and Plastic Surgery (ISAPS), current member of IMCAS Academy.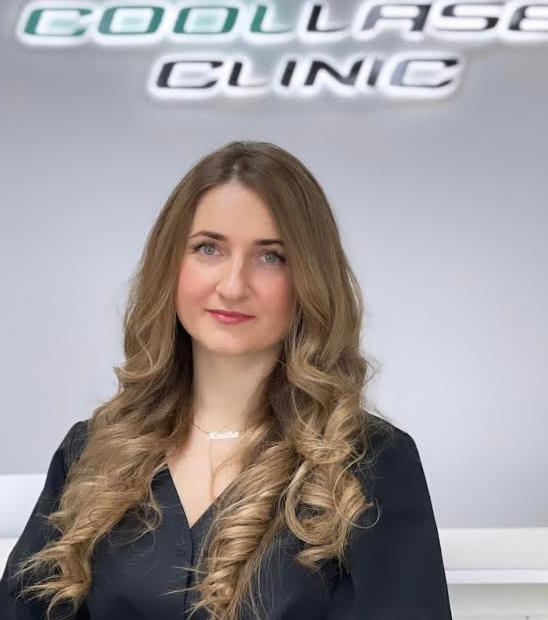 Образование:

2003-2009 гг. – Винницкий национальный медицинский университет им. Н. И. Пирогова, специальность «Лечебное дело», диплом с отличием.
2009-2011 гг. – Интернатура по специальности «Дерматовенерология».
2019 г. – участник 4-й Ближневосточной международной конференции по дерматологии и эстетической медицине MEIDAM в г. Дубай (ОАЭ).
2019-2020 гг. – специализация по хирургии на базе Национальной медицинской академии последипломного образования им. П. Л. Шупика.
2020 г. – участник Всемирного конгресса IMCAS (International Master Course on Aging Science) в г. Париж (Франция).
2020 г. – прошла обучение по контурной пластике лица и ботулинотерапии у пластического хирурга Matt Steffanelli в г. Париж (Франция).
2020 г. – прошла обучение по липофилингу лица и рук у доктора Mario Goisis в г. Париж (Франция).
2020 г. – проходила обучение по блефаропластике, фейслифтингу и ринопластике у таких известных пластических хирургов: Nazim Çerkes, Olivier Gerbault, Daniel Labbè, Paraskevas (Vakis) Kontoes, Jean-Luc Nizet, Ivar van Heijningen, Jose Carlos Santos Parreira, Alexis Verpaele, Jan Fabré, Serge de Fontaine, Gianluca Campiglio, Peter Palhazi, Pascal Castus, Bahram Dezfoluan в г. Льеж (Бельгия).
2020 г. – проходила стажировку в частной клинике Saint Martin у пластического хирурга Daniel Labbè в г. Кан (Франция).
2021 г. – прошла обучение по методам нитевого лифтинга APTOS в г. Тбилиси (Грузия).
2021 г. – участник 15-го Международного Кавказского конгресса по пластической хирургии и дерматологии KOLKHIDA.
2021 г. – участник 6-th Emirates Plastic Surgery Congress (Конгресс пластической хирургии) в г. Дубай (ОАЭ).
2021 г. – проходила обучение у профессора Vakis Kontoes методам блефаропластики в г. Дубай (ОАЭ).
2021 г. – проходила обучение у известного пластического хирурга Jamal Jomah в г. Дубай (ОАЭ).
Специализация:
блефаропластика (верхняя, нижняя, трансконъюнктивальная);
хирургическая подтяжка лица – facelifting (smas, macs);
нитевая подтяжка лица, шеи, бровей «лисьи глаза» (APTOS);
удаление новообразований хирургическим методом, CО2 – лазером, радиоволновым методом;
дерматоскопия;
биопсия (панч, шейв, соцеризация, эксцизионная, по Мосу);
фракционная лазерная шлифовка CO2– лазером;
ботулинотерапия (Ботокс, Диспорт, Ксеомин);
контурная пластика (аугментация губ, носослёзная борозда, скулы, углы «Джоли»);
векторный лифтинг (Radiesse).
Diplomas and certificates