SMAS lifting or threads, which is better?
SMAS lifting or threads, which is better? Rejuvenation without a knife – is it a myth or reality? How not to get confused in the procedures and what to choose for yourself, ultrasonic or thread lifting?
What person doesn't want to look 100 by 20? Each. But does everyone know how to stay young as long as possible? SMAS lifting Altera and facelift with threads are confident trends of the last two years.
The non-surgical facelift is winning the hearts of patients around the world for its painlessness and efficiency comparable to plastic surgery.
Coolaser Clinic professionals are ready to answer all your questions and tell you even a little more for your peace of mind and confidence.
SMAS lifting: non-invasive facelift
SMAS lifting Altera is a unique technology that allows you to act on the cells of the face. Ultrasonic impulses penetrate to any depth, effectively eliminating the first signs of aging.
Ultrasonic lifting not only masks the external signs of aging, such as expression lines, creases and ptosis. Ultrasound interacts with the muscles responsible for facial expressions and the upper layers of the dermis.
It is an integrated approach to facial rejuvenation that allows you to tighten the face frame from the inside. Due to the rejuvenation of the skin at different levels, the duration of the effect of the procedure increases significantly.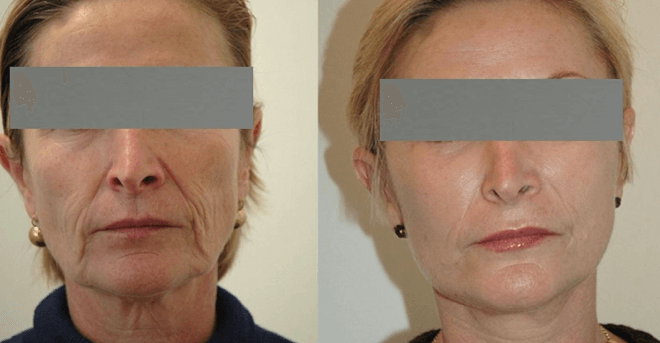 Benefits of ultrasonic SMAS facelift:
Proven effectiveness over 10 years of use
Patient reviews about the excellent result after SMAS lifting speak for themselves
FDA Recommended
Non-invasive technology (no skin damage)
Painless
Lack of rehabilitation period
Contraindications
Oncology
Pregnancy
Lactation
Burns
Viral and infectious diseases
Exacerbation of dermatitis
Application areas: face, neck, décolleté, legs, arms and abdomen
Time: 40 to 120 minutes
First 1-2 days: tingling sensation is possible
Effect retention: up to 2 years
Rehabilitation: no
Threadlifting – facelift with threads
Thread lifting or threadlifting (from the English thread-thread) is a perfect combination of modern technologies and instant skin tightening.
The introduction of mesothreads occurs only after the three-dimensional design of your face or body part.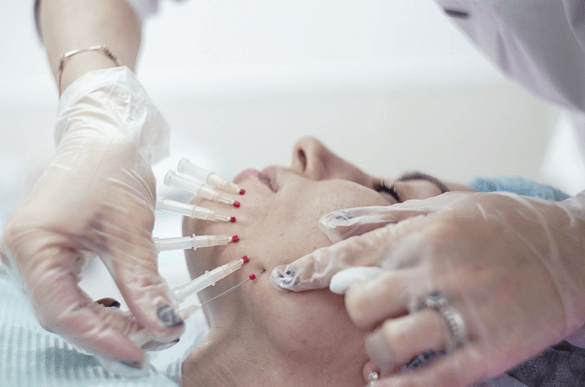 Thread lifting is very effective in strengthening the facial contours and non-surgical skin tightening. Mesothreads are an excellent, and most importantly, safe alternative to botox and fillers.
Draw your attention to! Thread lift or threadlifting is not suitable for patients with deep wrinkles, as threads cannot correct them.
Benefits of Threadlifting
Security. In most patients, mesothreads dissolve naturally within 6-12 months. After installation.
Artificial frame. Thanks to a special implementation technique, the specialist forms a new, artificial face frame. It is completely invisible to others, but it gives a wonderful lifting of the skin.
Stop wrinkles. Yes, mesothreads are not able to smooth out existing wrinkles. But thanks to the powerful support of the filamentous framework, new wrinkles will appear no earlier than 24 months. after the procedure.
Instant facelift. Exactly what every woman dreams of! Just 1 procedure and your face will look ten years younger. The skin looks firm and elastic again.
Accumulation of effect. Immediately after the procedure, you will notice an active facelift. But this is only 30% of the total effect. A full thread lifting will be noticeable after 2-3 months.
Contraindications for thread lifting
Oncology
Diseases of the blood
Blood clotting disorder
Viral diseases
Autoimmune diseases
Pregnancy
Lactation
Inflammation
Application areas: face, neck, décolleté, thighs, forearms
Time: 40 to 120 minutes
The first 1-2 days: severe swelling, redness, bruising, numbness, bumps at the puncture site, sometimes uneven resorption of the threads (leading to pronounced asymmetry of the face), thread rejection
Retention of the effect: up to 2-3 years
Rehabilitation: individual
Let's summarize
In recent years, there has been a significant decrease in the number of references to thread lifting in the media. More and more patients are becoming discouraged with this facelift as the risks and complications become more frequent.
The doctor must have not only colossal experience, sterile and high-quality material, but also taste. The introduction of mesothreads is like painting a painting – it requires an artistic vision.
If you are not afraid of injections, needles and the introduction of foreign bodies under the skin, for the sake of an excellent result, then Mesothread is your ideal lifting.
Are you afraid of any damage to the skin and do not want to admit any risks of complications? Then the ultrasonic SMAS lifting Altera guarantees you the best non-invasive rejuvenation and facelift.
Is it difficult for you to make a choice? Do you have individual contraindications? Just call us and we will advise and solve any of your problems!
Author: Sergey Gavrilyuk. Plastic surgeon.
Coolaser Clinic in the center of Kyiv on Pechersk sets itself a priority task not only to enhance your beauty, but also to preserve your health. Now you know which is better to choose – SMAS lifting or Threads.