How to get rid of age spots on the face after a sunny summer?
How to get rid of age spots on the face is a very common question and a priority for aesthetics. Communication with people around and success at work often depends on how we look.
Yes, most large corporations prefer to hire employees with a neat appearance and a clean face. This is especially true in areas where daily communication with the client takes place.
A clean and beautiful face without flaws is a real dream. What could be better, waking up in the morning and looking in the mirror, to see beautiful, smooth skin there?
Pigmented spots, acne, red spots, freckles often upset their owner. Having tried all the creams and lotions from a nearby store, we finally start to act decisively!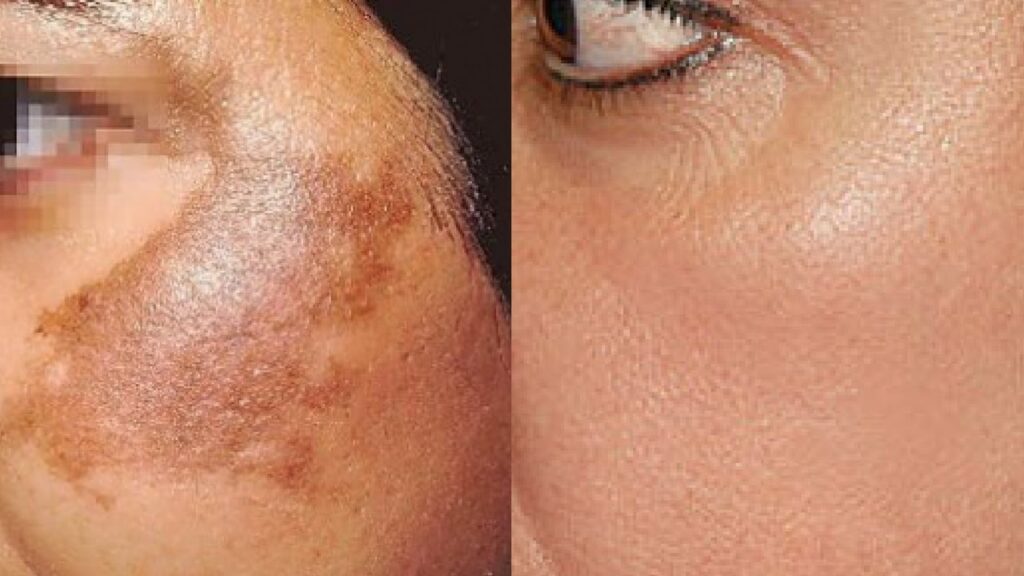 So how do you get rid of age spots on your face?
How to make your face smooth and beautiful quickly and effortlessly?
Experienced doctors at Coolaser Clinic will help us figure it out today.
Before we look at ways to get rid of age spots, you need to understand their nature.
How is pigmentation formed?
Pigmented spots on the skin are formed as a result of the action of a substance – melanin. Melanin is a hormone responsible for the color of the skin, hair and eyes. Active production of melanin occurs when sunbathing in the sun.
So, excessive exposure to ultraviolet radiation causes a strong production of melanin. As a result, the skin takes on a darker tone.
There are many reasons due to which melanin is excreted locally and excessively. This is usually due to a genetic predisposition and individual characteristics of a person.
The resulting age spots have different types and appearance. Most cosmetologists agree that it is necessary to get rid of age spots.
An important fact! Visit a dermatologist before the removal procedure. Only a specialist will determine the type of neoplasm, as patients often confuse flat moles and freckles.
What are the types of age spots?
To get rid of neoplasms most effectively, you need to establish a specific type of stains.
A high-quality hardware procedure will help you get rid of pigmentation forever.
Nevi are birthmarks. The shape and color are even, and the size is small.
Those who have been "kissed" by the sun are not always happy with that kisses. Freckles disappear by early spring and reappear with warmth. This is due to the effect of ultraviolet radiation on light skin. As a result – a lot of freckles on the face.
Unaesthetic age spots that are irregular in shape. Formed as a result of hormonal disbalance. They can grow and merge into one large age spot covering the face and neck.
An extremely rare type of spots. Due to the small number of melanocytes, the skin is not able to adequately respond to the sun. After exposure to ultraviolet light, pronounced whitish, age spots appear.
Interesting fact! One of the most sought-after models in the world of fashion, Winnie Harlow is a bearer of a rare variety of pigmentation, vitiligo! This does not prevent her from living a full life. Most of the fans consider her appearance to be insanely beautiful.
How to remove pigmentation?
It doesn't matter which way you choose to get rid of pigmentation. The golden rule for beautiful, blemish-free skin is to use sunscreen before going outside.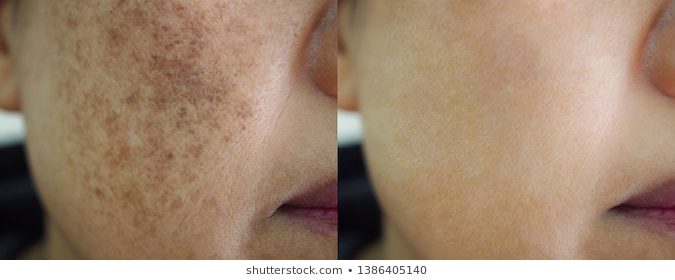 Home methods of neoplasm correction.
Products that have a lightening effect will help to lighten and partially remove pigmentation. This can be purchased cosmetics from the mass market or what is in the refrigerator.
Cucumber.
Cucumber has long become one of the most popular components of cosmetic preparations. Its pronounced moisturizing properties have a beneficial effect on the skin and lighten minor pigmentation, post-acne.
Lemon.
Masks and serums based on citric acid have brightening, antiseptic and narrowing properties. You can prepare such a mask by mixing 1: 1 lemon with honey and apply to age spots for 10 minutes.
Whitening creams and lotions.
Brightening agents with regular use reduce pigmentation and prevent the appearance of new spots.
Please note that it is possible to completely and quickly get rid of age spots only in the clinic.
How to remove pigmentation with the help of a specialist?
At the moment, hardware cosmetology has extensive techniques. They differ in the degree and depth of the impact, as well as the rehabilitation period.
An experienced doctor will help you find the ideal method for removing age spots.
Carbon Laser Peel is a new word in correcting facial imperfections! This treatment is effective against age spots, scars, acne and wrinkles.
Plasmashower or plasma shower is an innovative technology in hardware cosmetology. Under the influence of an electric current, the plasma is split into ions and easily gets into the deep layers of the epidermis.
Electric current inhibits the growth of melanin and destroys acne bacteria at the molecular level.
With the Venus Versa IPL device, an intense light beam actively affects pigment spots. IPL light reacts with melanin and collagen.
It increases collagen production and inhibits melanin production. Thanks to this, the face is rejuvenated, age spots disappear, the skin is tightened.
Cryotherapy is extremely effective in combating expression wrinkles and removing acne in 86%. Active exposure to cold has anti-aging and fat-breaking properties.
Dermapen microneedling or microneedle mesotherapy is a unique way to get rid of imperfections without plastics. The dozens of tiny needles on the Dermapen tip make a variety of micro injections.
As a result, collagen production is activated, melanin is suppressed. Thanks to this, the patient gets rid of age spots and signs of aging.
The essence of plasma lifting is to use the patient's own blood in medical procedures. Thanks to the introduction of blood, the body starts the processes of recovery, regeneration. This is due to the removal of not only age spots, but also mimic wrinkles and scars.
How to get rid of age spots on the face and where to go?
We recommend that you carefully consider the choice of a doctor and clinic. Since the success of removal and quick healing depends on these factors. Only a real specialist can choose the correct procedure for removing age spots and avoid complications.
In Coollaser Clinic in the center of Kyiv on Pechersk you will find the best doctors of Ukraine, true masters of their craft.
How to get rid of age spots – contact a real professional in your field!