How to narrow pores at home in Kyiv
How to narrow pores at home is thought by many women who love themselves and want their skin to be flawless day and night.
Dry air of heating devices, inadequate nutrition and bad habits do not allow our skin to relax. Inflammation, oiliness, acne and enlarged pores make us look for effective home care methods every day.
The best doctors at Coolaser Clinic today will share with you simple yet effective tips on how to shrink pores at home.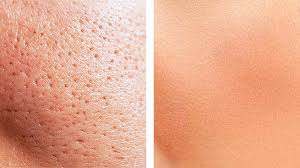 Oily or dry skin
This is not to say that only normal skin type is ideal. We all live in different climates, different skin types help us cope with the environment.
Oily skin is characterized by increased sebum secretion, which is produced by the sebaceous glands. There can be several reasons for oily face:
Hormonal imbalance. The spike in hormones can be due to PMS, menopause, puberty, stress, or pregnancy. It is necessary to check the level of hormones once a year.
Bearing and giving birth to a new person always brings changes in the body. Each body is unique and a doctor's consultation is required before skin treatment.
Constant stress at work, unbalanced nutrition, non-compliance with the drinking regime – all this badly affects the condition of our skin.
Change of seasons of the year. The transition from summer to autumn, and autumn to winter is reflected in all our well-being. The additional work of heating devices drains the epidermis, forcing the sebaceous glands to secrete more sebum.
It is a food allergy to some food compositions that can manifest itself in the form of inflammation on the face and enlarged pores.
Substandard formulations of cosmetics, expired expiration dates and even a makeup brush that has not been washed in time. As a result, we have enlarged pores and acne.
Excessive grooming. In everything, measure is needed and in skin care, even more so. Daily use of greasy creams, peels and scrubs with harsh abrasive particles will do more harm than good. Constant, traumatic exfoliation robs the epidermis of its natural protective barrier.
How to shrink pores at home?
Ice.
Home analogues of cryotherapy or cryomassage effectively deal with minor disadvantages. Rubbing with ice cubes daily will help relieve swelling and tighten enlarged pores.
For the best effect, it is recommended to freeze the decoction of chamomile or calendula flowers. These herbs have pronounced anti-inflammatory and soothing properties.
Tomatoes.
Many well-known cosmetic companies from South Korea use tomato juice and pulp as the main component of masks to tighten pores.
Thoroughly mashed tomato pulp is applied for 5-7 minutes on clean skin of the face. We strongly advise against adding herbal or essential oils to the mask, so as not to provoke clogged pores.
Pharmacy clay.
Natural white, blue, black, green and pink clay has a pronounced property of narrowing enlarged pores. The low cost and availability of this product makes it an indispensable way to reduce enlarged facial pores.
Black – removes blackheads, green – relieves inflammation, white – fights minor pigmentation, blue and pink – moisturize and nourish.
Mix the clay with water and apply to the face area as directed. Usually black clay is used for the T-zone. It not only tightens pores, but also removes blackheads.
Egg white.
An egg white mask perfectly absorbs excess sebum, removes shine, tones and tightens enlarged facial pores. To do this, separate the white from the yolk, apply a thin layer on the face and wait until it dries completely. Rinse off with warm water.
It is recommended to add 1-2 teaspoons of lemon juice to whiten and shrink pores at the same time.
We do not recommend this method in the presence of open inflammation on the face or allergy to eggs. This way of shrinking pores will make the situation worse!
Aloe.
Aloe leaf juice is an excellent helper for maintaining the beauty and youth of the skin. This multifunctional, natural remedy is highly effective and fast.
Regular application of aloe vera juice on the skin of the face (as well as the body and hair) has pronounced anti-inflammatory, moisturizing and regenerating properties. The pores are visibly narrowed, and the face looks fresh and healthy.
Please note that proper home care provides decent prevention of the first signs of aging and enlarged pores.
However, home care cannot replace professional procedures that can guarantee you the result quickly and efficiently.