How to remove age spots on the face and body?
How to remove age spots on the face at home – this question we most often ask ourselves, standing in front of a mirror, after the summer beach season.
Or maybe you still need to visit professionals for removal? But more often than not, our decision depends on how quickly we want to remove age spots and whether we want to get rid of the spots permanently.
Dark spots on the face are a normal response of the skin to sun exposure.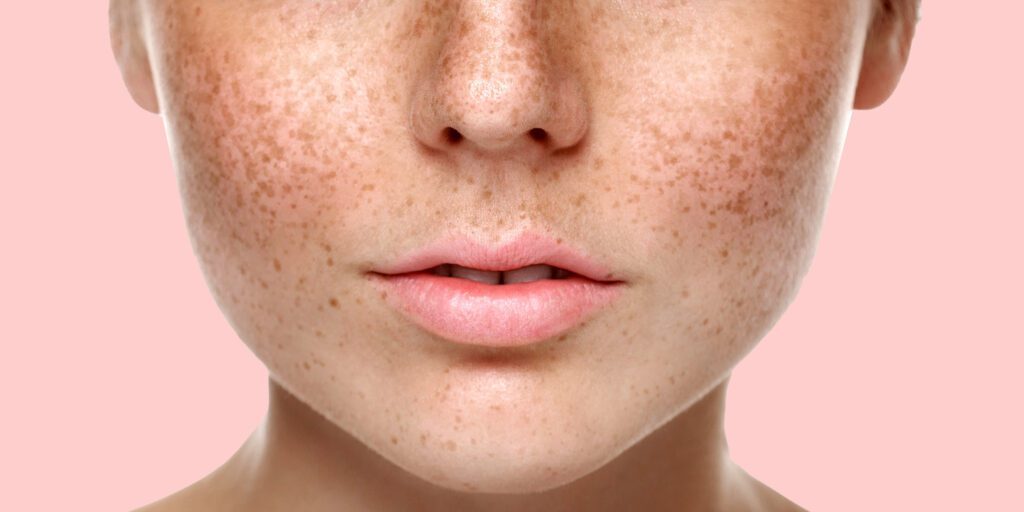 After prolonged sunbathing, fair skin is often covered with freckles. Sometimes they are small, almost invisible. And sometimes they become large age spots.
Recently, dermatologists are increasingly talking about the dangers of ultraviolet rays, especially for sensitive and fair skin. A large amount of ultraviolet radiation can cause not only the formation of age spots on the face and body, but also serious burns of the epidermis.
Despite the fact that in many countries freckles are a makeup trend, many people still dream of getting rid of them forever.
For the removal of solar pigmentation to be painless and effective, we recommend that you rely only on experienced doctors.
Professionals at Coollaser Clinic know how to remove age spots forever.
The reasons for the appearance of age spots:
Pigmentation on the face and body most often occurs as a result of a long walk on a sunny day. The reason for the formation of age spots and freckles is the interaction of the sun and various substances:
The composition of some medicinal ointments, when interacting with the sun, can give a photoallergic reaction. These include: diuretics, antifungals, contraceptives, diabetic drugs, and even antibiotics.
An insufficient amount of melanin and prolonged exposure to the sun provokes a burn. This is the death of the upper layer of the epidermis. In this case, the skin can suffer from uneven distribution of melanin. As a result, age spots and freckles appear.
Cosmetical tools. Oddly enough, intense tanning products can cause spots and freckles to form. This mainly depends on the predisposition. For example, red hair and fair skin are 100% prone to freckles and spots.
Internal failure of the body. Age spots do not always appear due to the sun. This may be evidence of hormonal imbalance and various reactions in the body. Most of all, pigmentation treatment worries pregnant women, children and the elderly.
When do age spots appear most often?
Most often, spots appear after the beach season and prolonged exposure to the active sun. Pigmentation occurs when melanin is not evenly distributed in the skin. When melanin is severely lacking, the tan lays on the skin locally, in patches.
How to remove age spots at home?
You can remove age spots at home in different ways. We do not recommend the use of harsh whitening complexes, as they can cause severe burns.
Anti-age cream.
Pigment cream usually has a pronounced antifungal and anti-inflammatory effect. A whitening cream is prescribed for extensive pigmentation, seborrhea, acne and rosacea.
Synthomycin ointment.
Ointment based on the antibiotic synthomycin effectively treats pigmentation, freckles, acne and comedones at home.
Zinc paste.
If you want to remove pronounced spots and freckles after sunburn, pay attention to zinc paste. Zinc oxide and salicylic acid are excellent at whitening skin and treating pigmentation.
Whitening masks.
Anti-pigmentation whitening masks do an excellent job with minor freckles, blemishes, and post-acne when used daily at home. They differ in absolute harmlessness, but even not even a significant effect will have to wait 1-2 weeks.
Hydrogen peroxide.
The use of hydrogen peroxide is only suitable for people whose skin is prone to oily. If the skin type is dry, then hydrogen peroxide will not remove pigmentation, but will intensify the rash.
Please note that home remedies for pigmentation are ineffective and expensive. Some formulations are hormonal. We do not recommend self-medication, and a dermatologist will better select a pigmentation cream.
How to remove age spots permanently?
The best remedy for pigment spots is the symbiosis of an experienced dermatologist and modern hardware technology.
Pigmentation treatment will pass quickly and retain a long-lasting effect if you choose the correct procedure and follow the doctor's prescription.
Pigmentation laser CO2 Coolaser.
Laser stain removal acts selectively on the skin. Healthy cells remain, while those that produce a lot of melanin are destroyed. In addition to removing age spots, the skin is rejuvenated, recovery processes are launched.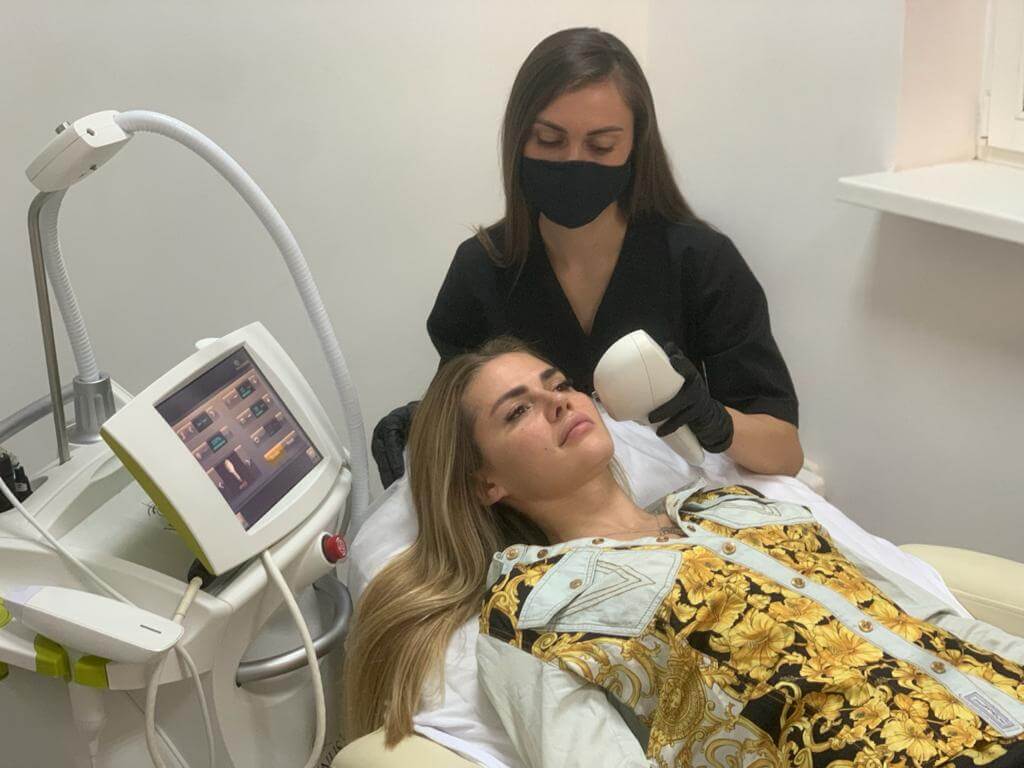 Photorejuvenation.
Pigmentation treatment with photorejuvenation has an amazing result. The essence of the procedure is the effect of an intense light source on the skin area. Waves 550-1200 nm in size penetrate into the deeper layers of the skin, interacting with collagen. At the same time, skin hyperpigmentation is suppressed.
Cryotherapy.
Cryotherapy will quickly help remove age spots. The innovative cold treatment for pigmentation will quickly and accurately target blemishes, freckles, acne and rosacea. After just 3 sessions, you will see serious improvements!
In order to prevent sunburn and hyperpigmentation before the summer season, you need to think about protection. A properly selected UV protection product will protect your skin from pigmentation and the risks of epidermal disease.
Sunscreens to prevent age spots.
Sunscreens have different degrees of protection and are designated SPF. The range of protection varies from 2 to 50. Each type of protection is designed for a different type of epidermis.
SPF 40-50 – maximum protection even for very thin and sensitive skin. Such creams are suitable even for children. SPF50 is recommended for people with light or red hair and white skin.
SPF 30-35 – Medium Protection. Suitable for brown-eyed, light Europeans with a tendency to freckles.
SPF 8-15 – suitable for dark-skinned people with light brown or dark hair.
SPF 2-8 – Recommended for dark-haired people with dark skin.
We care about your health! Therefore, we recommend that you be careful about sunbathing and avoid walking during rush hour from 12 to 16 pm.
Coollaser Clinic in the center of Kyiv on Pechersk opens its doors for you every day. The doctors of our clinic are trained and improve their qualifications in such developed countries as the USA and Australia, where the experience of combating hyperpigmentation is very large.
Our dermatologists – one of the most experienced specialists in Ukraine – know how to remove age spots forever on the face and body!