How to remove bruises under the eyes: TOP 5 ways in Kiev
How to remove bruises under the eyes is a question that worries many people. Someone suffers from dark circles around the eyes due to lack of sleep or a fun holiday, someone is physiologically predisposed.
Bruises under the eyes or dark circles around the eyes are a common physiological phenomenon that every 3 people on Earth have.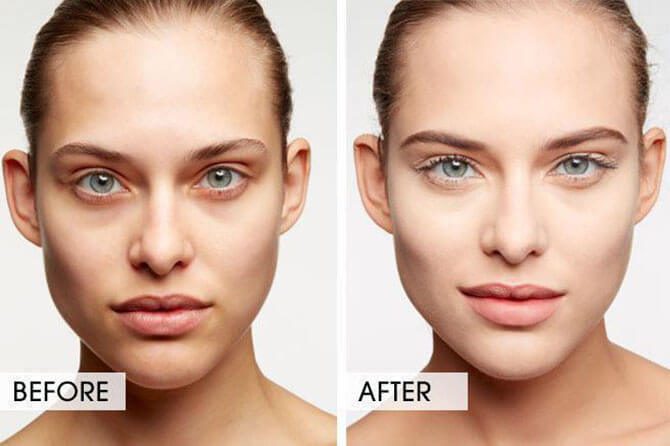 Back in the early 20th century, nascent cosmetology tried to solve this issue with the help of medicinal herbs or amazing procedures using arsenic.
The best specialists at Coolaser Clinic suggest forgetting about grandma's recipes and suggest considering the TOP 5 procedures that really work.
Why do bruises form under the eyes?
Smoking
Alcohol
Chronic lack of sleep
Diseases of the internal organs
The first signs of aging
Lack of water
Unhealthy food
Physiological predisposition
By fixing the cause of dark circles, you can easily get rid of them. Homemade recipes are great for mild forms of puffiness.
How to remove bruises under the eyes at home?
Practical advice from a professional beautician, available to everyone.
Healthy sleep. To maintain youthfulness and beauty of the skin, we need sleep. Sleeping for 8 hours a day is a luxury for many people. To improve the quality of sleep, it is enough to fall asleep before 23:00. This will improve your sleep quality. It is better to sleep 5 hours from 11 pm to 4 am, than from 1 am to 6 am.
Water. Water is life and it's true! By drinking enough clean water a day, we improve the quality of our skin, hair and health. It is not recommended to drink 2 liters by force, 1 glass is enough every 2-3 hours.
Diverse food. That's right, the key to well-being and beautiful skin of the eyes is not diet and vegetables at all. And varied, high-quality food! A varied diet throughout the day will saturate the body with microelements, and the skin with nutrients.
Cold. The beneficial effects of cold on the body can be seen in many salon treatments such as cryotherapy. Have a cryomassage at home! A cold compress for 10-15 minutes on the eyes will help to quickly remove puffiness and bruises under the eyes.
Tea bag. The Soviet way, which is neglected by many. Why does it work? Tea contains several times more caffeine than coffee beans. Caffeine improves blood microcirculation, improves oxygen flow. Pronounced circles under the eyes brighten noticeably after 20-25 minutes.
Please note that not all bruises around the eyes can be removed at home. It is the professional approach that guarantees you the result quickly and for a long time.
How to get rid of dark circles under the eyes? TOP 5 Ways That Work!
Non-surgical blepharoplasty
Safe alternative to plastic surgery (blepharoplasty). Thanks to non-surgical eyelid surgery, you can not only remove bruises under the eyes, but also tighten the eyelids.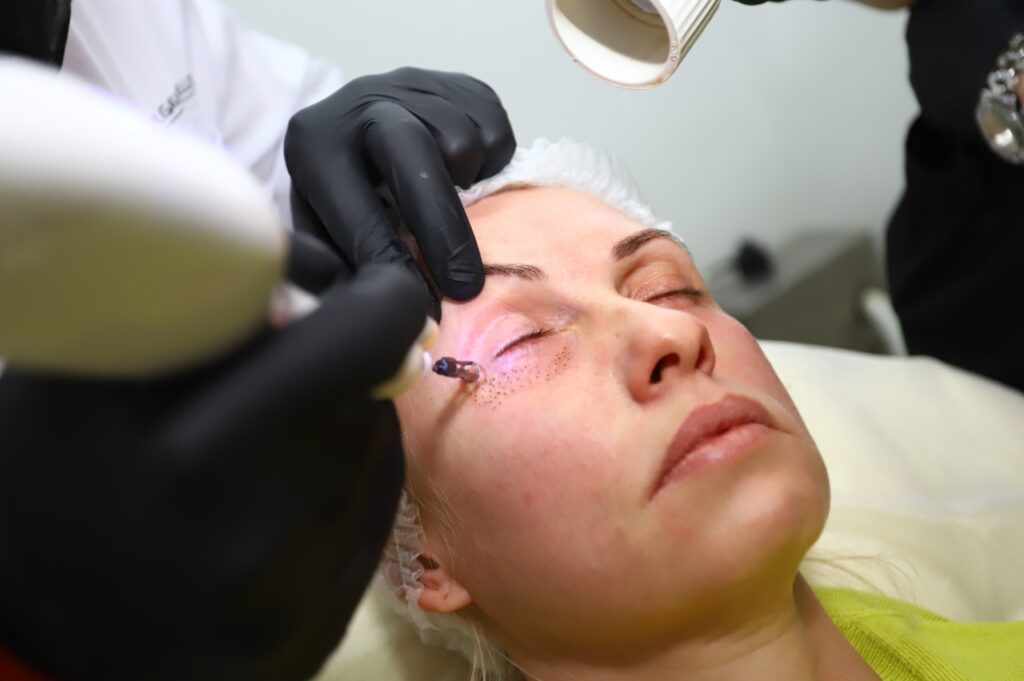 Correction of age-related changes using laser blepharoplasty is a gentle approach and a 100% result.
Laser resurfacing of dark circles
The unique technology of the CO2 laser allows you to achieve a versatile result in just 1 procedure. Laser resurfacing of dark circles around the eyes is a quick and painless procedure.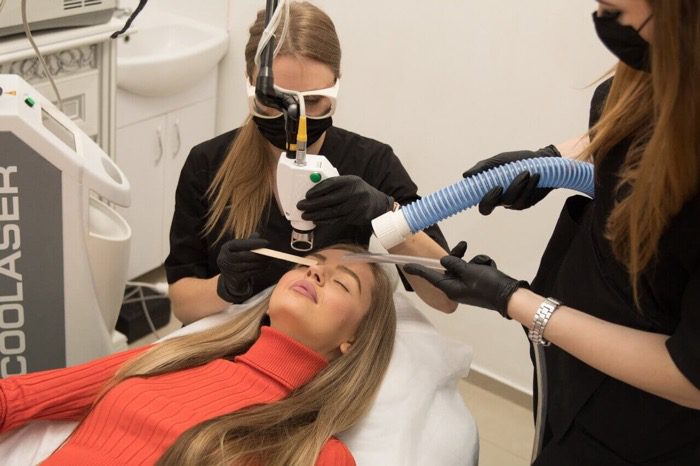 As a result, you get: lifting of the eyelids, removal of circles around the eyes and smoothing of mimic wrinkles. The action of the CO2 laser stimulates the production of collagen and elastin, which will help you maintain the result for a long time.
Biorevitalization of the eyes
Dark circles, bags, bruises and crow's feet around the eyes will easily go away if you give yourself the Biorevitalization of the eyes procedure. This light, cosmetic procedure will also relieve you of lower eyelid hernias and pronounced nasolacrimal sulcus.
After 1 procedure of biorevitalization of the eyes, you will notice an amazing result.
Carboxytherapy
Spa treatment for the beauty of your eyes. Carboxytherapy is so safe that it can be done during lunchtime at work. Carbon dioxide skin treatment – proven effectiveness over 100 years of history! Immediately after the procedure, receive enthusiastic compliments, the face will immediately begin to transform, the bruises under the eyes will significantly turn pale.
Contraindications
We care about your health. Therefore, we recommend that you consult a specialist before any procedure. An experienced beautician will determine your skin type, its needs and possible contraindications.
Each procedure has its own contraindications. We will give you general conditions in which it is not recommended to do procedures or a doctor's consultation is required.
Pregnancy
Oncology
Inflammation of the eyes
Open wounds
Worsening dermatitis or eczema
Coolaser Clinic in the center of Kiev on Pechersk – we work every day to preserve and enhance your natural beauty. How to remove darker under eye circles – just give us a call!