How to tighten your face at homeby yourself?
How to tighten your face quickly and easily at home? A hot topic for any gender and any age. Especially when you are 30, 40 or 50 according to your passport, 18 in your soul, and your face does not correspond to any of this number.
Our face is not just a business card. The face is the first thing a stranger pays attention to. At the unconscious level, we only need 3 seconds to understand from a person's face whether we like him or not. Is he or she suitable for us as a partner. Is it possible to trust this person.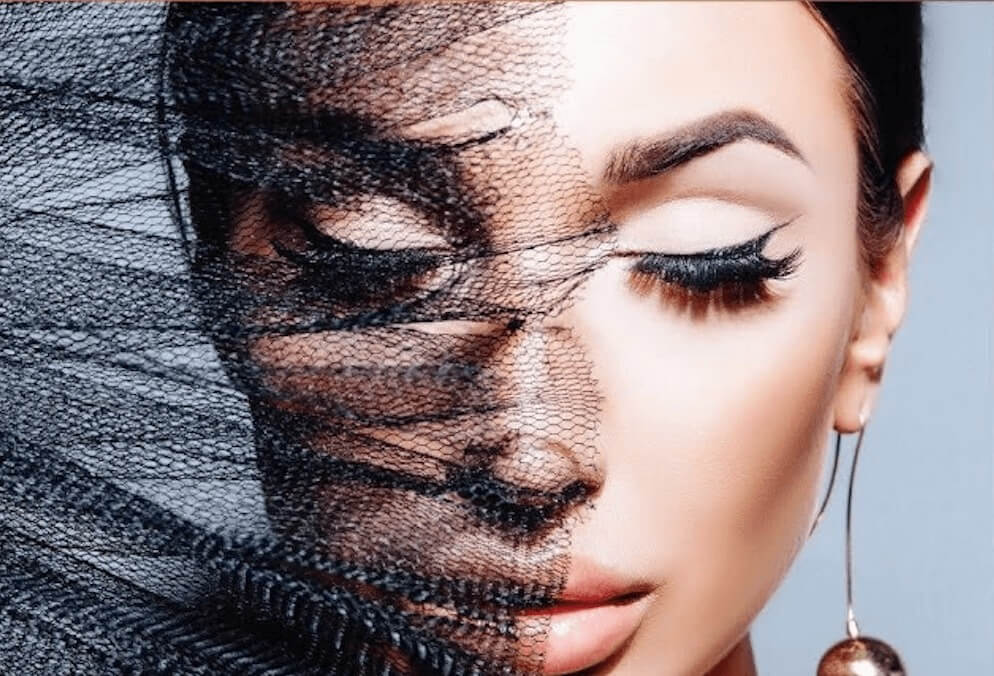 That is why it is so necessary to take care of the skin of the face every day. How to tighten your face at home? How to tighten the oval of the face?
Experienced specialists of Coolaser Clinic will give you a clear and precise answer to any question.
Face lift or tighten the skin of the face
The word lifting comes from the English word lift – lifting up. The procedures aimed at active face lifting literally mean "lifting the face upward". A facelift at home is possible!
Why does our skin tend to go down as we getting older?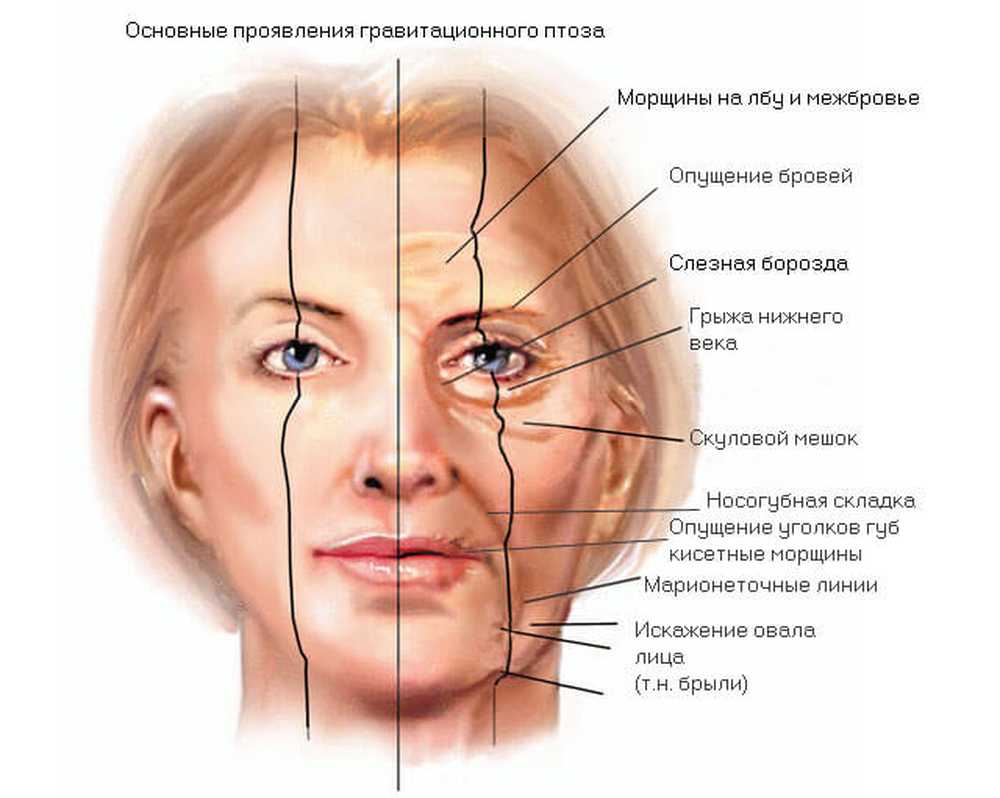 Why, over time, the skin on the face becomes flabby and stretches to the ground, and does not remain as elastic and youthful as before? There are several main reasons. Usually, the cause of wilting and flabbiness contains several reasons at once:
Gravity. Pulls to the ground not only us, but also our skin. In order to keep tissues at the same level, some cells must work well, and substances must be synthesized. Hence, there are 2 reasons.
Age-related changes in tissues. With age, the protective functions of our organs weaken. The skin is also our organ and over time it loses its properties if we do not help it. Why do age-related changes affect us?
Looking at our elders, closest relatives, you can roughly understand HOW we will look in old age. Grandparents, notice how they look at their age? When did they get gray hair or wrinkles?
Washing techniques. You will be surprised, but the way you touch your face will reflect on its condition in a few years. Do you like rubbing with a towel or resting your chin on your hand? After 2-3 years, the tissues will begin to weaken and be pulled down.
Active facial expressions. There are things that depend little on us. Active facial expressions such as a wide smile, the habit of puckering your lips, squinting or raising your eyebrows high will soon leave its touch on you. In addition to early mimic wrinkles, you will also get sagging facial skin.
Do you want to keep your face young and healthy on your own? Prevent the development of early signs of old age, wrinkles and flabbiness without a beautician? We will tell and reveal the secrets of professionals!
How to tighten your face at home?
First of all, we want to draw your attention – the regularity and quality of our actions plays the same important role as the methods of facelift themselves.
Facelift or Facebuilding.
The number 1 face care trend in years 2019 and 2020. Modern doctors and cosmetologists are sure that gymnastics for the face will be so popular next year.
To get rid of nasolabial folds. Open your mouth in the letter "O", dropping your chin strongly down. You should feel a lot of tension on your face and tension from nose to chin. See the two nasolabial lines?
Be sure to clean your hands, place your index finger on the lowest point of the nasolabial fold, and insert your thumb into your mouth. Massage gently but firmly with two fingers along the entire crease line from start to finish. Start from the bottom up again, keeping your face tense.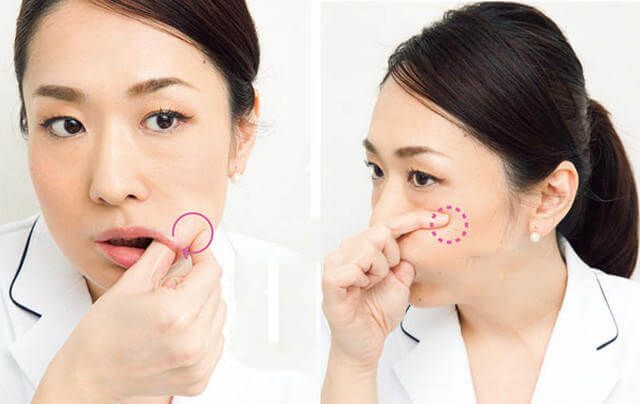 Repeat 10 approaches every day and the result will not keep you waiting.
To get rid of wrinkles on the bridge of the nose and frontal folds. The face is relaxed, the eyebrows are motionless. Bend the index fingers of both hands in an arc and place them over the eyebrows (not on the eyebrows themselves). Add tension and gently, forcefully lower the eyebrows down (to the upper eyelid).
Now, with the muscles of the eyebrows and only with them, without the help of hands, lift your fingers up. During the exercise, you will see how the muscles work on the bridge of the nose. Did you see? Congratulations, you are doing everything correct.
Repeat 10-15 approaches every day until the result appears.
As with any gymnastics, regularity, consistency and lack of pressure are important in face building. The first time, the result may not be or it will be minimal. Exercise every day and you will see a facelift.
Home peeling.
For the oval of the face to maintain its elasticity for a long time, you need to thoroughly cleanse the skin of the face. A home peel that is appropriate for your skin type is best.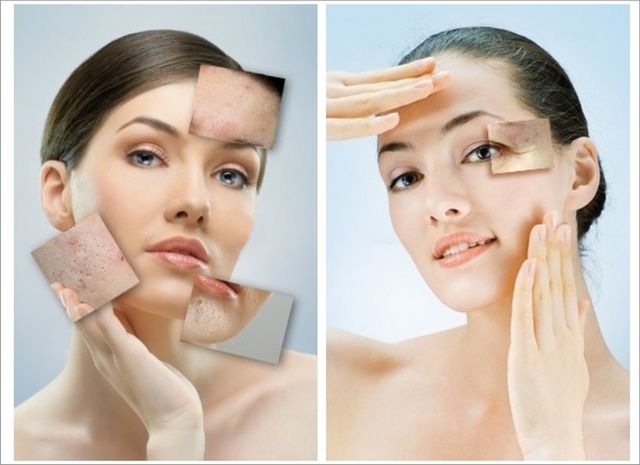 We recommend using natural ingredients – brewed oatmeal and natural coffee pomace after brewing. If you add a drop of olive or peach oil to the composition, you will get moisturizing and soothing for the skin of the face.
Home peeling should be applied to the face, massaged and evenly distributed. Wash off after 5 minutes and massage gently again. A mixture of oatmeal not only perfectly cleanses the cells, but dries up inflammation and tightens the skin of the face.
Self-massage "Ice and Fire".
A contrast shower is the best way to start your day. It activates metabolic processes, helps us wake up and prevent the formation of cellulite.
You can tighten your facial skin at home with the help of contrasting lotions. Take a towel or other small cloth and prepare two containers of water. Let's remember the old recipe for youth from the Tsar Maiden (Fenix):
"If you want to be marride and handsome
Without any clothes, peaceful, take a dip in milk
Then stay in boiled water for a while, and in cold one a bit.
And I will tell you father – you will be a noble fellow "
Pour ice water into one container, and moderately hot water into the other. Soak a towel in ice water and gently wipe your face, then put it in hot water and repeat. We finish the procedure with a cold rubdown. Repeat from 3 to 5 times.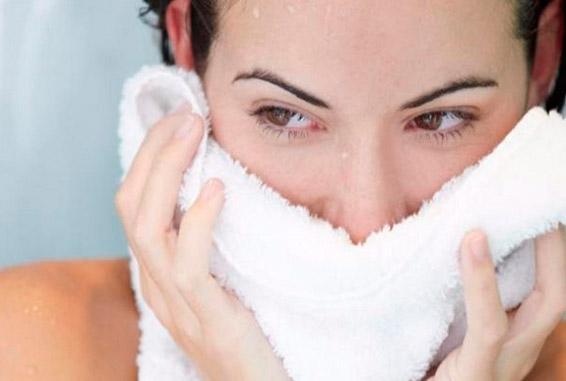 We draw your attention to the fact that home methods are good as a prevention of age-related changes. But you should not expect a big effect on already existing sagging skin or wrinkles.
And if you need to quickly?
Do you want to look younger in 20 days? Do you want to see noticeable results immediately after the first procedure? Then read the rest of this article below.
TOP-5 professional ways of instant facelift without surgery in Kyiv
Non-surgical blepharoplasty. It will tighten the skin of the eyelids and give a youthful look immediately after the procedure.
Plasma shower or Plasma shaker. Treats many skin imperfections. Already after 1 procedure you will appreciate the instant lifting effect of the face skin.
SMAS lifting or ultrasonic facelift. The result will be visible immediately, but it builds up over three months. The procedure can be done now, no injections or scars. Sign up for a smas lifting and meet the New Year 2021 with a toned face!
Cryotherapy of the face. Not only will it give an active lifting of the face contour, but it will also reduce wrinkles, pigmentation and acne scars.
TriBella rejuvenation 3 in 1. The Hollywood approach to rejuvenation and facelift is available especially for you today!
Experienced specialists at Coolaser Clinic in the center of Kyiv on Pechersk will make any procedure not only 100% effective, but also comfortable.
How to tighten your face at home – we reveal secrets from professionals.