How to choose a laser for hair removal, tattoo removal and skin care
Which laser to choose for hair removal, tattoo removal and skin care is a rather rare question from our patients. It is much more common to hear why laser treatments for face and body are relatively expensive?
The choice of a laser for laser therapy must be approached as responsibly as the choice of a specialist. Everything and everyone who works with your skin should inspire your absolute confidence.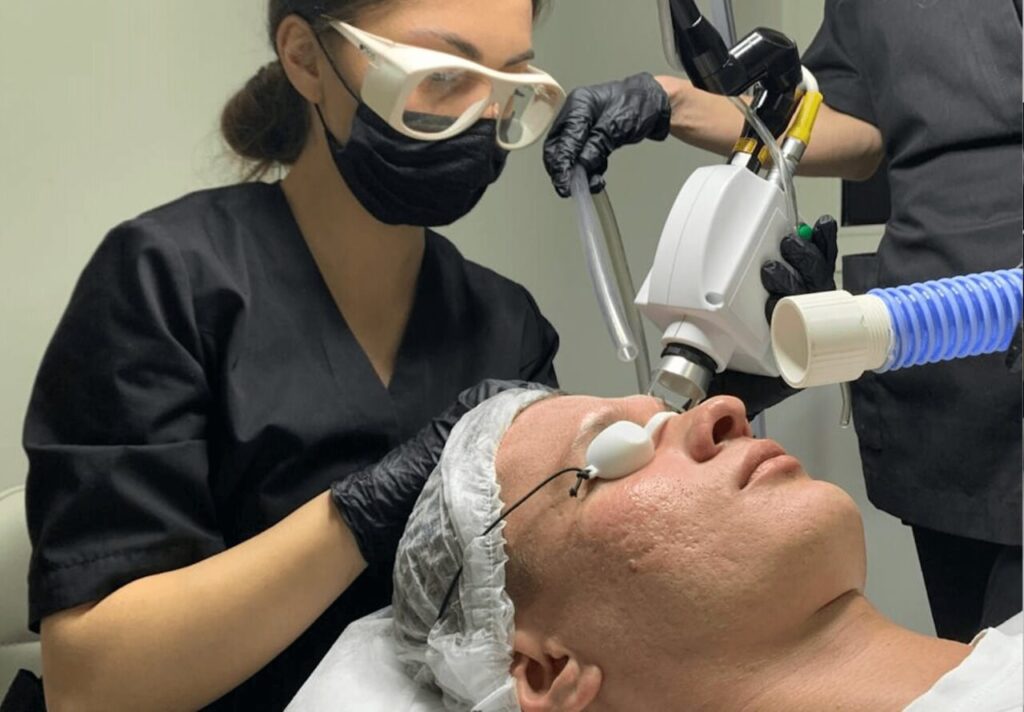 Not sure how to choose the right laser and why is it important? Experienced doctors at Coolaser Clinic will answer your questions honestly.
Laser treatments for face and body
Laser facial treatments usually include laser resurfacing, SMAS lifting, microneedle RF lifting, CO2 laser peeling. Laser body treatments include removal of growths, scars, tattoo removal and hair removal.
Any laser procedures must be performed by a competent specialist using quality equipment.
Why is laser quality important?
The result of the laser procedure directly depends on the quality of the laser. The lower the quality is, the greater is the risk of skin complications. The softer the area of the skin, the more severe the consequences of laser therapy.
Burns;
Inflammation;
Damage to the epidermis;
Deterioration of the skin condition after the procedure;
Development of concomitant dermatological diseases.
Why can't laser treatments be cheap?
We propose to understand the pricing and its validity using a simple example of photoepilation.
In the modern world, only the lazy has not heard of laser hair removal. Laser hair removal or photo hair removal helps to eliminate unwanted hair. The course treatment gives an excellent result and the opportunity to forget about stiff bristles for a long time.
However, we often hear conventional wisdom about this procedure. In some, it causes terrible allergic reactions, in others it does not give any result, in others – complete hair removal. What is the reason for this?
Often, wishing to save a lot, cosmetologists buy obviously cheap equipment. Lasers made in China tend to give low or no results.
If you can live with the lack of results, then the negative outcome of the procedure is fraught with additional treatment. Old or defective equipment, which can also be bought from hands or rented, is also hazardous to health and can leave scars on your face and body.
A defective or cheap laser leads to numerous burns and damage to the epidermis. Burns often lead to hyperpigmentation and instead of beautiful, smooth skin, you will see dark spots (at best).
Remember, never settle for laser face resurfacing (especially deep resurfacing) in questionable beauty parlors! This can harm your health.
Lack of experience or low professionalism of the doctor.
The newest and highest quality equipment can ruin the skin if the procedure is performed by an amateur or a doctor with low level of experience. The laser requires a great deal of knowledge and experience to set it up correctly.
During the procedure, the specialist must assess the condition of the skin, its type and needs. And in accordance with individual characteristics, adjust the length and power of the laser beam.
If the equipment is configured properly, in good condition, and the specialist performs the procedure according to the algorithm, the laser procedure will only be beneficial.
Pricing
A really good laser that can eliminate most of the cosmetic defects of the skin, without harm to health, has a high price tag.
Such a high price for lasers is due to the passage of all the necessary tests and research. As well as passing full certification. A laser certificate is required and may indicate its safety.
What equipment do we use?
All our lasers are FDA certified. Your health is important to us. Therefore, we work with the best lasers on the market.
It is on such equipment that Hollywood stars are removed stretch marks and scars.
State-of-the-art laser with a super thin 85 micron beam. It is able to delicately rejuvenate the epidermis, minimize wrinkles and correct scars.
100% safety and high quality equipment guarantees you a reliable and desired result.
One of the most powerful lasers in the world (65 W). Ideal for deep laser resurfacing procedures and the treatment of complex scars.
Our guarantees for your safety
We guarantee complete safety of every laser procedure. Most of the skin corrections and treatments are carried out in partnership with one of the most famous and respected clinics in Ukraine VALIKHNOVSKI SURGERY INSTITUTE, headed by Dr. VALIKHNOVSKI.
We guarantee 100% effect. You will see the result of skin improvement immediately after the procedure. The results of and scars removal will stay with you forever.
We guarantee the experience and professionalism of our doctors. All specialists undergo regular training and professional development in the USA, Israel and Australia.
Top 5 tips on how to prevent complications after laser treatments.
Check first, then trust.
Word of mouth and positive experiences from acquaintances are important facts. But before deciding on the procedure, do not be afraid to check the clinic. Ask for licenses, medical authorization and equipment certificate.
Get to know the doctor better.
Do not be afraid to ask questions! This will show you only on the positive side and characterize you as an attentive patient. Find out education, look at laser training certificate.
If the doctor refuses you or responds to your request with aggression and irritation, think about it. Maybe he has something to hide?
Inspect the technique carefully.
Of course, the patient is not required to delve into the technical specifications of the equipment. And even more so, be aware of modern laser systems. But the look of the laser can tell a lot.
Sections rewound with duct tape, torn parts and other external imperfections can indicate equipment malfunction.
Too cheap? Move on!
We have already figured out why a high-quality laser cannot be cheap. The abundance of Chinese counterparts show poor results and, accordingly, negative reviews.
Too low price, in comparison with other clinics, should be alarming. Ask yourself, how did you save money? Why does this particular specialist set such a price? Lack of experience or Chinese equipment will not do any good, only harm.
We read reviews.
Nobody is safe from an unscrupulous specialist. You have looked closely at the certificates and licenses. The equipment is clean, the clinic is well-known.
Find reviews on the Internet for a service or the doctor himself. A large number of reviews about rudeness and "breeding for money" may be a reason for contacting another specialist.
Trusting your skin to us, you choose the best for your beauty and health.
Coolaser Clinic in the center of Kyiv on Pechersk provides all the conditions for comfortable and effective treatment.
How to choose a laser for hair removal, tattoo removal and skin care – always choose the best one!