Fractional skin resurfacing.
Fractional skin resurfacing or laser peeling is a deep peeling procedure for body and facial skin. A fast and proven way to restore beauty and youth to the skin!
As we age, we often think.
How to restore skin elasticity?
How to make the body look younger?
Learn to look like 25 at 40
In our age of innovative technologies, there are many ways to deal with skin imperfections. Each person chooses for himself the most comfortable and effective way to achieve the goal.
A procedure such as fractional skin resurfacing meets all needs – short time, safety and efficiency.
Try the most popular body rejuvenation treatment – laser peeling at the Coollaser Clinic.
Indications.
Acne
Pigmentation
The first signs of aging
Skin irregularities
Scars and stretch marks
Sagged skin
Flappy skin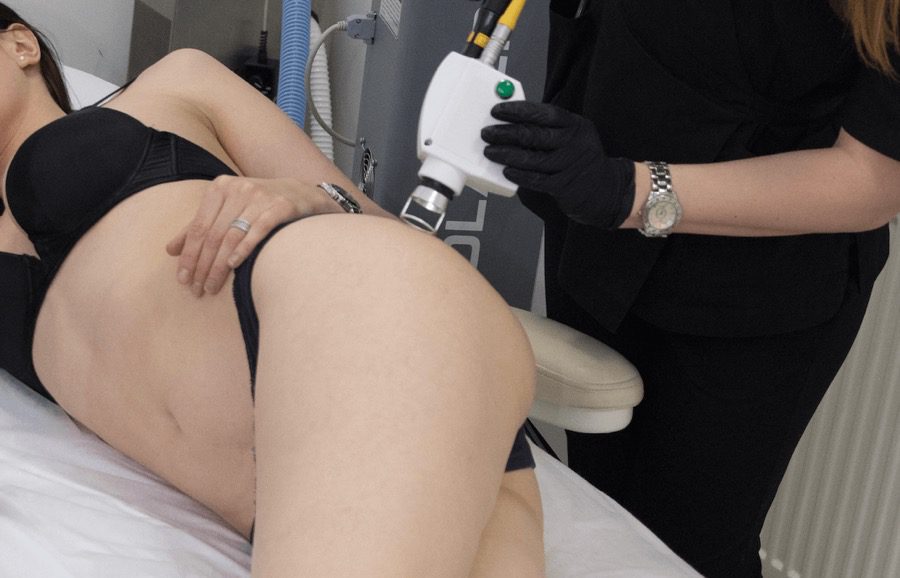 What is fractional laser peeling?
Laser peeling, fractional body resurfacing are different names for one procedure. Laser resurfacing is aimed at partial or complete fractional (point) treatment of the upper layer of the skin and dermis.
Thanks to the action of the beam, the surface of the epidermis begins to be actively processed. Moisture begins to evaporate in the processing areas. In another way, this process is called fractional laser rejuvenation.
The laser beam processes tissues pointwise or, in scientific terms, fractionally. At these points, old cells are evaporated along with collagen and elastin. The treated layer of the epidermis dries and peels off easily, allowing young cells to divide. Fractional resurfacing allows you to start the process of regeneration and restoration of the skin.
Fractional laser resurfacing of the body is fundamentally different from other care procedures. The laser acts not only on the epidermis, but also on the deeper layers such as the dermis.
How to prepare yourself for the procedure?
First of all, it is recommended to consult with a specialist before the procedure. If you need to treat a large area of skin at one time, will be required your general and biochemical blood test
You should refrain from smoking and alcohol, as well as from sunbathing, for two weeks. The use of scrubs should also be abandoned.
How is the resurfacing going?
Before fractional resurfacing of the body, the specialist cleans, disinfects and anesthetizes the selected area. It is usually anesthetized with a gel or ointment. The patient wears special glasses, to ensure safety.
The specialist treats the area with a laser, the parameters of which are adjusted before the procedure. Varieties of laser resurfacing involve a different number of sessions.
The site is preliminarily cleaned with a swab dipped in chlorhexidine. Before the procedure, the treatment area is anesthetized and disinfected. After finishing the skin resurfacing, sometimes a soothing agent is applied as needed for greater comfort.
What lasers are used for fractional rejuvenation in Kyiv?
Depending on the zone and the desired result, different types of devices are used for greater efficiency.
Powerful carbon dioxide CO2 Adonyss.
With such fractional resurfacing, old cells and pigmentation are actively removed. Cell renewal, tightening and rejuvenation of the face oval is stimulated.
Effectively copes with deep scars, benign formations and other defects.
Strong heating of radiation to 10 microns allows it to act on the deeper layers of the skin, stimulating the production of collagen and elastin.
CO2 fractional laser peeling has shown itself to be extremely effective in the fight against strong stretch marks.
The rehabilitation period for CO2 laser resurfacing lasts from 3 to 7 days. Approximately 3 days after resurfacing, the skin will be covered with crusts that should never be touched or masked.
Three to four days after peeling, obvious traces of polishing will disappear, and after 4-6 weeks, the tissues will completely recover.
Since CO2 laser resurfacing is quite powerful, careful body care must be taken.
Delicate CO2 Coolaser.
A wave of luminous flux of 10.6 microns is completely absorbed by the epidermis layer at a given depth and power. This laser has the thinnest beam all over the world from 90 to 120 microns – thinner than a human hair. This makes it suitable for fractional resurfacing of thin, sensitive and dry skin areas. Difficult areas such as décolleté and neck are atraumatically polished with the Coolaser laser.
Fractional treatment with this laser rejuvenates the skin well, gives the body a fresh and healthy look. This treatment fights stretch marks, removes scars, tightens sagging abdominal skin.
The rehabilitation period after peeling with the Coolaser laser takes no more than 3 – 5 days.
Venus Versa non-ablative laser peeling with Viva attachment.
The most painless of all body resurfacing devices. The effect of the Venus Versa nano fractional device with the Viva attachment on the skin is so gentle that there is almost no need for a recovery period. It is 1 – 2 days.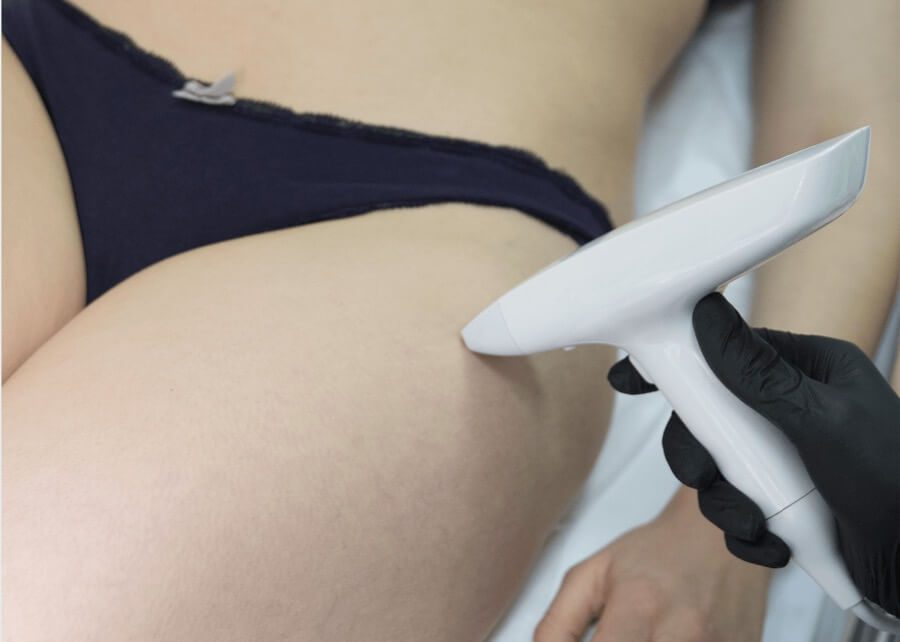 However, it's more difficult for him to cope with deep flaws than for CO2 lasers.
What to expect from fractional skin resurfacing?
Classic fractional treatment perfectly copes with the task of completely removing the upper, stratum corneum. It's this factor that ensures further transformation and rejuvenation.
Contraindications
Pregnancy
Oncology
Viral and infectious diseases
Diabetes mellitus
Epilepsy
Lupus
Diseases and lesions of connective tissues
Tendency to form keloid scars
Skin prone to poor healing
Herpes
Psoriasis
Strong tan
Before any fractional rejuvenation procedure, you should consult with a specialist to minimize complications. Compliance with all the recommendations and prescriptions of the doctor will make the rehabilitation period easy and calm.
Coollaser Clinic in the center of Kyiv on Pechersk will gladly take care of your beauty!
Fractional skin resurfacing in Kyiv is the best non-surgical rejuvenation that you can imagine!
Specialists in the procedure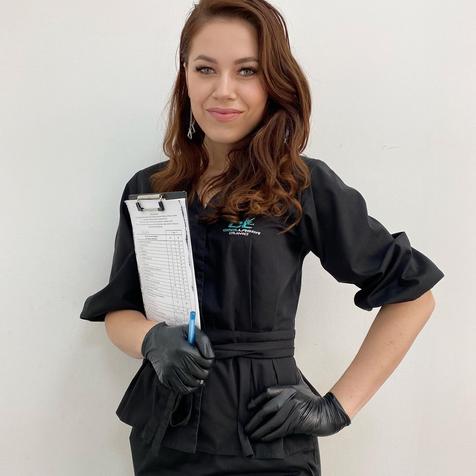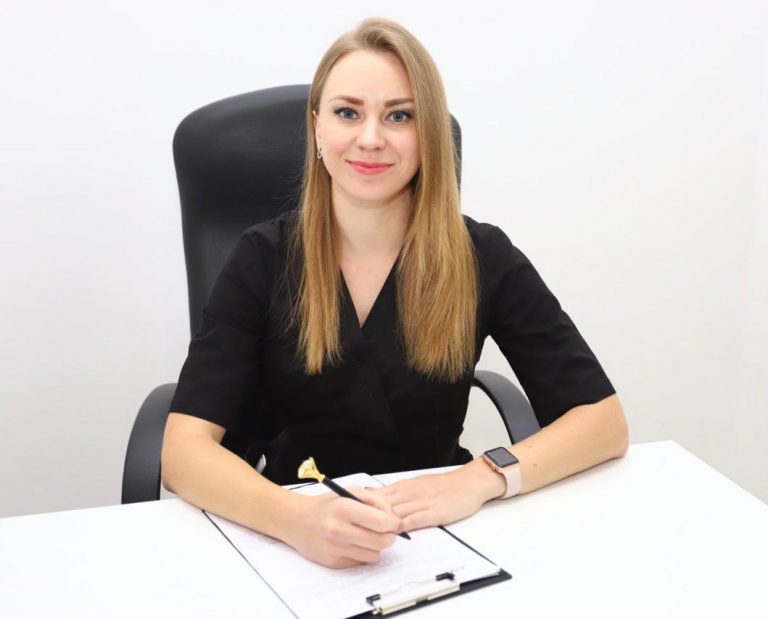 Photo materials