Cryolipolysis Kyiv
Patients can do cryolipolysis in Kyiv near the city center. Get a doctor's consultation at Konovalets street, 32B.
Cryolipolysis is becoming more and more popular technology for sculpting and body shaping every year. Many women try to maintain their body at a normal weight, but at the same time they are unhappy with their figure. Eliminate imperfections with the help of diet, proper nutrition and even exhausting physical activity alone does not work.
These shortcomings often include:
double chin;
bulging belly;
voluminous sides;
folds on the back;
fat deposits in the buttocks;
riding breeches on the hips.
Coolaser Clinic experts have collected important information about cryolipolysis in one article to answer all the questions of interest to patients.
Content:
Cryolipolysis: what is this procedure
Cryolipolysis is a non-surgical method of fat reduction. The doctor applies a procedure to correct the patient's figure by freezing fat in problem areas of the body.
The term cryolipolysis refers to the destruction of adipose tissue by cooling. It was introduced by a group of researchers from Harvard Medical School in 2008. The research was led by Dr. Dieter Manstein. In the USA, the method quickly became popular in the field of aesthetic medicine, the procedure is called CoolScolpting. Cryolipolysis/Coolscalpting is considered a safe and effective body shaping method that is FDA approved.
The FDA (Food and Drug Administration) is the federal executive department responsible for the quality of medicines and food.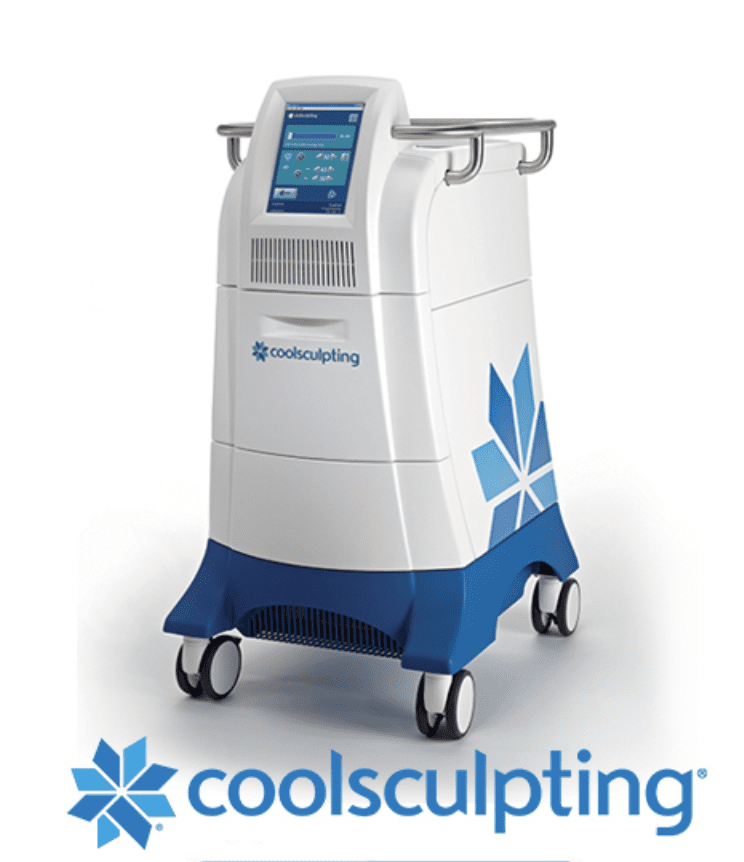 Cryolipolysis: action and essence of technology
Researchers at Harvard Medical School have noticed that cold can break down fat cells in a living body and have come up with a way to completely control the process of fat breakdown. They developed and patented the CoolScolpting procedure, which, with the help of cooling, can selectively and effectively eliminate stubborn fat deposits without harm to the patient's skin and health.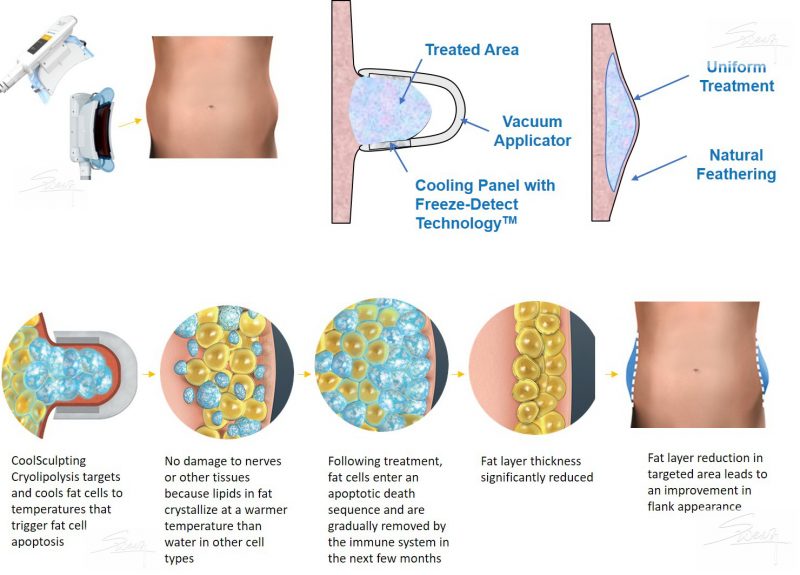 Cryolipolysis allows you to start crystallization and subsequent destruction of fat cells in problem areas that require correction. The peculiarity of cryolipolysis is that the cold does not affect the skin and other tissues, except for adipose tissue. Fat cells are destroyed forever if the patient does not gain excess weight after the procedure.
How does fat go after cryolipolysis and in what problem areas
After freezing, damaged cells will be eliminated from the body by the immune system from several weeks to several months. The procedure allows you to destroy up to 20-25% of adipose tissue. The remaining cells are compacted, and the layer of fat is reduced in size. This effect will be permanent unless the patient gains excess weight through overeating.
Problem areas for which this technique is suitable:
second chin and flew;
forearms;
back;
stomach;
sides;
hips;
buttocks;
the area around the knees.
Thanks to the controlled exposure to cold, it is possible to improve and correct the appearance of the figure, get rid of wrinkles and unaesthetic bulges. Additionally, the technique allows you to tighten, tone and tighten flabby tissues that have lost their former shape.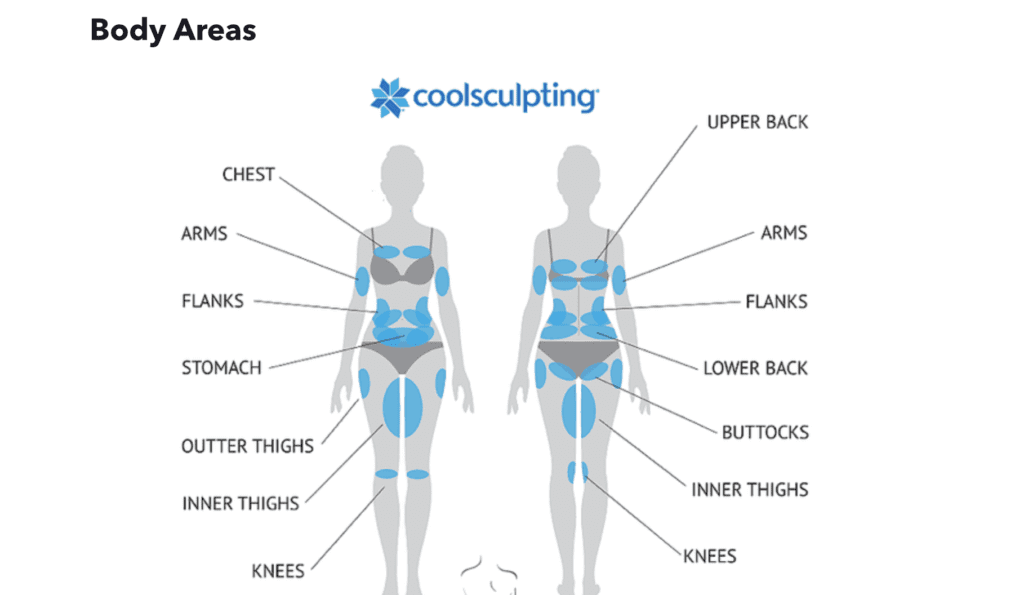 How to do cryolipolysis correctly, research results
The effect of the procedure will be best seen in patients who want to pinpoint fat removal in one or more areas. These are patients with a body mass index of no more than 30. To eliminate the "double chin" problem, the permissible figure is not higher than 43. If the patient has a higher body mass index, then preparation for the procedure and weight loss may be required (at the discretion of the attending physician).
Cryolipolysis is great for non-overweight men and women who are unhappy with their figure:
small fat deposits that require correction;
problem areas that do not change after a diet;
wrinkled, unaesthetic bulges;
flabby zones that have lost their shape and elasticity.
Is it possible to lose weight from cryolipolysis
The main goal of cryolipolysis is the destruction of adipose tissue in hard-to-reach places. This method allows you to remove up to 20-25% of the fat layer in those areas that are difficult to correct with the help of diets, healthy eating and sports. It will not work to get rid of obesity or lose weight slightly using this method, since the weight decreases slightly during the destruction of adipose tissue.
How to prepare for the cryolipolysis procedure
If you are going for a cryolipolysis procedure for the first time, then consult with the doctor who will conduct the session in advance. It is important to exclude temporary and permanent contraindications.
General recommendations of doctors:
The procedure is recommended to be planned long before the menstruation of the cycle or after its completion in order to exclude increased spasms and other side effects.
Report any chronic illnesses and medications. Tell your doctor if you have any implants or devices in your body, such as a pacemaker, hearing aid, implanted defibrillator, neurostimulator, pump or drug chip, and so on.
Do not schedule the procedure on inflamed areas of the body if they have swelling, damage, rashes, skin diseases or infections.
If sensitivity is impaired in areas where exposure to cold is planned, it is important to warn the doctor about this in advance.
If there is an increased sensitivity to cold, it is important to warn the doctor about this.
Cryolipolysis reviews of doctors from Kyiv
Feedback from Alesya Zinenko – dermatologist, specialist of the Coolaser Clinic. The doctor conducts cryolipolysis sessions.
The undoubted advantage of cryolipolysis is that it is possible to target and effectively affect fat cells. Thanks to the US-patented CoolScolpting technology, you can fully control the degree of freezing to gently break down fat deposits in specific areas.
The device has safety features that automatically turn off the entire system if the sensors detect the effect of cold on the skin. Coolaser Clinic specialists adhere to high quality standards and the level of work with patients. Therefore, the procedure in our clinic is as safe as possible, and the manifestation of side effects is minimized.
Review by Sergey Gavrilyuk: plastic surgeon Coolaser Clinic.
I am often asked which is better: cryolipolysis or liposuction? Both of these procedures are aimed at solving the same problem – reducing the fat layer in problem areas. Each procedure has its own advantages and disadvantages. The procedure must be selected individually according to the patient's request. I have prepared a visual table for comparison.
| | |
| --- | --- |
| Liposuction | Сryolipolysis |
| Suitable for overweight people | To work with the chin area, the body mass index is within 43, and for other areas up to 30 (other cases should be considered individually) |
| 1 session is enough | Requires 1 to 3 sessions |
| Fat is immediately pumped out through punctures | Fat is gently eliminated by the immune system from 2 weeks to 3 months |
| There is a recovery period, punctures remain on the skin, anesthesia is required | Anesthesia is not needed, the skin is not damaged, the effect is delicate |
| You can remove a significant amount of fat | Up to 20-25% of the fat layer is destroyed, each patient individually |
| The skin may sag slightly and become loose after the procedure. | The skin and tissues are tightened, the procedure is excellent for eliminating flabbiness |
Cryolipolysis: effect after one procedure
The technology was discovered in 2008 and since then has been improved and devices of several generations have been created. The applicators on the first generation equipment were only able to work on large areas: abdomen, thighs and flanks. But the technology has been actively developing and modern applicators are able to work with fat above the knee, remove the double chin or wrinkles on the back.
In addition to expanding the scope of technology, the quality and safety of the procedure has improved. In one session, you can work with 4 problem areas, and the procedure can take on average from 30 minutes to 1 hour. In less than 4 hours, the patient can reduce the fat layer in 4 places up to 20% without surgery and punctures on the skin and return to their usual lifestyle.
Complaints of pain and discomfort have become a rare occurrence, so anesthesia is not required, moreover, in just a few minutes, all sensations begin to be replaced by numbness. During the entire procedure and massage after it, the patient feels only numbness.
For a non-surgical and non-invasive method, the destruction of fat within 20% is a tangible effect. The result will be noticeable in 2-3 weeks and will fully manifest itself within a few months.
How many sessions of cryolipolysis do you need
This question can be answered by a doctor at a preliminary consultation. Basically, one session is enough for the patient to get rid of unwanted volumes and imperfections in the form of folds or bulges. In rare cases, the patient may be prescribed a course of 2-3 sessions if the problem is pronounced.
When are multiple sessions needed?
Firstly, if the patient is slightly overweight, but he does not want to resort to operations, invasive methods or lipolytics.
Secondly, if the patient wishes to reduce the layer of fat by more than 20-25% in the problem area.
Thirdly, if the problems and shortcomings are in several different zones.
The result from several procedures will be more pronounced, it will be possible to fully evaluate it a few months after the last procedure.
Cryolipolysis/coolscalping: Kyiv, Coolaser Clinic
Tired of ugly folds on the back in the bra area or a bulging belly? Or maybe the figure is in excellent condition, but because of the wrong posture, a "second chin" has appeared? Coolaser Clinic specialists know how to solve the problem in the most gentle and painless way without surgery in 1, maximum 3 sessions! Thanks to innovative American technologies, you can solve the problem in 30-60 minutes and return to your usual activities.
Cryolipolysis before and after photos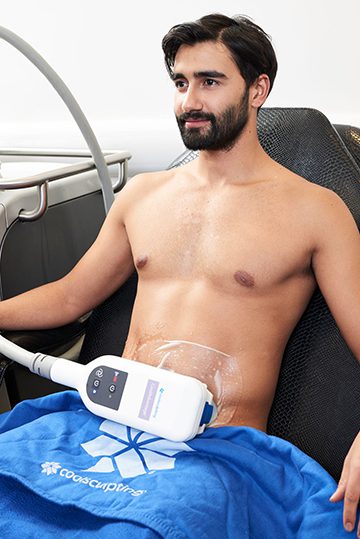 Cryolipolysis contraindications and side effects
Despite the safety and popularity of the fat freezing method, which has been used for more than a year and has shown its effectiveness, there are contraindications.
Contraindications include:
epilepsy;
pulmonary or heart failure;
cardiovascular diseases (additional consultation with a highly specialized doctor is required);
cryoglobulinemia (the presence of abnormal antibodies that are produced by plasma cells);
diseases associated with increased sensitivity to cold;
malignant tumors;
hemorrhagic conditions;
pregnancy.
Be careful and tell your doctor in advance if you have had:
recent surgical interventions;
hernias, even if they have already been removed;
hypersensitivity of the skin to pain, cold, or anything else;
skin sensitivity disorders;
allergic reactions;
diagnosed with chronic diseases.
Feelings of patients during fat freezing
Possible effects and sensations in the places of exposure of the apparatus during cryolipolysis:
twitching and tension of the skin;
mild tingling, burning, or stinging;
severe cold;
mild pain and spasms;
numbness.
The listed variants of sensations can be expressed in the first minutes, and then decrease and are replaced by numbness.
Cryolipolysis: side effects
These side effects are temporary and disappear without any additional action by the patient and without the intervention of a doctor. One or more symptoms can be observed at the same time – this is considered a normal reaction of the body after cryolipolysis.
After the procedure, may arise:
redness;
slight swelling;
blanching of the skin in the area of ​​exposure to cold;
tissue hardness;
bruising or bruising;
tingling and discomfort;
burning and itching;
mild soreness;
spasms;
increased skin sensitivity.
Such sensations may appear immediately after cryolipolysis or 2-3 days after the procedure. Discomfort and skin sensitivity to touch may be felt. It is acceptable to wear compression underwear on the affected area or drink painkillers that are sold in pharmacies without a prescription. These measures are advisory in nature and are used if the patient himself will be more comfortable and calmer.
A rare side effect can occur in no more than 0.1% of cases – a visible increase in volumes in the treated area. It develops 2-5 months after undergoing body improvement and body shaping by cryolipolysis. This side effect may require surgery as it does not go away on its own.
Where is the best place for body shaping?
Despite the fact that cryolipolysis is an aesthetic procedure, it is best to entrust this process to a certified doctor. For a safe procedure, the doctor must be able to use the device correctly. To give individual recommendations to the patient, the specialist must have medical knowledge. Therefore, the most suitable institution to contact for cryolipolysis is a specialized clinic.
The Coollaser clinic is a specialized institution where highly specialized doctors work. To get a preliminary consultation and make an appointment, call (068) 938-03-03. The clinic is located in the Pechersky district, st. Konovalets 32B.
Benefits of Cryolipolysis at Coolaser Clinic
Medical specialists offer their patients:
non-surgical, non-invasive method of point destruction of fat;
a safe and proven method that is approved by the FDA;
anesthesia is not required, discomfort disappears after a few minutes;
there are no punctures on the skin, only fat cells are subject to destruction;
proven effectiveness – the fat layer is reduced up to 20-25%;
there is no rehabilitation period, bruises or increased sensitivity of the skin may only bother you for a few days;
you can return to your usual lifestyle immediately after the procedure, there are no restrictions.
The patient needs a preliminary consultation with a doctor, at which an individual plan for a comprehensive solution of specific problems will be selected. In one session, it is possible to eliminate problems in 4 different zones. Even if you need not one, but several procedures, you can be calm – it is safe and almost painless.
In order to preserve and increase the effect of this aesthetic procedure, we suggest that you follow all the doctor's recommendations regarding proper nutrition and an active lifestyle.
Questions and answers about cryolipolysis
What is the procedure for freezing fat called?
Cryolipolysis is an international name for a procedure that allows you to destroy excess fat deposits by exposure to cold.
What is the name of the fat freezing procedure in Ukraine?
The official name of the procedure in Ukraine is cryolipolysis. Doctors freeze fat deposits on the CoolSculpting machine.
Is it possible to get the CoolSculpting procedure in Kyiv?
The Coolaser Clinic actively uses the cryolipolysis/coolscalping weight loss technique.
Is cryolipolysis safe for health?
Cryolipolysis is a technique that has been tested and improved over many years. Additional sensors and a reliable security system are built into the equipment. This allows doctors to fully control the process.
What procedures can be combined with cryolipolysis
Patients of the Collaser clinic complement cryolipolysis procedures:
Complex rejuvenation by fibroblasts of the face and body.
Pressotherapy to improve lymph flow and remove excess fluid from the body.
Eliminate cellulite and smooth the skin with ultrasonic cavitation.
Patients can do cryolipolysis in Kyiv in the Pechersky district. Get a doctor's consultation at Konovalets street, 32B.
Calculate the cost of the procedur "Cryolipolysis"
Leave your details and we will contact you for an accurate assessment of the procedur
Sources:
American Society of Plastic Surgeons
Криолиполиз, цена в Киеве
| | | |
| --- | --- | --- |
| Криолиполиз второго одбородка | 2 000 грн | |
| Криолиполиз рук | 2 000 грн | |
| Криолиполиз живота | 2 000 грн | |
| Криолиполиз спины | 2 000 грн | |
| Криолиполиз ног | 2 000 грн | |
Specialists in the procedure
Photo materials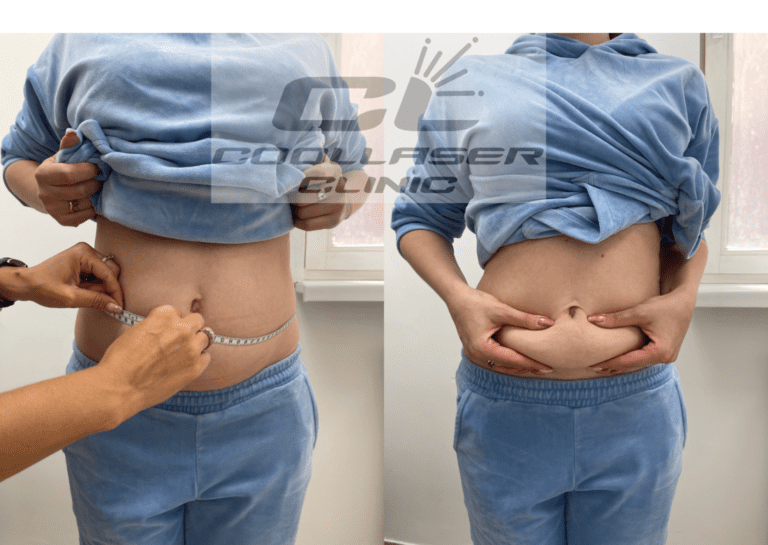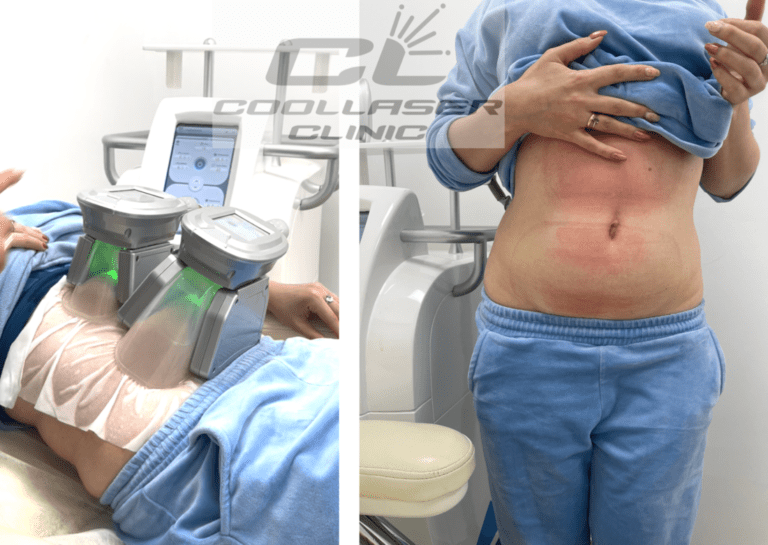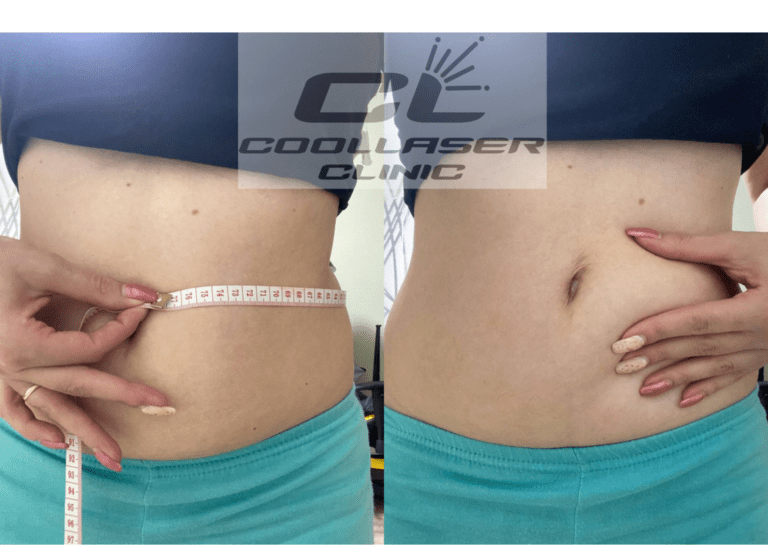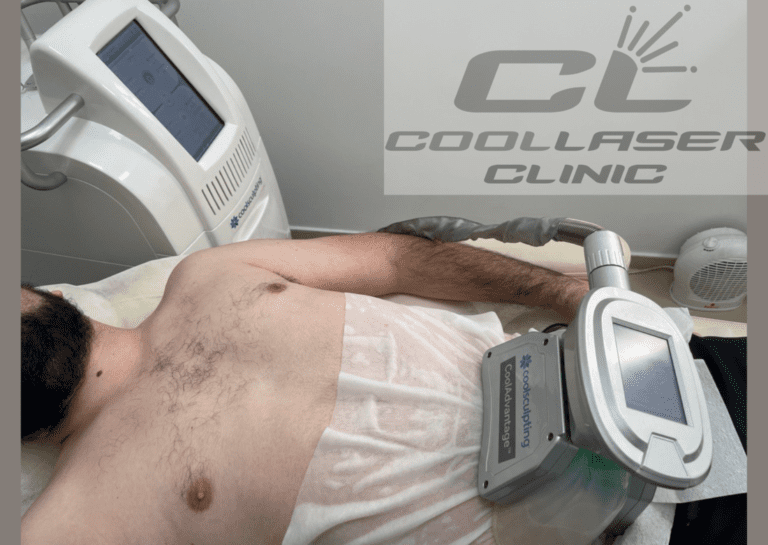 Useful articles
Coolaser Clinic и инновации клеточной медицины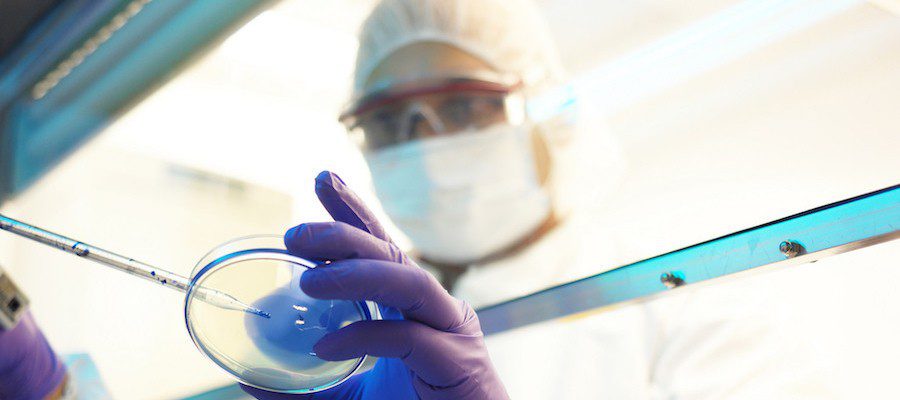 Coollaser Clinic took part in the development of a patent for the creation of a unique innovative biotechnological technology. We were the first in Ukraine, in partnership with VALIKHNOVSKI SURGERY […]
Read the sequel